"High penetration in paints & coatings industry has helped the Epoxy resin market size to grow"
The global epoxy resin market size was USD 7.99 billion in 2015. Growing end-use industries including transportation, marine coatings, aerospace, electrical & electronic laminates, composites and decorative powder coatings are expected to augment the global epoxy resins demand. This trend is anticipated to continue over the forecast period as a result of increased infrastructure and automotive demand.
Favorable properties such as high thermal stability, mechanical strength, moisture resistivity, adhesion, electrical, mechanical and heat resistance make epoxy resins suitable for various end-use applications such as laminates, jewelry, insulators and industrial applications.
U.S. Epoxy resin market volume by application, 2014 - 2024 (Kilo Tons)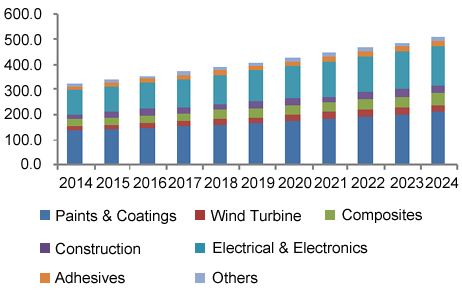 Increased R&D coupled with technology advancement in the field of modified resins is expected to create new avenues for industrial applications. Global demand is fueled by increased wind energy capacity installation due to rapid depletion of conventional sources of energy.
Availability of polyurethane and phenolic resins as alternatives in various applications coupled with volatility in raw material (bisphenol-A & epichlorohydrin) prices is expected to restrict market growth.
"Paints and Coatings is likely to emerge as the largest application segment by 2024"
Paints & coatings were the largest application segment accounting for around 40% of the global epoxy resins demand in 2015. It is extensively used in paints & coatings as it dries quickly and provides protective, tough coating with excellent hardness.
Growing construction and automotive industries on account of increasing disposable income coupled with changing lifestyle have been a major driving factor for the segment. Increasing use of resin-based coatings as primers in automotive & marine paints and for corrosion resistance in metal cans and containers is expected to augment the demand.
Epoxy demand in automobile and industrial applications is projected to grow on account of superior heat resistance as compared to latex based or alkyd based paints. Growing demand from water borne coatings, powder coatings, electrical & electronic laminates, flooring and paving applications is expected to further increase the growth.
Epoxy demand from the composite material application is expected to be the fastest growing application segment growing at an estimated CAGR of 5.9% globally, from 2016 to 2024 and is the most preferred thermoplastic resin used in manufacturing polymer composites on account of their superior properties. Increasing demand for light weight material with superior performance from automotive and aviation industry is expected to promote the growth.
"Asia Pacific is expected to generate the largest demand during the forecast period"
Asia Pacific Epoxy resin market led the global industry owing to growing demand for paints & coatings and composites. Asia Pacific accounted for over 60% of the total demand in 2015 and is also expected to be the fastest growing industry over the forecast period. Rapid infrastructure development coupled with increasing automotive demand is expected to fuel the regional demand.
North American market was valued at over USD 1,223.0 million in 2015. Increasing demand for automotive and marine coatings is expected to drive the region. The increasing use of wind turbines for power generation on account of increasing concern towards conventional energy sources depletion is expected to affect positively to the product growth.
The European Epoxy resin market is mainly influenced by composites and coatings demand from aircraft manufacturers in the region. Increasing demand for automobiles is also expected to influence the growth in the region.
"The industry is characterized by the presence of various small scale manufacturers with few companies competing for the highest share"
The global Epoxy resin market is dominated by top multinational corporations such as Nan Ya Plastic Corporation, Olin, Sanmu Group, Momentive Performance Material Holding LLC, Kukdo Chemical, and Aditya Birla Chemicals Ltd. These companies together accounted for over 50% in 2014, with Nan Ya Plastic Corporation being the largest player at over 15% of the total production. China epoxy market consists of many small players with a concentrated area of distribution.
Other key companies include DuPont, 3M, BASF SE, Momentive, Huntsman, Sika AG, Cytec, Aditya Birla Chemicals, Atul Ltd. and Baling Petrochemical. Olin Corporation entered the epoxy resins industry in 2015 by acquisition of Dow Chemical's epoxy division. In 2010, Momentive Performance Materials Holdings Inc. merged with Hexion LLC to increase its product portfolio and gain competitive advantage.