Industry Insights
Global excipients market size was estimated to be USD 3.47 billion in 2013. Growing demand for additives in the formulation of the generic as well as novel drug development process is expected to be a high impact rendering driver during the forecast period. These products are majorly used as additives to serve as flavors, binders or disintegrants in manufacturing diverse dosage forms for drug delivery. Increasing global base of geriatric population and the subsequent rise in disease prevalence is expected to increase the demand for pharmaceuticals, which in turn will drive excipients market growth over the forecast period.
U.S. excipients market, by product, 2012-2020 (USD Million)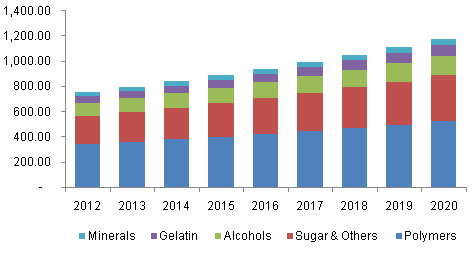 In addition, the ability of different additives to differentiate a drug from its branded or other similar generic counterparts is expected to boost demand for this category of pharmaceutical ingredients. The introduction of stringent regulations pertaining to the safe use of drug contents other than active pharmaceutical ingredients and commercialization of novel products are also expected to serve as key growth drivers.
Nanotechnology-enabled Drug Delivery Systems (NDDS) and liposomal drug delivery systems are other types of drug delivery that are under development in order to target specific diseases and advancements in particle engineering and dosage form technologies for the immediate or sustained release of key ingredients, by utilizing different compression machines. These are anticipated to significantly contribute towards the growth of this industry through to 2020.
Product Insights
Polymer excipients formed the leading product segment in 2013 with a share of about 39.0% in 2013. The high usage rate of polymers in drug and cosmetic sciences is one of the primary reasons that attributed to its large share. Furthermore, the global market for the polymer used as excipients was valued at over USD 1,500 million in 2013.
Advantages associated with polymers include its simultaneous use at different concentrations in a dosage form as an anti-adherent, binder, filler, disintegrant, binder, and coating material for enteric delivery serving as a high impact rendering driver.
Alcohols segment followed the former segment in terms of share by volume and its market was estimated at over 132,000 tons in 2013 due to its wide usage as a moistener and solvent for enhancement of miscibility for the production of solvent system with optimum polarity in order to dissolve the solute.
Regional Insights
Europe excipients market dominated the overall industry in terms of revenue share in 2013 at approximately 33.0%. Factors accounting for this large share include high demand for pharmaceuticals on account of the presence of a large base of the geriatric population as well as sophisticated healthcare infrastructure in Western Europe.
North America accounted for the second largest share in the excipients industry in 2013 with revenue of over USD 1,000 million owing to the presence of a large number of pharmaceutical companies.
Asia Pacific excipients market is expected to witness significant gains, at an estimated CAGR of over 6% due to increasing prevalence of acute as well as chronic diseases and rise in investments by global companies that outsource their excipient manufacturing to companies operating in this region due to prevalent low manufacturing and labor costs.
Increasing R&D in dosage form technology by use of different chemical combinations that do not undergo interaction with a broad range of generic drugs and increase the therapeutic drug delivery is expected to play a major role in growth over next six years.
Competitive Insights
P&G, Avantor Performance Materials, Inc., Huntsman Corporation, BASF, Eastman Chemical Company, Danisco A/S, Ashland Inc., Roquette, Colorcon, Inc., FMC Corporation, Evonik Industries, and Lubrizol Corporation dominate excipients market share.
This industry is considerably competitive in nature marked by high industry rivalry levels. Players are striving to gain a competitive advantage by capitalizing on available untapped opportunities in emerging economies of the western regions.