Industry Insights
The global filters market size was valued at USD 63.35 billion in 2015 and is expected to reach USD 110.8 billion by 2024, growing at a CAGR of 6.4% during the forecast period. As many components are used in filter manufacturing, the industry is significantly impacted by the availability of raw materials.
There is a rising demand for vehicles in emerging economies such as China, India, and Brazil, owing to which these regions are attractive markets for companies manufacturing fuel & oil filters. This factor is expected to benefit the overall filter market growth over the next eight years. Increasing awareness regarding clean emission and favorable policies issued by the government are the significant factors aiding the global filters market demand.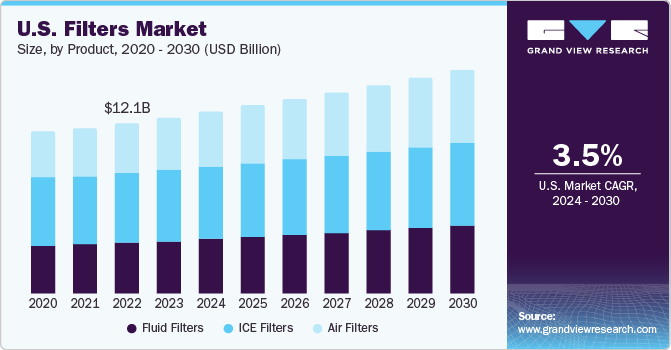 The market is driven by changing technology and emission guidelines specified across various industries. The industry remains highly motivated toward new product developments, while the entry of nanotechnology has further facilitated the development of filters and membrane. Polymer-based water filtration membranes get clogged up with what they have strained out. With the help of new membrane, biofouling is significantly reduced as organic material and bacteria are destroyed, after they come in contact with the membranes.
Regulations regarding the exhaust emissions, maintenance, and disposal of the strainers, for environmental conservation, are expected to drive the overall filters market. Organizations such as the United Nations, Emirates Authority for Standardization and Metrology, California Environmental Protection Agency, EU Emission Standards, and Environmental Protection Agency have laid down specific regulations and guidelines to improve safety and reduce environmental & health hazards.
The demand is influenced by several key trends such as technology trends, regulatory trends, raw material trends, and application trends. Growing demand for automobiles, owing to factors such as rising disposable income and increasing standards of living, in developing regions such as the Asia Pacific are presumed to impact the market in the near future positively.
Product Insights
Filtration is a critical component required for removal of solid particulates and contaminants by increasing the service life of machines. Fluid strainers helps in providing clean fluids to improve the oil recovery process efficiency along with protecting the equipment parts. Moreover, fluid strainers also help in reducing the maintenance cost. Growing consumer awareness among on account of rising environmental concerns is expected to fuel the demand for air filters over the forecast period.
Increasing demand for passenger cars and motor vehicles in emerging economies such as India, China and Brazil is expected to drive the growth for ICE filters over the forecast period. There have been recent advancements adopted in hybrid and electric vehicles, which has the ICE filter usage in it. Moreover, a newer technology named "start-stop" engine technology is gaining importance in ICE strainers market to improve the fuel economy of the vehicles.
Air filters can be of two types, engine and cabin. Engine air filters are used in intake system, which are mainly responsible to remove the suspended particles and release free air to engine. On the other hand, cabin air filters help in removing pollen & allergens from air that enter the passenger compartment. The technology of air intake filters for gas turbines has improved considerably in recent past, due to enhancements in aerodynamics and fluid dynamics of gas turbine air compressor parts.
Application Insights
Utility applications segment is presumed to experience robust growth due to several factors. These factors include government initiatives to aid increasing urbanization and industrialization, particularly in the developing regions such as Asia Pacific and Central & South America. Change in customer lifestyle, as well as living standards, are key reasons that are presumed to assist the market growth in the near future.
Change in customer buying patterns and rise in awareness related to domestic air & water filtration benefits are expected to play a key role in shaping the future demand. Increasing market penetration due to ardent steps taken by industry participants is another key factor anticipated to positively impact the market over the forecast period.
Increasing urbanization coupled with rising disposable income is expected to propel the demand for motor vehicles over the forecast period. This trend in turn is presumed to benefit the demand for overall filters market over the forecast period. Stringent regulatory framework and growing environmental awareness are also projected to significantly impact the motor vehicles application market.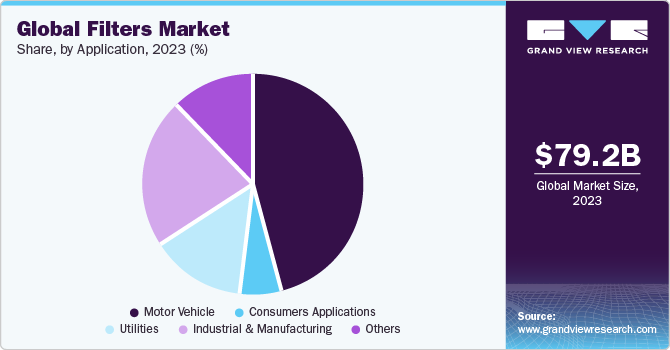 Other applications, which include wine filtration, and medical applications are presumed to witness significant growth in the near future. Microfiltration is widely used in wine industries to remove contaminants such as bacteria, particulates, crystals and yeasts to provide stabilization and fine quality of wine. Strong demand from the medical & pharmaceutical industry couple with heavy demand for wine & wine products are key factors expected to positively impact the market in the near future.
Regional Insights
Stringent regulations and standards set by governments and related associations, coupled with growing environmental concern are presumed to play a critical role in aiding the industrial & manufacturing filter application in the near future. Such stringent regulatory framework has prompted companies to invest in premium filtration techniques across all their operations. Rapid urbanization and industrialization, particularly in the developing regions, is expected to offer ample market growth opportunities.
The shift in automobile manufacturing companies in India, China, and Thailand due to tax incentives & labor costs is anticipated to surge the demand for strainers over the forecast period. Rapid industrialization coupled with urbanization is also expected to aid the growth of filters in the regional market. North America is home to major players in the automotive industry including Ford Motors Co., Chrysler, and General Motors. High disposable income and large customer base are expected to fuel the demand for automobiles which is ultimately likely to increase the number of vehicles produced in the coming years and hence increase the OEM activities in the region.
Growth in automotive segment is expected to propel the market demand for Germany. In 2015, German automobile industry produced 15 million vehicles, which is estimated to be 19% of the total world production. The automobile market is identified with premium manufacturing hub, thereby, indicating a demand growth. Rising disposable income coupled with increasing concerns for air & water quality has further facilitated the demand in consumer goods segment.
Environment and Climate Change Canada and Transport Canada regulate emissions from internal combustion engines in Canada. Under the Canadian Environmental Protection Act 1999 (CEPA 1999) [3288], Environment Canada has the authority to regulate emissions from on-road engines, as well as from most categories of off-road engines.
Filter Market Share Insights
The filter market is highly fragmented and is characterized by a large number of industry participants. The primary five companies account for little over 18% of the global market. Prominent industry participants such as Parker-Hannifin and Denso accounted for 4.5% and 4.0% of the worldwide share in the recent past. Such low market capitalization leaves ample room for other industry participants.
Industry participants such as Parker Hannifin Corporation, MANN+HUMMEL, Cummins, Inc., Donaldson Company, Inc., and Affinia Group Intermediate Holdings, Inc. are engaged in manufacturing filter media and elements. MANN+HUMMEL, based in Germany, dominated the oil & fuel filters market in 2014. In 2014, the company also acquired Vokes Air, which specializes in manufacturing and distributing air filtration systems.
Industry participants also display forward integration characteristics and the integration is spread across manufacturing and distributing processes throughout the value chain. Companies such as Affinia Group Intermediate display forward integration in the value chain processes, starting from filter media & element production to third-party distribution along with direct supply to end-use companies. Affinia Group Intermediate also has the benefit of its supply network and is thus in a more commanding position when it comes to market penetration and meeting customer needs.
Segments Covered in the Report
This report forecasts revenue growth at global, regional, and country levels and provides an analysis on industry trends in each of the sub-segments from 2014 to 2024. For the purpose of this study, Grand View Research has segmented the global filters market report on the basis of product, application, and region:
Product Outlook (Revenue, USD Million, 2014 - 2024)

Application Outlook (Revenue, USD Million, 2014 - 2024)

Regional Outlook (Revenue, USD Million, 2014 - 2024)

North America

Europe

Asia Pacific

Central & South America

Middle East and Africa