Industry Insights
The global filters market was valued at USD 63.35 billion in 2015. Growing environmental concerns and stringent regulations & standards have prompted filter usage across various industries. Technological developments related to the novel and superior product developments are anticipated to play a critical role in shaping the filters market in the near future.
The growing demand for automobile, water treatment processes, and the increasing demand for air filters are some of the major factors expected to spur the demand for filters over the coming years. Implementation of air filtration systems in industries, manufacturing facilities, and motor vehicles is projected to boost the filters market growth from 2016 to 2024.
Growing population, accelerated depletion of water resources, and contamination of ground, as well as surface water bodies have encouraged the adoption of water treatment processes, which has a huge impact on the fluid filters market. Regulatory guidelines prescribed by the Environmental Protection Agency (EPA), Health Advisory Level (HAL),National Sanitation Foundation, and World Health Organization with regards to water and air filtration systems and procedures is expected to positively impact the growth of this market.
U.S. filters market revenue by product, 2014-2024, (USD Million)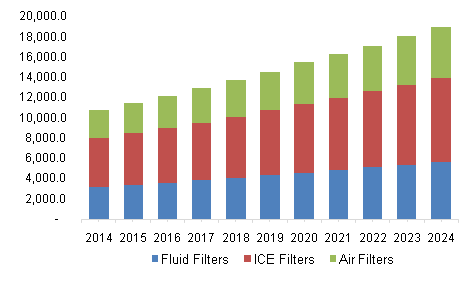 Product Insights
IC engine dominated the global market in 2015. Increasing demand for passenger cars and commercial vehicles in countries such as India, China, and Brazil is expected to drive the growth for IC engine filters over the forecast period.
Fluid filters emerged as the second largest product segment and accounted for over 25% of total revenue in 2015. Growing healthcare awareness among the consumers coupled with regulatory focus pertained to supply of purified drinking water is anticipated to aid the demand for fluid filters over the next six years.
Rapid technological advancements and the growing demand for air filters for industrial, commercial, and household purposes and in the automotive sector is anticipated to drive the filters market from 2016 to 2024.
Application Insights
Motor vehicle applications dominated the global market and accounted for over half of total revenue. Stringent regulatory framework and growing environmental awareness are also projected to significantly impact the motor vehicles application market.
Consumer applications are presumed to witness rapid growth in the near future. Change in customer buying patterns and rising awareness related to domestic air & water filtration benefits are expected to play a key role in shaping the future filters market.
Regional Insights
Asia Pacific filters market led the global industry with demand share exceeding 35% in 2015. The growth in this region is driven by overall industrialization, urbanization, and increase in disposable income in this region. China and India are major industrial hubs in the region. Manufacturing facilities of companies across end-use industries in these countries are incorporating improved filtration techniques to reduce hazardous emissions and follow regulatory guidelines.
The automotive industry accounts for the principal export sector of Europe which contribute to the growth of the regional demand. Growing consumer applications owing to extreme temperature fluctuations in the region is expected to benefit the overall regional demand over the forecast period.
Growing health concern among consumers coupled with an increase in environmental pollution awareness is expected to drive the overall filters industry over the next six years. Innovative technologies and incorporation of new fiber materials are expected to provide a competitive edge to major industry participants in this industry.
Competitive Insights
The filters market is highly competitive with major companies involved in constant product innovation and research activities in order to boost their product offerings. Key companies in the industry include Donaldson Company, Clarcor Incorporated, Affinia Group Intermediate Holdings, Parker-Hannifin Corporation, Cummins, BRITA GmbH, Pall Corporation, and MANN+HUMMEL.