Industry Insights
Global fireproof ceramics market size was estimated at USD 2.87 billion in 2014 and is expected to witness significant growth over the next seven years owing to its rising demand from various end-use industries including iron & steel, petrochemicals, ceramics & glass, aluminum, power generation. The growth of these end-use industries is expected to further fuel market growth over the forecast period.
Increasing focus on the development of manufacturing sectors from emerging economies will propel industry expansion over the next seven years. Fireproof ceramics are fibers consisting mainly of alumina and silica. Due to its properties such as low thermal conductivity, they have gained popularity in the high-temperature insulation and protection applications over the past few years.
The presence of stringent environmental regulations has led to market players focusing on R&D activities to launch new products which comply with guidelines set by different regulatory bodies. Usage of graphite in refractories is in introduction stage and thus, the demand is niche, which could prove to be a breakthrough technology in the next few years.
Economies including China and India are expected to lead the fireproof ceramics market owing to the increasing consumption of the product over the past few years for existing as well as new projects. China is the world's largest steel producing country. The global steel consumption is projected to reach 2,200 million tons by 2050.
Agreements & Partnerships along with new product launches by key players are expected to stimulate market expansion over the forecast period. In addition, exceptional features offered by these products such as low thermal conductivity, low heat storage, high tensile strength, thermal shock resistance, and sound absorption are expected to drive the industry during the forecast period. However, carcinogenic nature of RCF is likely to restrain market growth over the next seven years.
U.S. fireproof ceramics market revenue by end-use, 2012-2022, (USD Million)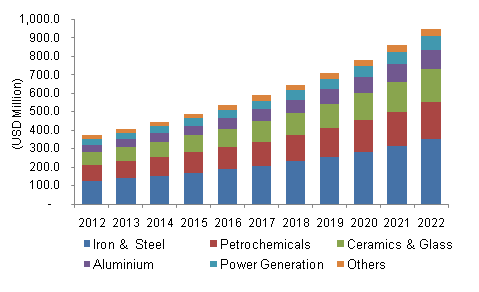 End-use Insights
Ceramic & glass industry contributed around 20% of market share in 2014. The product is used in kilns and kiln cars in the ceramic industry. The interior of a kiln is made from spun brick. Growing demand for sanitary ware, dinnerware and tiles are expected to drive market growth. Moreover, growing demand for glass containers, flat glass, and other glass products is expected to further fuel growth.
Aluminum industry consumes ceramic fibers in the form of blankets, modules, and papers. Also, there is growing application scope of these fibers in die cast & foundry, primary smelting, secondary melting, and carbon baking applications within the aluminum industry. Rising demand for aluminum in aviation, marine and automobile sectors is expected to fuel growth. The market for aluminum applications is estimated to be worth USD 0.57 million by 2022.
Product Insights
Fireproof ceramic blankets are used for insulation in high-temperature applications accounting for over 30% of the market volume share in 2014. They find applications in insulation, sealing, and other high-temperature applications. These products possess characteristics such as low thermal conductivity, heat storage, and corrosion resistance.
Ceramic fiber blanket is produced from kaolin, a naturally occurring alumina-silica fire clay. These blankets are used mainly in the metal industry where the operating temperatures are over 1400°C. Demand for fireproof ceramic blankets is projected to be the highest amongst all product segments.
Fireproof ceramic fiber modules are consumed in almost all the key industries including iron & steel, aluminum, and glass. Modules are used in transfer ladle lids, soaking pit covers, reheating furnaces and others. The market is expected to witness growth at a CAGR exceeding 10.0%, from 2015 to 2022.
Regional Insights
Asia Pacific was estimated as the largest market for fireproof ceramics globally, with a share exceeding 35% in 2014. Growing use of ceramic fibers owing to its characteristics such as lightweight, high thermal conductivity, thermal shock resistance, high-temperature stability and high chemical resistance is expected to boost the market over the next seven years.
The U.S. market was valued at USD 445.7 million in 2014. Rising number of technically recoverable shale gas deposits is expected to drive demand for the product over the forecast period.
The European market is primarily driven by the ceramic & glass refractory and iron & steel industry. The regional market is anticipated to grow at a CAGR of 8.8% from 2015 to 2022. Germany and France are the major markets in Europe.
Competitive Insights
The global fireproof ceramics market is competitive with major companies involved in continuous product innovation and R&D activities. Key players include Morgan Thermal Ceramics, Zircar Ceramics, Skamol A/S, Ibiden Co., Ltd., Unifrax Corp., Isolite Insulation Products Ltd. and Rath Inc.
The industry is characterized by new product launches and product exhibitions, as market participants are trying to expand their customer base over the forecast period. For instance, in October 2015, Morgan launched Superwool Sealcoat HT, which is primarily used as a liner in emergency repairs and backup insulation to patching. This product has many other applications, which will give the company a competitive edge over other products.