Industry Insights
The global flexitanks market size was valued at USD 259.7 million in 2015. Increasing demand for flexible storages coupled with rising concerns regarding portability of liquids are the primary factors driving the industry growth. Competitive advantages such as foldability, cost-effectiveness, portability along with ease of set up are projected to bolster demand for flexitanks market at a brisk pace over the forecast period.
Flexitanks are cost-effective solutions compared to ISO tanks & drums, owing to these factors, market players consider this as an essential alternative for saving transportation cost for non-hazardous liquids. No repositioning costs, low labor, and loading costs are some of the factors which make this product an efficient option for bulk fluids to be transported to remote destinations.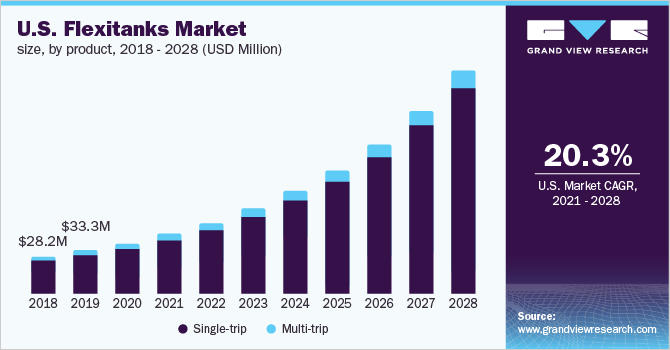 The introduction of polypropylene and polyethylene disposable bladders are projected to increase market potential and overcome problems associated with drum containers, IBC's, and ISO. As bladders allow single time usage of inner plastic bags, reduction in risk of cross-contamination is actively witnessed.
Significant demand for foodstuffs and oil along with rising consumer awareness regarding benefits of flexitanks is expected to attract a new customer base. The factor of economic downfall is pushing end users to evaluate a cost-efficient mode of transportation. Government investments coupled with the incorporation of green logistic practices is likely to drive demand for the industry.
On account of globalization, commodity trade has been increased drastically in recent past owing to increasing availability of efficient means of transport. Sophisticated methods of transportation helps to push market participants to get inclined towards bulk shipping as it considerably reduces carrying costs. Rising trend of bulk transport is projected to foster the market over the forecast period.
Product Insights
Single trip flexitank was the most significant product segment which accounted for 934,027 units by volume in 2015. Owing to increased carriage capacity and low repositioning costs these tanks are preferred by manufacturers on a large scale.
Most of the single trip flexitanks are made from polyethylene as recycling and disposal of such products is easier. The cost-effectiveness of disposable flexitanks has made them much prevalent than the other type. Single trip flexitanks are available for all kinds of non-hazardous liquid and semi-solid commodities. The increasing commodity trade is expected to foster the single trip flexitanks' demand over the forecast period.
Multi-trip bladders are mostly used to store and transport pesticides, irrigation water, fire water and potable water. These are used for meeting needs onsite for a specific period and then after being able to relocate when required.
Higher initial cost of multi-trip flexitanks is the most prominent growth barrier in the segment. Other costs involved in the usage and transportation, such as the cleaning cost and repositioning costs, also restrain the demand growth.
One of the factors for increasing demand for such tanks is capacity. Considering an average length shipping line container, these shells offer more cargo capacity than IBC's and drums. Over 92.7% of the total market share is occupied by single trip flexitanks in terms of revenue. Elimination of intermediate bulk storage coupled with low handling and filling costs are expected to drive market growth over the forecast period.
Application Insights
Food stuffs application emerged as the leading application segment and accounted for a market share of 35.6% in 2015. Increasing foodstuffs export from various countries, such as Canada, Mexico, Netherlands, Spain, Denmark, India, Singapore, Brazil, is expected to foster the demand over the forecast period.
All the key manufacturers provide FDA-approved food-grade flexitanks, and these products are available in all the key markets. Increasing availability of means of transportation coupled with surging demand from food and beverage industry is likely to foster demand for such products.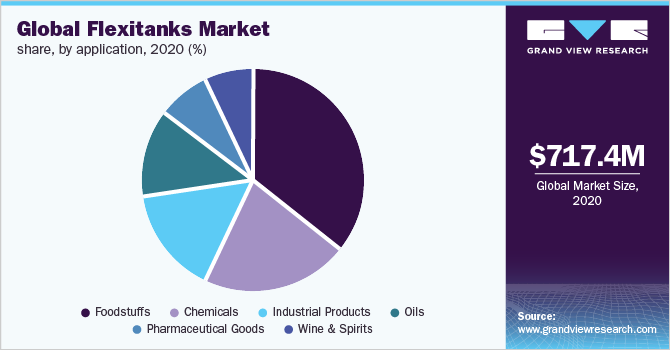 The chemicals segment occupied the second largest market share of 20.7% in 2015. Bulk chemical transportation was traditionally done through ISO tanks and barrels. However, the high cleaning and repositioning costs of these modes of transportation forced end-users to consider a more economical method using flexitanks. All the non-hazardous liquid chemicals can be transported using these tanks.
Hazardous chemicals are not transported by flexitanks as the risk associated with the spillage of these chemicals is very high. The size of these tanks used depends upon the viscosity of the liquid to be transported. Thus, bladders with higher capacity are used for carrying chemicals. Rising demand for chemicals by major end use industries is expected to drive market growth.
Flexitanks have become a widely accepted solution for bulk wine transportation since the past decade. Flexitanks provide the cost advantage in terms of lesser cost incurred with increased cargo transport capacity than the traditional modes of transportation. Global wine export had increased from USD 25.5 million in 2009 to USD 34.3 million in 2014.
A rapid increase in wine export can be attributed to higher ease of transportation and higher demand for particular grade wines across the borders. Increasing wine trade has triggered the need for flexitanks in the recent past, and a similar trend is expected to continue over the forecast period.
Regional Insights
Asia Pacific is expected to be the fastest growing local market which accounted for 61% of the total volume share in 2015. The region is expected to reach 67.4% of the overall market share by 2024 owing to rapid industrialization and commodity export from countries like Thailand, Malaysia, Indonesia, India, China, and Vietnam.
Increasing production of industrial products along with growing demand from industries such as food & beverage, pharmaceutical, and chemical are probable to increase the demand for flexitanks across the globe. Asia Pacific being manufacturing hub for chemicals and industrial products high rate of commodity exports from this region has driven the market for single trip flexitanks.
Europe accounted for approximately 14.6% of the market in 2015 by volume. It is the primary exporter foodstuff and wine. The Netherlands, Denmark, and Spain are the major exporters of numerous foods such as fruit juices, olive oil, and malt extracts. The growing industrial and chemical production in UK and Germany has driven the demand for flexitanks from chemicals and oils application segments. Being cost effective mode of transportation, flexitanks demand is expected to grow in all the regions.
The increasing export of lubricants and lubricating oils is expected foster flexitanks demand in the region. The shale gas boom in the U.S. attracted many petrochemical manufacturers to set up their manufacturing plants in the country.
This increased the domestic chemical and industrial goods production, causing a higher export of these commodities. This has also impacted the demand for flexitanks in the country. Rising industrial and chemical exports from the U.S. along with substantial foodstuffs export from Canada and Mexico has fostered the growth of flexitanks market in the region.
Fexitanks Market Share Insights
The industry is highly fragmented with a considerable number of key players such as TransOcean Bulk Logistics Ltd, SIA Flexitanks Ltd., Qingdao LAF Packaging Co. Ltd. High level of integration both in production and logistics is likely to be witnessed. Price competitiveness and technological advancement is a significant trend likely followed in the industry.
Some of the companies indulged in the development and expansion of this market include Qingdao LAF Packaging Co. Ltd., Environmental Packaging Technologies Inc., TransOcean Bulk SIA Flexitanks Ltd, Logistics Ltd, Bulk Liquid Solutions, BLT Flexitank, MY FlexiTank, KriCon Group BV, Mak & Williams, and Trust Flexitanks.
Presence of small players serving regional as well as international markets is likely to increase competition for key industry players. The industry is characterized by the presence of numerous industry participants across the region.
Segments Covered in the Report
This report forecasts revenue growth at global, regional, and country levels and provides an analysis on latest industry trends in each of the sub-segments from 2014 to 2024. For the purpose of this study, Grand View Research has segmented the global fexitanks market report on the basis of product, application, and region:
Product Outlook (Volume, Units; Revenue, USD Million, 2014 - 2024)

Application Outlook (Volume, Units; Revenue, USD Million, 2014 - 2024)

Foodstuffs

Wine & Spirits

Chemicals

Oils

Industrial Products

Pharmaceutical Goods

Regional Outlook (Volume, Units; Revenue, USD Million, 2014 - 2024)

North America

Europe

Germany

France

The U.K.

Belgium

Netherlands

Asia Pacific

Middle East & Africa

Central & South America