Industry Insights
Global flexitanks market size exceeded USD 250 million in 2015. Increasing export from Asia Pacific and Europe has driven the global bulk packaging market. Bulk commodity transporters find it hard to ignore huge cost saving offered by flexible tanks as compared to traditional modes of transportation.
U.S. flexitanks market volume by product, 2014 - 2024 (Units)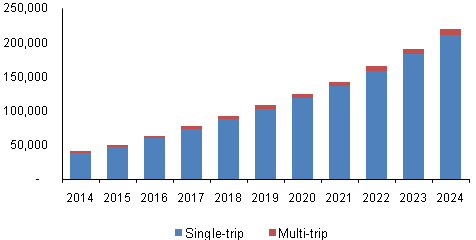 Increasing need for efficient, flexible storage and portability of liquids has considerably driven the global flexitanks market. Competitive advantages such as portability, foldability, and ease of setup have driven product demand to a whole new level in the global market.
A more cost-efficient solution than drums & ISO tanks, flexitanks have become an essential alternative for companies looking to save on the transport of any non-hazardous liquid. They offer lower labor and loading costs and no repositioning costs, which is the best option for bulk liquids with remote destinations.
Polyethylene and polypropylene disposable bladders have overcome various problems associated with other ISO, IBCs, or drum containers, thus increasing global flexitanks market potential. The risk of cross-contamination has also considerably reduced since these bladders allow only one-time usage of the inner plastic bags.
Commodity trade has increased notably in the recent past on account of globalization along with increasing availability of excellent means of transport. Sophisticated means of goods transport helps to improve efficiency as well as cut down transportation costs drastically. Bulk transportation considerably reduces carrying costs. Bulk shipping has become an attractive option for shippers as it is a very cost-efficient option.
Economically as well as environmentally, shipping commodities in bulk have proven to be a better option. The increasing popularity of bulk transport is expected to fuel flexitanks market over the forecast period. Flexitanks offer a better and commercially economical solution to liquid bulk transportation needs.
Risks associated with bulk fluid transfer include leakage of contained products that subsequently results in cleanup activities. A disadvantage of these tanks is a distortion caused in the container due to filling the tank up to the brim. Hence, most tanks have a maximum capacity constraint.
Product Insights
Single trip disposable bladders emerged as the leading product segment accounting for just under 95% of the total product demand in 2015. Single-trip bladders are preferred over multi-trip as they offer huge cost-effectiveness regarding cost cutting and increased carriage capacity. Earlier, multi-trip bladders were popular than the single trip. Multi-trip tanks have extra costs of cleaning and repositioning associated with them.
Single-trip bladders eliminate these costs as there is no need of cleaning the tank after it is used. These containers also have very low repositioning cost. Nowadays, most of the single-trip bladders are manufactured using polyethylene sheets. Polyethylene being the most environment-friendly plastic, disposal and recycling of used containers are easier.
Multi-trip bladders are used for some of the applications wherein the commodity is to be stored at some location for some time and is then required to be transported to other places to be kept for some time. It is mostly used to store and transport potable water, fire water, irrigation water, pesticides, etc.
Application Insights
Foodstuffs application was the leading segment with demand share exceeding 30% in 2014. Flexitanks are used to transport all the liquid and semisolid foods such as fruit juices, fruit concentrates, animal & vegetable fats, edible oil, potable water, etc. These are traditionally being used to carry bulk wine from past few years. Economic and environmental benefits offered by bulk commodity shipping have increased product popularity across exporters.
Flexitanks can be used for transporting all type of non-hazardous liquid chemicals. It not only cut down the cleaning and repositioning costs but also carries more quantity of liquid than its counterparts. Oils and industrial products are also increasingly being transported through flexitanks. FDA approved flexitanks can also be used to carry bulk medicaments across borders.
Regional Insights
Asia Pacific flexitanks market led the global industry and accounted for over 60% of total volume in 2015 with growth driven by a positive outlook on commodity export from China, India, Vietnam, Thailand, Malaysia and Indonesia. All the regions have product demand for various applications depending upon the type of export commodity.
Asia Pacific has been traditionally exporting various food products and now has also become a manufacturing hub for most of the chemical and industrial products. Increasing commodity export from Asia Pacific has driven disposable bladders' demand in the region. High chemicals and industrial product export from the U.S. coupled with massive foodstuffs export from Mexico and Canada has fueled flexitanks market growth in the area.
Europe is a key exporter of wine and other food products. Spain, Netherlands, and Denmark are key exporters of various foodstuffs such as malt extracts, olive oil, fruit juices, etc. Increasing production of chemical and industrial products in Germany and UK has triggered flexitanks demand from chemicals and oils application segments. These bladders being a relatively new mode of transport, the market is expected to witness high demand in all the regional markets.
Competitive Insights
Key companies indulged in flexitank manufacturing include Environmental Packaging Technologies Inc., Qingdao LAF Packaging Co. Ltd., Trans Ocean Bulk Logistics Ltd, and SIA Flexitanks Ltd. High level of integration has been observed within manufacturers, distributors and logistics providers.
Other flexitank manufacturers comprise of BLT Flexitank, Bulk Liquid Solutions, MY FlexiTank, KriCon Group BV, Trust Flexitanks and Mak & Williams. All the key flexitank manufacturers have their products catering to all the key application segments. Most of the companies have integrated throughout flexitank production and logistics services, as they are supplementary to each other.