"High demand for epoxy underfill dispensers in printed circuit boards to drive growth"
The global fluid dispensing systems market size exceeded USD 32 billion in 2015. The industry is characterized by growing requirement for the systems in electrical & electronics assembly applications, particularly semiconductor and printed circuit boards. Key semiconductor manufacturing hubs such as Taiwan, Korea, and the U.S. are expected to be major markets for growth in future.
Automation technologies are gradually finding greater usage in automotive manufacturing, precast construction activities, and other goods manufacturing. With the aim to reduce reliance on human workforce and improve operational efficiencies, manufacturers across the globe have been moving towards automation of their processes.
U.S. fluid dispensing systems market revenue by product, 2014 - 2024 (USD Million)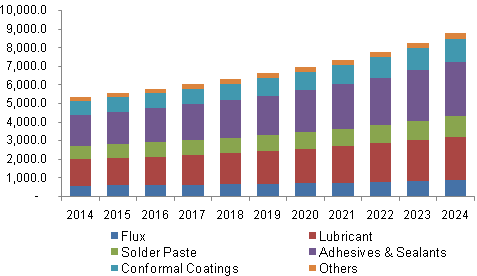 The trend is likely to have a positive impact on fluid dispensing systems sales over the future considering their ability to improve the consistency of fluids applied and reduce application times. Industry automation, though a relatively niche across the developing world, is rapidly gaining traction as a result of end-users' (such as semiconductor manufacturers & automotive OEMs) increasing on capital expenditures.
Over the recent past, major economies in Asia Pacific and Latin American have witnessed increased production activities, particularly in the electronic components, automotive, and construction sectors. Therefore, the trend towards industry automation is expected to yield higher gains across these regions compared to North America and Europe.
In markets where there is a little presence of dispensing system manufacturers, purchases are made through imports. Distributors or retailers are a huge point of contact for these end-users, and the presence of third party entities considerably increases the cost of purchase. From the perception of an equipment manufacturer, high sale price, and third party distribution networks are a setback to expand their portfolio in these markets.
In order to tackle issues associated with the supply chain in these regions, major manufacturers have been involved in establishing their retail outlets or enter into exclusive partnerships with distributors. For example, in 2014, Nordson ASYMTEK entered into a distribution partnership with Esman Elektronik to supply conformal coating jetting & dispensing systems in Turkey.
Technological innovations aimed at improving efficiency and reducing application times are crucial for the industry development. With increasing production volumes and lesser turnover times, the manufacturing sector has been a front runner in bringing process improvements. A unique challenge for equipment manufacturers persists in terms of meeting the end-user requirements that aid improvements in production processes.
"Adhesive dispensing systems dominated the product segment in 2015"
Lubricant & adhesive dispensing systems are major product segments and together accounted for nearly 60% of the overall market revenue in 2015. These systems find wide application scope in manufacturing applications in various end-use industries such as construction, aerospace, automotive, glazing, and electrical & electronics.
Positive outlook on automotive manufacturing and infrastructure sectors across Asia Pacific is a key driving factor for these segments' growth in future. High growth in electronics manufacturing is touted to drive the demand for epoxy under fill in the manufacturing of flip chip devices. This trend, in turn, is expected to drive the adhesive dispensing system sales in future.
"Electrical & electronics assembly was the leading application in 2015"
The majority of the fluid dispensing systems sales are aimed at electrical & electronics applications that range from semiconductor packaging & printed circuit boards to device assembly and microchips. The segment accounted for approximately 34% of the overall revenue in 2015. Semiconductor packaging represented a large portion of the electrical & electronics segment with a value of USD 5.09 billion in 2015.
Medical devices present huge growth opportunities for the industry over the forecast period. Dispensers provide more control than the commonly used swabs, squeeze bottles, and hand syringes used across manual assembly processes. The challenge for medical device manufacturers is to find ways to improve efficiency in their manufacturing processes while staying compliant to regulatory requirements of various agencies for quality and product consistency on a worldwide basis.
"Asia Pacific to be the fastest growing region up to 2024"
Asia Pacific is characterized by high industrial output in China, India, and Southeast Asia. These countries are gaining a strong foothold as global manufacturing hubs for automotive, electronics and medical devices. The manufacturing outlook in Asia Pacific is positive with increasing investments by local companies and foreign corporations to cater the global demand.
Countries such as Taiwan and South Korea are leading semiconductor manufacturers and are expected to favor regional growth, considering electrical & electronics assembly being a key application market for fluid dispensing systems.
In comparison to Asia Pacific, North America & Europe are relatively mature and are characterized by a considerable presence of leading system manufacturers. The growth of these regions is highly dependent on end-use industry outlook, and industry competition is determined on the basis of product differentiation.
"Product differentiation and efficient supply chain to determine industry competition"
The global fluid dispensing systems market share is dominated by Nordson and Henkel. In 2015, Nordson's adhesive equipment sales stood at over USD 800 million and Henkel's Loctite brand registered an annual sales growth of over 10%.
Other key industry participants with a global presence include Graco, Protec Co. Ltd., Speedline Technologies, Musashi Engineering Inc., GPD Global Inc., Fisnar Inc., Techcon Systems, Intertronics, Valco Melton, Dymax Corp., Henline Adhesive Equipment Corp., ITW Dynatec, Sulzer Mixpac, and IVEK Corp.