Industry Insights
The global food glazing agents market exceeded USD 2.50 billion in 2015. The growth of the global food additives industry coupled with the increase in demand for processed items is expected to drive the market over the forecast period.
The change in lifestyles has influenced the additives market largely. Demand for proper texture, mesmerizing taste and appearance have increased the use of glazing agents in bakery and confectionery segments. This has resulted in an additional demand for the overall industry.
Moreover, the product is also useful for applications in functional foods, packed fruits, and vegetables. The products' superior multi-functionalities are the main reason behind its numerous uses in many end-use divisions.
Europe was the leader in the industry in 2015 in terms of value. This was owing to the addition of the number and development of food processing units in the region. Asia-Pacific is the promising player in the industry and is expected to grow at a fast pace over the forecast period.
U.S. food glazing agents market revenue by ingredient, 2014-2024, (USD Million)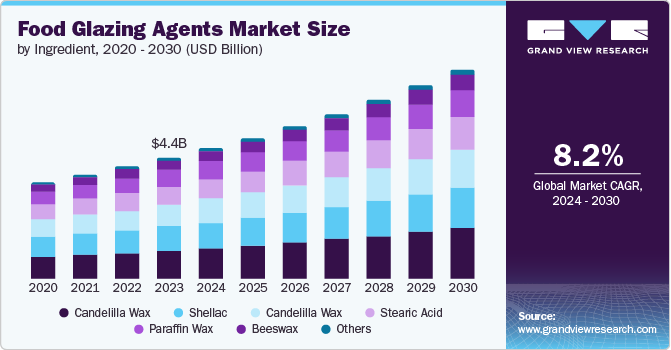 Ingredient Insights
Key ingredients used in the product are stearic acid, beeswax, carnauba wax, candelilla wax, shellac and paraffin wax. Other ingredients are crystalline & microcrystalline wax, polyethylene wax, lanolin and esters of colophonium.
Carnauba wax is expected to grow at the highest CAGR of 8.9% from 2016 to 2024. Over the forecast period, the prices are anticipated to increase on account of expanding confectionary & bakery industries coupled with the shift towards organic and vegan sources.
Function Insights
Key functions of the product include coating and providing a finish to the finished items. Coating agent segment covered for maximum share as these items help in forming a layer of solids or liquids onto a product in order to enhance the taste and appearance.
Surface finishing agents also covered significant share for providing a uniform texture and a mesmerizing look to the products especially in the bakery and the confectionery areas.
Application Insights
Confectionary was the leading segment and is expected to grow at CAGR of 8.3% from 2016 to 2024. Manufacturers are using glazing agents in confectionary segments mainly cakes, pastries, chocolates and dragees in order to enhance their appearance and extend their product life cycle. These agents are expected to expand the demand in functional food and bakery application segment. Bakery accounted for a revenue share of around 22.0% in 2015.
Regional Insights
Europe food glazing agents market led the global industry in terms of revenue on account of high prices and high demand for confectionery & bakery application sectors coupled with the stringent regulatory framework.
North America and Asia Pacific also accounted for significant shares in the recent years. Developing economies in Asia Pacific including China and India are expected to drive at a faster pace owing to shift in consumer preference i.e. from the unhealthy lifestyle to nutritional & healthy diet.
Increasing disposable income coupled with developing confectionary & bakery industries is anticipated to positively impact overall market growth. The Middle East & Africa is expected to grow at an estimated CAGR of 8.1% from 2016 to 2024.
Competitive Insights
Key companies include Capol GmbH, Mantrose Haeuser, Strahl and Pitsch Inc., British wax, Masterol Foods, Stearinerie Dubois, Poth Hille, Koster Keunen, B.J. International and Carnauba do Brazil Ltd.
Other participants operating in the global food glazing agents market include Zeelandia, Macphie, Avatar Corporation, Parker Ingredients LLC, ADM, DuPont, Kerry Group, Arla Foods, Wuhu Deli Foods Co. Ltd, Hainan Zhongxin Wanguo Chemical Co. Ltd, Stoever Schellack Bremen (SSB) and Ningbo J&S Botanics Inc.
Most of the manufacturing companies are located in North America, Europe & Asia Pacific and they supply a wide range of glazing products across the globe. Companies including Masterol Foods, Zeelandia, Kerry Group and ADM have integrated their operations and is involved in manufacturing as well as distribution businesses.
Poth Hille is a U.K based supplier of wax across the country. B.J. International is an Indian based importer & supplier for wax and is the sole agent of a Brazilian Company named Foncepi for distribution of carnauba wax across the globe.