Market size and trends
The global geomembrane market size was 809.9 million square meters in 2015. Expansion of shale gas production capacity in the U.S. and Canada is anticipated to open new markets for geomembrane in fresh water containment.
The growth of the mining industry in China, Australia, South Africa and Chile owing to regulatory support to promote investments coupled with increasing metal demand at the domestic level is expected to promote the application of landfill covering as well as containment control which will fuel geomembrane demand.
Global geomembranes market volume, by application, 2015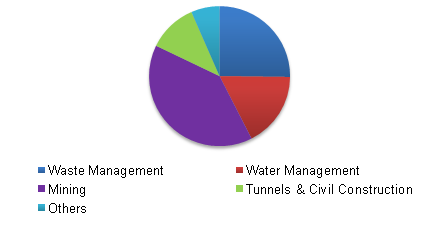 Over the past years, the European Commission and EPA have framed various regulations intended for the implementation of waste management practices in manufacturing, mining and oil & gas sectors. As a result, geosynthetic materials are expected to find applications as shielding medium to control erosion and provide environmental protection.
Technological developments including new arc equipment for the use of geomembrane for leak detection by TRI Environmental will force geosynthetic manufacturers to increase the expenditure on product innovations in the near future. Moreover, Conley incorporated TPO in geomembrane to cover the solar PV panels in November 2011. As a result, the use of the TPO based product in solar PV is expected to force other buyers in the solar industry to incorporate the geosynthetic materials over the next few years.
The increasing use of geosynthetic clay liner in lining systems and landfill is expected to pose a substitution threat to geomembrane industry. Also, rising demand for the bituminous membrane in waterproofing and landfill is projected to reduce the application of the product over the forecast period.
Raw Material Insights
Growing demand for polymers resins including PP, HDPE, LDPE and PVC in automotive, electronics and packaging industries is expected to reduce the raw material supply in the near future. However, increasing incorporation of bio-based polymers on account of rising concerns over greenhouse emissions is likely to promote the expenditure towards the development of new products in the future.
Global geomembrane market volume, by raw material, 2015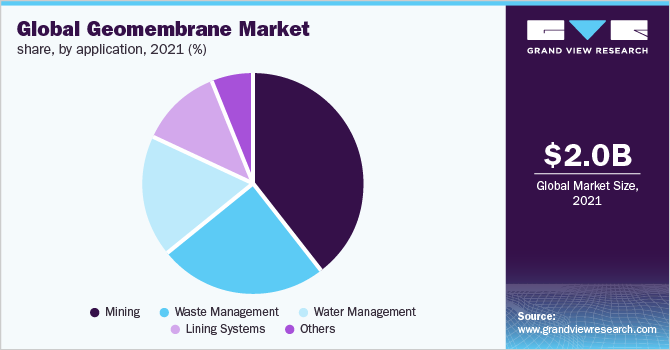 LDPE is expected to account for 26% of global industry volume by 2022. LDPE is expected to have a significant market size owing to the low price of the polymer as compared to HDPE and other polymers along with offering good waterproofing characteristics.
Technology Insights
The global market size for calendered geomembranes was USD 546 million in 2015. The technology is used for manufacturing products of a consistent thickness to provide consistent performance over a longer period. The technology is expected to witness the highest revenue gains over the forecast period.
Application Insights
Water management is likely to have a tremendous potential for growth over the next few years in light of increasing importance of geosynthetic products to acts as a shielding agent for the migration of water. Over the past few years, the majority of manufacturing companies have increased expenditure for water treatment in light of reducing the impact of environmental pollution along with earning carbon footprints.
Rising awareness towards water conservation in manufacturing and construction sectors on a global level is expected to promote the importance of geomembrane as containment solution over the next seven years.
Regional Insights
Latin America PVC based geomembrane industry is estimated to be worth USD 55.8 million by 2025 on account of increased availability of the polymer. In June 2014, PVC Tecnocom SA announced the establishment of new PVC production unit with an annual capacity of 1,500 metric tons at Buenos Aires, Argentina. The manufacturing facility will be scheduled to begin production by July 2015 and is expected to increase the availability of raw materials to geomembrane manufacturers.
North America geomembrane market revenue, 2014 - 2025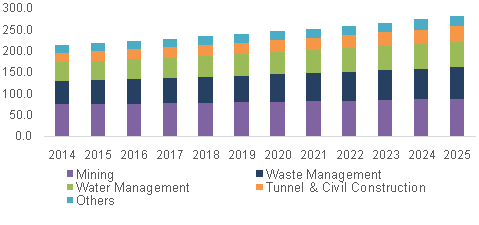 North America accounted for 27.2% of the global volume market share in 2015. Growing output of shale gas in the U.S. and Canada as a result of utilization of hydraulic fracturing technology is expected to open new opportunities for growth for geomembranes as freshwater containment solutions in the future.
Competitive Insights
Key players in the industry include CETCO, GSE Holdings, Agru America, Solmax, Officine Maccaferri, NAUE, and Juta. The majority of the companies are engaged in the mergers & acquisitions to increase their share in the global market over the next few years. For instance, in March 2014, Mineral Technologies acquired Amcol International, the parent company of CETCO, for USD 17 billion with USD 45.75 per share in cash.
In April 2015, Geofabrics acquired the subsidiaries of Officine Maccaferri, which are located in Australia and New Zealand.
Geomembranes Report Scope
Attribute

Details

Customization Offer (15% free)*

Additional Cost

Base year

2015

NA

NA

Historic

2014

Extended historic data (2012 to 2015)

Free

Forecast

2016 - 2025

Extended Forecast data (2025 – 2027)

Free

Report details

Market size, company market share, competitive Landscape, growth factors, trends

Contact us for specific market information not available in this report

Quotation to be shared post feasibility

Market representation

Million Square Meters

USD Million

NA

NA

Geographic coverage

Global & Regional (by country)

Information on up to three additional countries

Free

Company profiles

All major market players

Profiles of 10 additional companies

Free
* 15% free customization - The 15% report customization is equivalent to work done by one research analyst for 5 working days.
Market segments covered in the report
Grand View Research has segmented the global geomembranes market on the basis of raw material, technology, application and region:
Raw Material Outlook (Volume, Million Square Meters; Revenue, USD Million, 2014 - 2025)

HDPE

LDPE

EPDM

PVC

Others

Technology Outlook (Volume, Million Square Meters; Revenue, USD Million, 2014 - 2025)

Extrusion

Calendering

Others

Application Outlook (Volume, Million Square Meters; Revenue, USD Million, 2014 - 2025)
Regional Outlook (Volume, Million Square Meters; Revenue, USD Million, 2014 - 2025)

North America

Europe

Asia Pacific

Latin America

MEA