Industry Insights
The global Geotextile Market size was 4,505.0 million square meters in 2015. The market is likely to observe growth over the forecast period owing to its increasing demand in preventing soil erosion and drainage applications.
Primary functions performed by the product include separation, filtration, drainage, reinforcement, and protection. Filtration property of geotextiles allows water and other fluids to pass while the fabric retains different particles. The pore opening, permeability and structure of geotextiles play an important part in performing this function. Filtration function is usually applicable to drainage systems.
U.S. Geotextile Market volume, by application, 2013 - 2024 (Million Square Meters)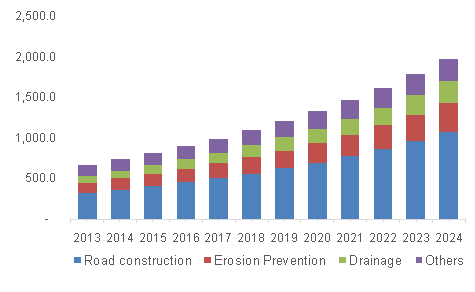 Reinforcement using the product provides a synergistic improvement in the soil system. Reinforcement is used to improve the structural stability of the soil on account of the tensile strength of the geotextile fabric.
Geotextiles have gained popularity in the market due to performance and functional advantages over other materials. Growing urbanization, rising population coupled increasing government investment for infrastructure development in various regions is expected to have a positive impact on the market over the next eight years.
Different applications require the product with suitable life spans, for example, road construction requires geotextiles having a life span of over a couple of decades. Contradictorily, soil erosion application needs a product which will last longer and is bio-degradable. Rising road construction is Asia Pacific, and Latin America is expected to fuel industry growth over the forecast period.
Factors accountable for the participation of numerous government bodies include increasing employment in the manufacturing sector, application, and improved environmental conditions. Cost-effectiveness and longer life span in comparison with other types of materials coupled with rising environment concern are expected to increase product demand over the next eight years.
Application Insights
Road construction was the largest application segment in 2015 accounting for over 40% of the market. Geotextiles are increasingly used in the road construction industry as a result of the growing awareness of the benefits they offer. Geotextiles are used as a component of the foundation in laying roads, as they help in strengthening soil by holding it together, thus resulting in a longer lifespan of roads. Geotextiles have high demand in developing countries such as China, Russia, and India among others, due to the strong infrastructural development in these countries.
Erosion control accounted for over 19% of the global product market. Erosion caused by natural calamities such as tsunamis and floods or due to the encroachment of water on riverbanks and excessive rainfall is posing an enormous threat globally. Geotextiles help in holding down the soil as well as promote vegetation growth. The use of geotextile plays a significant role in erosion control and help mitigate soil erosion.
Use of the product in drainage applications is expected to grow at a moderate pace over the next eight years. Geotextiles used for drainages act as a permeable separating agent that allows water to pass into the drainage. These fabrics also help to prevent clogging of the drainage system by other materials and soil particles from water.
Drainage geotextiles are mainly used in developed regions of Europe and North America to improve the efficiency of drainage systems and increase their life span. Also, product demand in emerging economies is expected to foresee considerable growth on account of the infrastructural development that includes drainage system development, which is projected to have a positive impact on the industry over the next eight years.
Product Insights
Non-woven geotextiles dominated the market of geotextile with over 65.0% of total market volume in 2015, owing to their unique properties such as absorbency, liquid repellency, and mechanical strength. In addition, the manufacturing of non-woven is done without conversion of fabric into yarn. It saves production, and most of the market players prefer to keep nonwoven products as part of their product portfolio.
Woven geotextiles comprise over 20% of the global share and are expected to witness moderate growth over the next eight years. The product is being increasingly employed in erosion control applications on account of properties including high tensile strength and excellent hydro-filtration characteristics. The ability of woven geotextiles to filter particles and drain water coupled with soil reinforcement which facilitates vegetation growth is expected to boost its demand over the next eight years.
Material Insights
The two types of raw materials used for geotextile manufacturing are natural and synthetic. Over 90% of the geotextiles manufactured worldwide use synthetic fibers as a raw material. The fluctuation in prices of these raw materials has a direct effect on the price of the product. Natural fibers are obtained from raw materials such as jute and sisal.
Synthetic fibers are made up of polypropylene, polyester, polyethylene, and polyamide. Polypropylene comprised over 55% of the global volume in 2015 and are widely used on account of their high availability. Most of the geotextiles employed in road construction are composed of polypropylene owing to their longer life span as opposed to other materials.
Regional Insights
Asia Pacific contributed to over 40% of the global industry in 2015, making it the largest market. This trend is expected to continue over the projected period owing to rising government expenditure for infrastructure development primarily in developing countries including China and India.
New infrastructural developments in various developing countries in Latin America including the implementation of Growth Acceleration Program (PAC) by Brazilian Government to attract investments is expected to fuel industry growth. As a result, about 12,000 infrastructural projects have been functional in Brazil, which will fuel non-woven geotextile demand for use in drainage, filtration solutions, and soil reinforcement.
On-going projects related to landscape restoration in various developed countries including Japan and U.S. are expected to increase use of geotextiles over the next eight years. The product is employed in projects in other parts of the world such as the transformation of wastewater impoundment into Qingjing Lake located in Singapore. These factors are expected to have a positive impact on the industry over the forecast period.
Competitive Insights
Global geotextile industry is fragmented with four companies accounting for over 35% of the industry in 2015. Royal TenCate dominates the market and has a presence across various regions including Asia, Europe, and North America. In May 2013, Tencate launched a product called MirafiRSi 280 for use in road and rail reinforcement.