"Increasing concerns over electrostatic discharge (ESD) and electromagnetic Interference (EMI) in electronic applications is expected to fuel the demand for conductive polymers"
The global conductive polymers market size was 330.7 kilo tons in 2015. Rising awareness towards shielding sensitive electronic devices medium from electrostatic discharge (ESD), radio frequency interference (RFI), and electromagnetic interference (EMI) as a result of increasing market size of sensitive electronic devices is expected to have a positive impact on market growth.
Growing importance of electronics devices with reduced sound levels owing to stringent regulations imposed to control noise pollution is anticipated to result in buyers procuring conductive plastics including ABS and PPS in place of conventional metals and ceramics. Rising importance of ionic polymers in electronics industry on account of providing excellent dimensional stability as well as good conducting characteristics is expected to remain a favorable factor.
UK conductive polymers market revenue, by product, 2013 - 2024 (USD Million)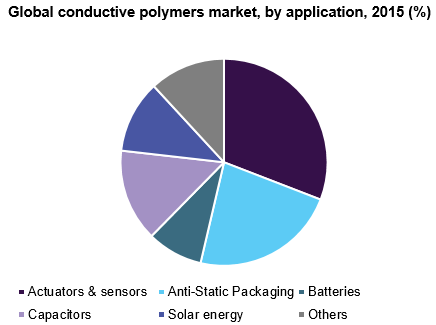 These materials are electroactive in nature and are used for providing characteristics including good optical property, excellent mechanical flexibility and high thermal stability. ABS, polycarbonates (PC), polyphenylene resin, nylon, polyethylene terephthalate (PPS) and polyvinylidene chloride (PVC) are the majorly used products.
Favorable outlook towards the electronics industry in China, Japan, South Korea and Singapore as a result of new product launches including smartphones by market players such as Samsung and LG is expected to play a crucial role in upscaling the requirement of conductive polymers. In July 2015, the government of India launched the "Digital India Campaign" aimed at ensuring internet connectivity along with upscaling the production output in digital electronics on a domestic level. This initiative is expected to play a significant role in promoting the production of electronic digital goods including smartphones, the web camera, and tablets which are likely to open new opportunities for the market over the next eight years.
Rising importance of lightweight materials in the automotive industry on account of increasing awareness towards improvement in fuel economy is expected to promote the use of ABS and PPS in wiring systems as conducting materials. Furthermore, increasing defense expenditure by governments in the Middle East and North America is expected to boost the production output of military aircraft on a domestic level which is supposed to promote the usage of these materials over the forecast period.
Increasing prices of raw materials including acrylonitrile, bisphenol A, propylene and styrene in light of reduced inventory levels is expected to have an adverse impact on the market. Furthermore, rising demand for piezoceramics in electronics is projected to pose a credible threat to the conductive polymers industry.
"ICP is expected to be the fastest growing product segment within the conductive polymers market"
ICP are majorly available in the forms of polyacetylene, polythiophene, and polypyrrole. These products are used for manufacturing flat panel displays, lighting objects, PV cells and bioelectronics on account of being lightweight with excellent corrosive characteristics. The product is expected to witness the fastest volume growth at a CAGR of 10% from 2016 to 2024.
ABS was the most widely used product accounting for 35.2% of the global volume in 2015, and the trend is expected to continue on account of its superior properties including high impact strength and excellent durability at the wide range of temperature. ABS is used in numerous electronic applications including IC chip carriers, IC tray & tray dividers, and tote boxes.
Demand for PPP-based resins was 62.2 kilo tons in 2015 and is projected to foresee growth owing to its increasing use for manufacturing under-the-hood vehicle components with excellent chemical resistance and good high temperature.
"Rising demand for organic photovoltaics (PV) is expected to increase the market penetration of conductive polymers"
Increasing expenditure towards the development of organic PV by solar energy companies including BP Solar owing to the ability of the technology to generate energy at low manufacturing cost as compared to conventional solar power producing techniques. This development is expected to result in promoting the usage of conductive polymers as an absorption medium of solar radiation. Solar energy is expected to witness volume growth at a CAGR of 10.0% from 2016 to 2024.
Actuators & sensors accounted for the 29.8% of the global volume in 2015. Rising demand for electrochemical actuators on account of being highly compatible with sophisticated semiconductor devices is expected to increase the requirement for these materials.
"Asia Pacific to drive the global conductive polymers market on account of growth of the automotive and electronics industries"
Asia Pacific is projected to witness the fastest growth at a 9.7% CAGR from 2016 to 2024, in terms of volume. The increase of the automotive industry in China and India as a result of new product launches by companies including Volkswagen coupled with regulatory inclination to promote investments in the sector is expected to encourage the usage of conductive plastic materials in engine boxes and wire hose.
North America held a 44.9% of the global volume market share in 2015. The high adoption rate of electroactive polymers in electronics, solar energy, healthcare and automotive industries in light of the immense potential of R&D infrastructure in the U.S. and Canada is expected to have a positive impact.
"3M, Celanese and Solvay were the leading manufacturers of conductive polymers"
Key industry participants include 3M, Heraeus Group, Solvay SA, SABIC, KEMET, Covestro, and Celanese, and Hyperion Catalyst International. Heavy reliance on crude oil prices is expected to remain a challenging factor for manufacturers. Improvement in electronics sectors of China, Japan, and South Korea is projected to force industry participants to establish their production units in the vicinity.