Industry Insights
The global glucose biosensor market was estimated at USD 15.3 billion in 2015. Increasing incidence of diabetes across the globe is expected to be a key factor driving market growth. Diabetes is one of the most commonly occurring diseases worldwide. It is expected to be one of the leading causes of mortality all over the world.
Rising prevalence of diabetes globally is a major factor attributing to the growth of this market. Blood glucose monitoring is being used as a necessary tool in diabetes management. As maintenance of normal blood glucose levels is important for the patients suffering from diabetes, a series of apt glucose biosensors have been developed to meet the needs of the patients suffering from this highly prevalent disorder. Furthermore, the growing demand for self-monitoring devices has augmented the use of biosensors, especially in portable forms. Glucose sensors are now available as small and minimally invasive devices that measure glucose levels even in outpatient settings.
China Glucose Biosensor Market, by end-use, 2015-2022, (USD Million)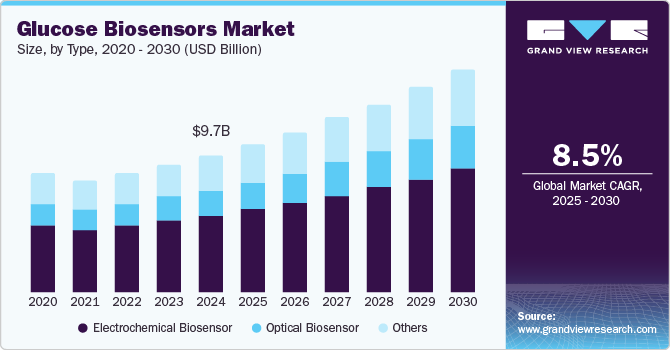 Monitoring of blood glucose level at regular intervals is one of the key factors required for disease management. Owing to this fact, several technical improvements have been carried out in the development of sensors. However, development of reliable and accurate glucose biosensors is still a challenge for market participants.
The introduction of technological advancements is expected to play an integral role in boosting usage rates. This is evident from the development of minimal and non-invasive glucose biosensors in the market. Several companies, including small and major, players are involved in extensive R&D initiatives to develop less painful, cost-effective, more accurate, and reliable products.
For instance, NovioSense, a glucose sensor manufacturing company in the Netherlands, has developed a non-invasive sensor to monitor glucose levels in tears. However, the presence of alternative methods, such as laboratories tests, for monitoring of glucose levels in the blood are expected to hinder glucose biosensors market growth over the forecast period.
End-use Insights
On the basis of end-user, the market is fragmented into hospitals, homecare diagnostics, and others. The other section includes research institutes, clinical, and diagnostic laboratories. Homecare diagnostics market in terms of value was estimated to account for the largest share of over 46.0% in 2015.
The homecare diagnostic segment involves the use of point of care devices including hand-held glucose meters. These devices are portable, easy-to-use, cost-effective, and yield quick results. Additionally, the application of these devices reduces frequent visits to hospitals.
Regional Insights
Key regions considered while analyzing this market include North America, Europe, Asia-Pacific, Latin America, and MEA. In terms of revenue, North America is expected to lead the market in terms of revenue and is also anticipated to grow rapidly during the forecast period. Growing burden of diabetes is one of the key factors attributing to accelerated regional market growth. Diabetes is expected to be one of the leading causes of illness and death in the U.S. region.
Asia-Pacific is projected to witness rapid growth over the forecast period. With the increasing prevalence of diabetes in China and India, the Asia-Pacific market is anticipated to experience a rapid boost in demand estimates at a CAGR of 13.0% from 2015 to 2022. As of 2013, China and India were estimated to account for 65.3% of people with diabetes on a global level.
Glucose Biosensors Market Share Insights
Some key players operating in this market include Roche, Bayer, LifeScan Inc., and Abbott. In 2014, collectively, these companies held a market share of more than 70.0%. The companies are actively involved in new product development, technological advancements, partnerships, joint ventures, and collaborations, in an attempt to ensure sustainability and register growth.
For instance, in January 2015, LifeScan Inc. introduced new blood glucose monitoring system, OneTouch Verio. The new product is easy-to-use and offers a better understanding of the test results.