Industry Insights
The global personalized medicine market was valued at USD 1,007.88 billion in 2014 and is expected to reach USD 2,452.50 billion in 2022, growing at a CAGR of 11.8% over the forecast period. Key drivers of the market include growing development of next generation sequencing, whole genome technology, companion diagnostics and growing number of retail clinics. Growing healthcare expenditure levels triggering the need for an effective diagnostic procedure for cancer, growing prevalence of cancer and increasing usage of combination biomarkers for diagnostics are few factors expected to boost market growth.
Global personalized medicine market, by product, 2012 - 2022 (USD Billion)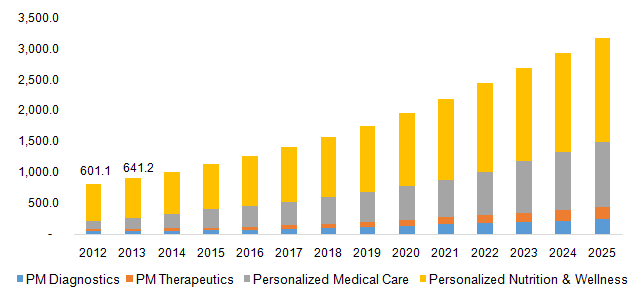 Increasing adoption of next generation sequencing for genetic mapping of patients by clinicians and medical practitioners worldwide, and growing support for personalized medicine by reimbursement and regulatory landscape are also factors expected to drive demand through to 2022. Market growth is also expected to rise through the novel introduction of drugs with associated and companion diagnostics, and growing usage of highly sensitive, accurate genetic diagnostic techniques for disease testing and risk assessment. Anticipated increase advanced DNA diagnostic usage combined with the reduction in implementation costs for whole genome sequencing is expected to considerably increase penetration rates.
Product Insights
The personalized medicine market encompasses tailor-made medical products segmented into PM diagnostics, PM therapeutics, PM care, and nutrition & wellness. PM diagnostics and therapeutics encompass genetic testing, direct-to-consumer diagnostics, esoteric lab tests and services, pharmaceutical & genomic medicine and medical devices. PM diagnostics and therapeutics segments are expected to grow at a considerable rate during the next seven years owing to the development of next generation sequencing and increasing adoption of DNA/RNA screening for medical treatment and therapy throughout the forecast period. Development and introduction of companion diagnostics and associated drugs is also expected to contribute towards the growth of personalized medicine market. Medical care and nutritional wellness segments include telemedicine, health information technology, diseases management, retail nutrition, complementary, and alternative medicine. These accounted for a significantly large segment of the market revenue for 2014 and are expected to maintain the dominant market position through to 2022, owing to very high usage rates, over the counter sale and distribution, development and growth of retail clinics and increasing adoption of complementary medicine. Further implementation and integration of telemedicine and healthcare IT systems with hospital operation and workflow frameworks is also expected to drive demand for the overall personalized medicine industry over the next seven years. Even though this market has major application in oncology presently, it is expected that throughout the forecast period, the market will witness growth in applications segments such as cardiovascular & infectious diseases, CNS disorders, and psychiatry.
Regional Insights
North America personalized medicine market dominated global demand in 2014, owing to growing adoption of clinical practitioners, supportive NIH policies and government funding, integration into clinical trials, and central integration of EHR and healthcare IT systems with hospital operations. Technology innovation of next generation sequencing resulting in cost reduction of genomic sequencing is also a high impact rendering factor anticipated to contribute towards market growth. However, the Asia-Pacific personalized medicine market is expected witness significant gains over the seven years owing to the presence of a significantly large base of unmet market demand, growing technological advancement of the regional healthcare framework and growing awareness about genomic sequencing, genetic diagnostics, and therapeutics.
Competitive Insights
Companies dominating personalized medicine market share are involved in the advancement of these testing methodologies to enhance public usage rates of companion diagnostic tests, genetic therapeutic and personalized tailor made therapy prescriptions. Key players include 3G Biotech, Quest Diagnostics, Laboratory Corporation of America, Abbott, Agendia NV, Asuragen Inc, Becton Dickinson & Co., CardioDx Inc., Foundation Medicine Inc., Qiagen Inc., Siemens Healthcare Diagnostics Inc., Amgen Inc., Bristol-Myers Squibb, GE Healthcare, Pfizer Inc., Sanofi, 23andMe, and Illumina Inc.