Industry Insights
The global handheld imagers market is expected to witness considerable growth on account of growing adoption in previously untapped application areas. Increasing IT consumerization and the development of advanced microbolometers has redefined the application development landscape. High investment in developing camera-based scanners is also anticipated to fuel the handheld imagers market demand over the forecast period. Camera-based solutions provide a high price-performance ratio and facilitate ease of use, which is further expected to provide avenues for market growth over the next few years.
Global handheld imagers market by application, 2012 - 2022 (USD Million)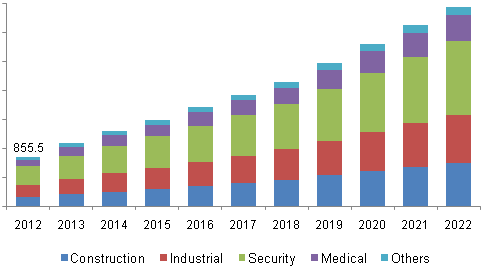 Technological innovation has led to the miniaturization and development of lightweight handheld imagers, which is expected to positively impact market growth over the forecast period. The availability of cost-effective handheld imagers owing to mass production and a wide range of diverse applications integrating this technology is anticipated to be the key market driver. Further, the handheld imagers market is also expected to witness growth owing to the declining product prices.
Application Insights
Key application areas analyzed and estimated in the study include construction, industrial, security, and medical. Handheld imagers are widely used across these sectors owing to several benefits provided by these imagers such as low price, low power consumption, and lightweight quality. Surging demand across the security sector is expected to drive the global handheld imagers market. Government mandates coupled with the growing adoption of infrared solutions such as IR scanners mainly in airports and government buildings has fuelled demand for advanced imaging solutions. In addition, the need to implement stud finders in the construction industry for the detection of wood or metal studs in light-frame construction is also anticipated to impel market demand. The medical sector may also witness considerable growth owing to growing concerns regarding patients' health and safety. The healthcare sector has been particularly receptive to handheld imagers due to the growing shift towards EHR (Electronic Health Records) and increases focus on patient safety.
Product Insights
The handheld imagers product segment comprises stud finders, IR scanners, millimeter-wave scanners, and microbolometers. Stud finders are widely used in the construction industry. Magnetic stud detectors and internal capacitor stud finders are the two main types of stud finders. IR scanners are expected to witness high growth through the forecast period. These scanners have the ability to read, scan, and output printed codes and items to a computer and find widespread use in the construction sector. Millimeter-wave scanners make use of special electromagnetic waves for detecting objects concealed under a person's clothing. These are extensively used for security purposes in government buildings and airport security checkpoints. Microbolometers are used as detectors in thermal cameras. They do not require cooling as other infrared detecting equipment such as a thermopile, Pyroelectric, MCT, and InGaAs. The availability of low-cost microbolometers is also estimated to fuel market demand over the next few years.
Regional Insights
North America is expected to witness high growth over the next seven years owing to increasing government mandates pertaining to rising terrorist threats and aviation security. The 9/11 attacks have significantly impacted the regional market demand for handheld imagers. Europe and Asia Pacific are also estimated to witness substantial growth over the next six years owing to growing security concerns. Asia Pacific with the highest number of patents for microbolometers is expected to witness substantial growth over the forecast period.
Competitive Insights
The handheld imagers market is highly competitive with existing players facing tough competition from new vendors entering the market. New market entrants emphasize on vertical integration and alliance with strategic partners for product marketing and business expansion. These new vendors focus on providing low-cost application-specific products to customers with reduced costs and minimize lead times. Existing market players focus on developing and building a strong local presence in order to deal with competition from the local vendors. Manufacturers focus on developing innovative products and manufacturing techniques in order to control costs, facilitate prompt product delivery, and minimize lead times while ensuring the components meet the necessary quality standards. Key industry participants include Zircon Corporation, Fluke Corporation, FLIR Systems, and ULIS.