Industry Insights
Global healthcare payer BPO market size was valued at USD 15,084.6 million in 2014 and is expected to grow at CAGR of over 10% over the forecast period. Key drivers attributing to the growth of the market include increasing global geriatric population, regulatory changes, rising healthcare costs, and the need to improve payer's operational efficiency and customer satisfaction.
According to estimates published by the United Nations, in 2012, the global geriatric population was estimated to be nearly 809 million and is expected to reach nearly 2 billion by 2050. The constantly rising geriatric population is expected to serve as a high-impact rendering factor for market growth as the segment is prone to various health conditions such as cardiovascular diseases, cancers, respiratory diseases, orthopedic problems, eye care problems, and others.
North America payer BPO market by type of service, 2012 - 2022 (USD Billion)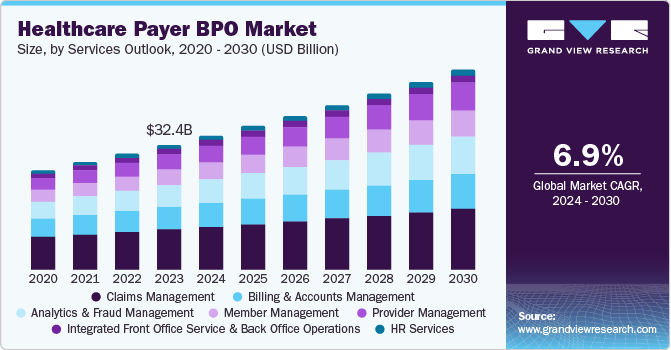 Rising incidences of such diseases lead to increased workload for the insurance companies. To handle high volume claim records, patient records, and to ensure quick turnaround time, the payer companies need to invest resources in technology, infrastructure, and in acquiring skilled talent pool, leading to very high operational costs which is expected to drive market growth over the forecast period.
In 2013, as per data published by the Centers for Medicare and Medicaid Services, nearly 950,000 healthcare providers were collectively paid USD 89 billion as Medicare Payments. This amount includes USD 72 billion for medical and health services, and USD 17 billion for drugs administered.
Private and public organizations are outsourcing the payer administrative functions to significantly reduce the costs, improve operational efficiency, and streamline the overall service delivery to the clients. The outsourcing vendors deploy full-time resources to provide round-the-clock customer support to providers, patients, and other stakeholders.
Services Insights
Based on services offered, the healthcare payer BPO market is segmented into claims processing services, member services, HR services, finance and accounting services. The impact of regulatory changes and key policy initiatives are key factors boosting the healthcare payer BPO market.
In 2014, claims processing services segment accounted for the maximum share of nearly 55%. Key factors attributed are increasing penetration of insurance coverage across the developed and developing nations. The Affordable Care Act is a very high-impacting rendering driver for the overall healthcare payer BPO market. This act provides healthcare and Medicare access to millions of Americans, and as per CMS and ObamaCare data published in 2013, nearly eight million people enrolled through the marketplace and nearly 11.7 million people enrolled in 2015. The increase in these numbers is a direct indicator of growing burden of the healthcare payer services, and as a consequence, it is expected to positively reinforce the healthcare payer BPO market over the forecast period.
However, member services segment is expected to be the fastest growing segment over the forecast period. Key factors attributed are an increase in customer service requirements, need for value-added services, and high competition to enroll new customers and retain existing client base.
Regional Insights
North America accounted for the largest share of over 55% in 2014. The presence of strong reimbursement framework, high public and private healthcare expenditures, favorable government policies, and a high percentage of claim records are some regional growth drivers of this market. Countries such as the U.S. and Canada spend billions of dollars for healthcare reimbursement, and thereby. ensure strict compliance and implementation of healthcare policies.
Asia Pacific is expected to be the fastest growing market over the forecast period. High economic development, an increase in public and private healthcare expenditures, penetration of insurance services in urban and rural centers, and favorable government policies are some of the key factors attributed to market growth.
Company Market Share Analysis
Key players operating in the healthcare payer BPO market include Cognizant Technology Solutions, Xerox Corporation, Accenture Wipro Limited, Hinduja Global Solutions, Exlservice Holdings Inc., Hewlett-Packard, HCL Technologies Ltd., and Genpact Limited. These players account for the majority of the share owing to their technology platforms, strong expertise in BPO delivery functions, and the ability to meet high regulatory and compliance standards of the U.S. and European regions.