"The need to automate the complex handling of business process is expected to drive market growth"
The global robotic process automation market size was valued at USD 125.2 million in 2015. Growing demand for automating the business processes is boosting the demand for the RPA market. Organizations rely on RPA in order to improve efficiency, reduce costs, human errors and enhance regulatory compliance. The technology is becoming sophisticated by offering service organizations and enterprises a way to integrate multiple systems. The technology has become sophisticated by offering a way to integrate systems, deliver complex services securely, and adapt business processes with greater control. These solutions do not completely eliminate the need for business process management or enterprise application integration, however it offers a means to automate complex and overpriced processes.
Robots are deployed to handle standardized, repeatable and logical tasks performed by humans. Lower operational cost is one of the primary drivers for the market growth. It is estimated that RPA is expected to cost as one-third of the least expensive offshore labor. The reduction in workforce cost is expected to trigger organizations to adopt the technology over the next eight years. Small and medium enterprises are utilizing a process-based approach instead of using BPM to gain contracts that contain lower full time equivalent cost to program and manage the robots.
Organizations in financial markets require unprecedented levels of accuracy, speed and cost efficiency, which is beyond human workforce. This is leading them to move towards RPA and artificial intelligence driven by cognitive automation to transform their businesses. Clearing organizations, investment banks are recognizing the influence of technology and the benefits of transforming their business towards digitization by incorporating automated artificial intelligence and IT-driven processes. Initially, a key strategy for capital markets organizations to reduce cost in the back office operations was to offshore the work to countries including India, Philippines and China. However, this offshoring strategy is becoming obsolete as RPA has the potential to displace the offshore clerical work.
North America robotic process automation market By Application, 2014 - 2024 (USD Million)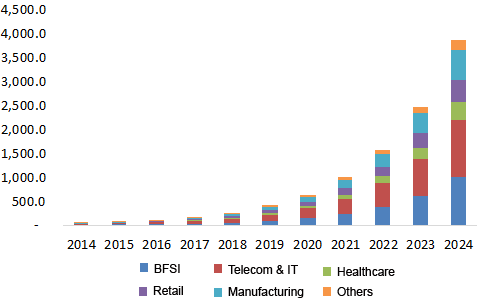 "The professional services are expected to become predominant"
The professional services segment was valued over USD 50 million in 2015. They include consulting, application management, and infrastructure management services. The high adoption of RPA in shared service organizations is enabling increased demand for infrastructure and application management services in the BPOs.
"Deployment of RPA software in small and medium enterprises is expected to increase at an alarming rate"
Small and medium enterprises accounted for over 40% market share in 2015. These organizations are applying cost savings achieved by deploying RPA software to strengthen their innovative programs and accelerate new service and product offerings. Over the past years, small and medium enterprises were resisting the use of robots or robotic software in their business processes owing to their complex handling and the time-consuming programming.
However, in order to achieve scalability and increase efficiency, these enterprises are considering the adoption of RPA solutions and are undergoing training programs for its implementation. Additionally, large enterprises are leveraging the RPA solutions in order to manage the enormous amount of data. The proper management of large data and resources results in increased productivity and high throughput.
"BFSI sector expected to be the fastest adopter of RPA solutions"
The BFSI sector is expected to witness a strong growth in the market, growing at a CAGR of over 65%. The sector is increasing its robotics automation spending in response to the increasing pressure to reduce costs. Banking establishments are under a burden to find methods to lower costs with the aim of improving profitability and positioning themselves for long-term growth. Constant change in technology landscape has caused the banking industry to dive full-throttle into the digital age through an adoption of RPA and artificial intelligence. The incorporation of RPA and AI on the BFSI workspace, it is predicted that there will not only be an output of new jobs but more fulfilling existing jobs.
Retailers are analyzing the huge volumes of big data at their disposal to gain insights into customer desires. Robotics automation combined with cloud and analytics is assisting retailers in reacting to critical problems related to inventory and logistics management. RPA applications are applying logic and rules to accurately and quickly execute repetitive and routine tasks such as reconciliation, month-end close, HR compliance and accounts receivable.
"The Asia Pacific robotics process industry is expected to drive demand"
Asia Pacific accounted for over 9.5% market share in 2015. The spending on robotics and related services in the region is growing, which is boosting the adoption of these software over the forecast period. Robotics automation was conventionally used in the automotive industry, however increase in robotics adoption in sectors such as healthcare, electronics, retail, services, education and government is expected to upsurge the demand over the next few years.
"Automation Anywhere Inc., Blue Prism Group Plc and OpenSpan are the key shareholders"
The key industry competitors include Blue Prism Group Plc, OpenSpan, Automation Anywhere, Jacada Inc. and Be Informed B.V. among others. The prominent vendors are focusing on expanding their proficiency beyond their core competencies by enhancing their solutions and service offerings. Players are also expanding their customer base to leverage their offerings. For instance, Automation Anywhere Inc. has added more than 60 large organizations to its enterprise customer's family.