Industry Insights
The global High Performance Pigments Market was worth USD 4.17 billion in 2014. Growing automotive coatings demand is presumed to play a key role in positively shaping the market growth over the forecast period.
As the name suggests, high performance pigments are characterized by superior properties when compared to their conventional counterparts. These superior characteristics include high resistance to heat & light, enhanced fastness and longer operational life, making them useful for various applications across multiple industries.
Automotive coatings are a key application and hence it critically influences the high performance pigment demand. The rise in automotive coatings demand owing to increased automotive sales in the recent past has had a positive impact on their demand. Industry participants have been taking several key strategic initiatives such as capacity expansion and introducing superior high performance products with an aim to serve the customer's increasing needs.
However, such high performance products are priced much higher when compared to their conventional counterparts. Such price disparity is anticipated to remain a key challenge for market participants over the forecast period. Volatile raw material prices are also expected to pose threats to industry profitability.
U.S. High Performance Pigments Market revenue by product, 2012 - 2022 (USD Million)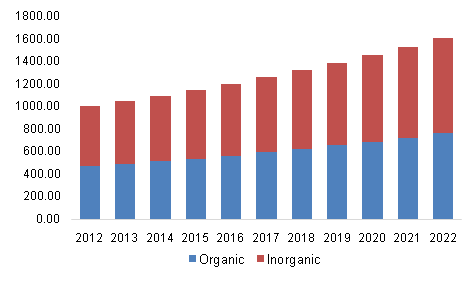 Developed countries are expected to witness rapid growth in demand over the forecast period across numerous industries. Such robust growth prospects promise ample growth opportunities to the industry participants in the near future. Technological innovation related to superior products with enhanced properties is also estimated to offer abundant opportunities for market growth and development.
Product Insights
High performance pigments are categorized into organic and inorganic based on their origin. Organic pigments are derived from natural sources and contain carbon chains and carbon rings. These can be further classified into synthetic and natural segments. Synthetic ones are derived from petroleum products while the natural ones are derived from plant and animal sources.
Inorganic pigments, which are usually precipitated metallic salts, are not carbon based. The inorganic pigments dominated the global industry in the recent past and are presumed to continue their dominance over the forecast period. However, organic pigments have been penetrating the market at a rapid pace and presumed to experience a much higher growth rate compared to inorganic products.
Emerging markets of Asia Pacific and the Middle East are characterized by high inorganic pigment demand in the recent past while developed regions such as Europe and North America have displayed high demand for organic pigments.
Application Insights
The key applications for High Performance Pigments Market include coatings, plastics, cosmetics, and inks. Coatings emerged as the leading application segment and accounted for over half of the global demand in 2014. Automotive coating is a key application under coatings segments, followed by other applications such as industrial and decorative coatings.
Plastic is presumed to witness strong growth over the forecast period. However, applications such as inks are anticipated to witness sluggish growth owing to factors such as rapid digitization in both developed as well as developing regions. Stringent regulations related to food contact applications are expected to hamper further market growth, particularly for inorganic pigments.
Regional Insights
Europe dominated the global High Performance Pigments Market with demand share exceeding 30% in 2014. Vast demand from multiple industries can be attributed to such dominance by the region. Developed regions are less price sensitive when compared to developing regions. Such a trend has resulted in developed regions dominating the global market in the recent years.
European automotive industry has also shown signs of recovery which are expected to further strengthen the regional high performance pigment demand. North American market is primarily driven by the growth of automotive coatings in the U.S. which is expected to remain a major market for key industry participants.
Emerging markets of Asia Pacific and Latin America are estimated to witness rapid demand growth over the forecast period. Rapid expansion of automotive industry in China, India, Thailand and Indonesia is expected to lead growth for the regional market. Concerns remain for the Brazilian economy which still remains soft. 
Competitive Insights
The global High Performance Pigments Market was characterized by a few major companies in the past led by BASF, Clariant, and Ciba. These three companies used to enjoy their patented high performance pigment technologies. However, that scenario has completely changed, and numerous new industry participants have emerged in the global platform.
Companies have been taking certain strategic initiatives to increase their production capacity and enhance their product portfolio to cater to the growing demand, particularly in the developing regions. Prominent industry participants include Sun Chemical, Clariant, BASF, Ferro, Vijay Chemical Industries, Meghmani Pigments, Sudarshan Chemical Industries Ltd., Voxco Pigments and Chemicals Pvt. Ltd., Horsta Chemicals Zhuhai Co. Ltd., Heubach, DIC Corporation, Trust Chem and Eckart GmbH, Merck Performance Materials and Lansco Colors.