Industry Insights
The global HIV diagnostics market was valued at USD 2,173.8 million in 2014 and is expected to grow at a CAGR of 9.5% over the forecast period. Owing to, the technological development of disease diagnostic tests, and the anticipated development and commercialization of novel, regulatory authorities approved POC and rapid CD4, p24 antigen and EID tests; it is expected that all the major regional market segments will witness an increase in market demand over the forecast period. There is an increasing need to introduce easily accessible, efficient, and robust diagnostics tests. Due to the economic resource-limited settings in a significant share of the disease affected regions, it is still not feasible to perform the current, complex screening, staging, and monitoring tests.
Global HIV diagnostics market, By product, 2012 - 2022 (USD Million)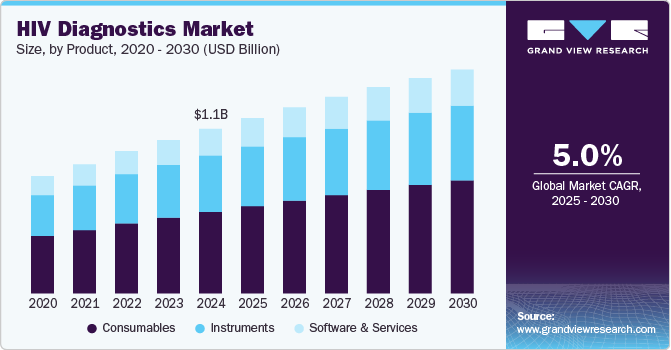 This is either due to the lack of sufficient testing laboratories or a lack of trained clinical technicians capable of performing the tests. These limitations of laboratory-based testing are a catalyst to the development of portable and easy to implement point of care, rapid tests. Currently, a very limited number of such tests are available in the global market space. However, in the present scenario, a number of POC/rapid tests are under clinical development and investigation in the product pipelines of major market participants and are expected to obtain regulatory authorization in a number of regional segments of the market. This expected increase in the number of product offerings to the global market space is expected to fuel the growth of the HIV diagnostics industry over the forecast period.
Product Insights
The HIV diagnostics market encompasses diagnostic screening and confirmatory tests for HIV-1, 2 and group O incidence testing. These tests have primary applications to screen and differentiate between the various groups and subtypes of human immunodeficiency virus. At a broader level, diagnostic tests, and products can be divided into antibody tests, viral identification assays, CD4 testing, viral load testing and early infant diagnosis (EID). EID is conducted separately than viral load testing and CD4 testing owing to the fact that, due to the presence of antibodies from maternal blood in infants under the age of 18 months, results from the aforementioned tests become inaccurate. Therefore, DNA PCR molecular test is used for infant HIV diagnostics and screening, thus warranting a separate market segment accounting for the same. The largest share of market revenue for 2014 in the HIV diagnostics market space was accounted for by antibody tests. This large share can be primarily attributed to the presence of a large number of antibody tests in the market which can be further subdivided into HIV-1 screening, 1 confirmatory, and 2 & Group O tests. These include modern 3rd and 4th generation ELISA tests, POC/NonPOC dried blood spot tests, rapid agglutination for HIV-1 screening, western blot, indirect immunofluorescent antibody assay, and radioimmuno-precipitation assay for disease confirmation and line immunoassays for disease subtyping, screening, and confirmation. Furthermore, the latest antibody tests are extremely accurate in detection, so much so that the confirmatory western blot test is regarded to be 100% accurate post antibody screening. Owing to considerably high market usage rates and high sensitivity/accuracy, the antibody tests segment is expected to maintain its dominant position throughout the forecast period. Other test segments in the market include p24 antigen tests and viral culture for viral identification, viral load testing, and CD4 testing; p24 antigen tests are less sensitive than antibody and are used in combination with them to provide complimentary screening and HIV testing functionality. These tests are required during the implementation and monitoring of antiretroviral therapy once positive confirmation of the infection is obtained. In the current market scenario, these tests are complex to implement and need laboratories with well-trained clinical technicians. The expected technological development of these testing segments giving rise to the introduction of novel POC tests is also expected to fuel the growth of the HIV diagnostic tests market through to 2022.
Regional Insights
Global landscape of the HIV diagnostics market can be segmented into North America, Europe, Asia-Pacific, Latin America, and MEA. North America HIV diagnostics market accounted for the largest share of the global revenue generated in 2014 for the market, owing to the presence of a technologically advanced healthcare framework, supportive reimbursement policies, and relatively higher healthcare expenditure in research and development. The region is expected to further witness an increase in market demand throughout the forecast period with the technological development of rapid and portable diagnostic tests. However, the Asia-Pacific HIV diagnostics market, owing to the presence of high unmet demand in India and China, is expected to grow at a relatively faster rate throughout the forecast period.
Competitive Insights
Major market participants of the HIV diagnostics market are involved in the clinical research and development of CD4, p24 antigen, and viral load testing methodologies in attempts to reduce their implementation complexity and increase accessibility and portability. Alere Inc., Abbott Healthcare, Abbvie Inc., Brsitol-Myers Squibb, Janssen Therapeutics, Gilead Sciences, Merck & Co. Inc, VIIV Healthcare, BD Biosciences, Beckman Coulter, Partec, Sysmex, Apogee Flow Systems, PointCare Technologies Inc., Zyomyx Inc., Mylan inc., Roche Diagnostics, Siemens Healthcare, Qiagen, and bioMerieux dominated HIV diagnostics market share in 2014.