Industry Insights
The global IVD quality control market size was valued at USD 847.4 million in 2016. Increasing number of accredited clinical laboratories worldwide, and presence of favorable regulatory bodies are expected to be the key factors driving market growth. Due to the high prevalence rate of diseases such as diabetes, cardiovascular diseases, and infectious diseases, diagnostic laboratories have gained demand. Many private as well as public laboratories are undergoing laboratory accreditation procedure to meet industry standards, improve their procedural volume, and attract more patients. Laboratories accredited by CLIA are eligible for reimbursement through Medicare and Medicaid services.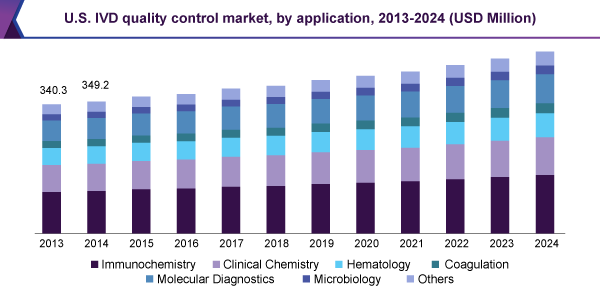 The regulatory bodies monitoring quality control and regular quality check of IVD devices and service providers include FDA for U.S.; Medicines and Healthcare Products Regulatory Agency (MHRA) for the UK; Therapeutic Goods Administration (TGA) for Australia; Central Drug Standard Control Organization (CDSCO) for India; Health Canada for Canada; European Medicines Agency (EMEA) for Europe; Ministry of Health, Labor & Welfare(MHLW) for Japan; Ministry of Health, Labor & Welfare (MHLW) for Brazil; and Ministry of Health for South Africa.
The U.S. was estimated to be the largest market share holding country in North America in 2015 with a market share of 91.0% in the global IVD quality control market. Increasing penetration of key players in the U.S. is one of the important factors supporting the growth of this market. This is expected to provide wider market for such companies. Moreover, GHTF regulatory authorities like U.S. FDA are encouraging convergence of regulatory systems for medical devices, which is anticipated to encourage trade, while protecting public health through regulatory means.
The American Clinical Laboratory Association states that more than 7.5 billion lab tests are performed in the U.S. annually and 80% of clinical decisions are taken after laboratory testing. According to International Diabetes Federation (IDF) in the year 2014, there were 422 million people suffering from diabetes globally and caused more than 1.5 million tests in the U.S. in year 2013. Hence, increasing the usage of IVD services.
Application Insights
Immunology application segment dominated the IVD quality control market in 2016. Immunology includes study of molecular mechanism for understanding the function of immune system. It majorly involves the mechanism of action of antigens, antibodies, and their interactions. The key applications of the immunochemistry include detection of infectious microorganisms such as virus, bacteria, and fungus by detecting presence of their toxins and coat antigens. The increase in the outbreaks of communicable and chronic diseases and need for its early diagnosis are the key drivers for the increased demand of immunochemistry methods involving different types of ELISA.
Molecular diagnostics was anticipated to be the fastest growing segment over the forecast period. It a set of complex tests for medical diagnosis for all major viral, bacterial, and parasitic infections. Introduction of advanced technology such as PCR and next-generation sequencing has overcome the drawback of traditional systems, such as speed, sensitivity, and accuracy.Some of the key pathogens routinely diagnosed using multiplex PCR, but not limited to, are HIV, HSV (meningitis and encephalitis), H. influenza, S. pneumonia (respiratory tract infections), N. gonorrhea, C. trachoma (genital infections), G. lambardia, C. parvum (diarrheal diseases), and Leishmaniaspp (Leishmaniasis)
Type Insights
Quality control is the largest and the fastest growing type segment and accounted for more than 43% of the global IVD quality control market in 2016. IVDs fall under the category of medical devices and, hence, are regulated for quality by the FDA. In the U.S. Quality Control (QC) refers to procedures monitoring work processes, detecting problems, and making corrections prior to delivery of products or services. Statistical QC is a major procedure for monitoring the analytical performance of Clinical Laboratory testing processes. Controls such as calibrators and known concentration reagents & buffers are used for monitoring the precision & accuracy of instruments.
Quality control in laboratory is focused on ensuring that the results delivered to patient are accurate. Quality control checks are usually undertaken while installing an instrument, after servicing, changing reagent lots, and when the instrument readings are not in range. The authorities that regulate quality of these IVDs include the European Communities Confederation of Clinical Chemistry and Laboratory Medicine (EC4). American Association for Laboratory Accreditation (A2LA) and Clinical Laboratory Improvement Amendments (CLIA) have enhanced the demand for IVD quality control
End-use Insights
Hospitals segment was observed to be the largest end use segment and accounted for market share of 46.5% in 2016, owing to increasing number of admitted patients and reliability of healthcare professionals on clinical diagnosis for deciding treatment alternatives. Hospitals have a separate department for diagnostic services. Instruments and reagents are majorly used for diagnosis of disorders in hospitals. The tests and instruments in this department need to be monitored regularly, owing to high amount of procedural volumes carried out.
Third party companies, such as Bio-Rad and Randox enter into collaboration with hospitals for providing reagents pertaining to quality control. Another factor contributing toward dominance of this segment is increasing demand for fast diagnostic tests in critical care department and presence of large number of IVD instruments and reagent kits.
Home care is expected to be the fastest growing end use segment over the forecast period. Home care settings include variety of devices such as self-testing kits, point-of-care (PoC) instruments used for near-patient bed testing, and IVD devices in assisted healthcare settings. Self-testing kits give ease of convenience for the patient who requires everyday testing and further reduces hospital visits. Home care devices are expected to propel the IVD quality control markets growth at significant growth rate over the forecast period.
Home care products include blood glucose monitoring devices for diabetes patients, pregnancy detection kits/devices, urine analyzers, hemoglobin sensors, and hormone home tests. These devices pose a high risk due to its use by layman. Quality control of such devices is done by pre- and post-marketing quality assurance and quality control to ensure safety of the patient.
Regional Insights
North America was estimated to be the largest regional market in 2016 with a revenue share of 48.0% owing to the presence of U.S.FDA regulatory authority and many accredited diagnostic laboratories coupled with strong quality control regulation systems. U.S. FDA along with GHTF regulates the North America region for IVD quality control market. It regulates the quality from production to premarketing till post marketing surveillance.
The authority regulating IVD quality control in Canada is Health Canada. Medical Device Reporting (MDR) requires the quality management standard under which Class II, III, or IV medical devices are designed and manufactured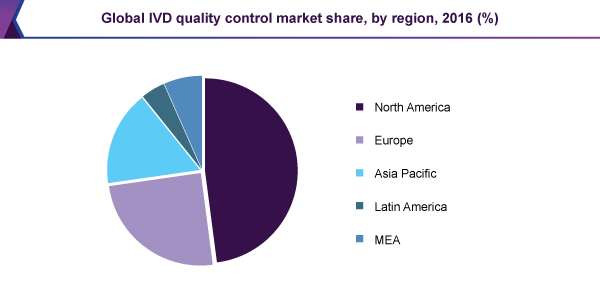 Asia pacific was expected to be the fastest growing region over the forecast period. Asia pacific portrays a high potential for this market majorly due to increasing number of companies getting engaged in manufacturing of IVDs. Moreover, rise in awareness for early and precise diagnosis fosters the demand for IVDs.
For instance, the Asia Pacific Federation of Clinical Biochemistry and Laboratory Medicine (APFCB) is engaged in promoting awareness for use of IVDs.Regulatory authorities for healthcare in Japan include Ministry of Health, Labor and Welfare (MHLW), Pharmaceuticals and Medical Devices Evaluation Agency (PMDA), and Ministry of Agriculture and Fisheries and Food.
IVD Quality Control Market Share Insights
The global IVD quality control market accounts for maximum share of the global production in 2016. Key market participants include Siemens Healthcare GmbH, Roche Diagnostics, Alere, Inc., Abbott Laboratories, Inc., Bio-Techne, Hologic, Inc. (Gen-Probe), Qiagen N.V., Bio-Rad Laboratories, Inc., Quidel Corporation, Becton, Dickinson and Company(BD), bioMerieux, Inc., Sysmex Corporation, Sero AS, and Thermo Fisher Scientific, Inc.
Application development and customized products are expected to be key parameters for being competitive in this market, with frequent mergers and acquisitions being undertaken as an attempt to diversify product portfolio and gain market share. Key players are focusing on expanding their businesses in developing regions to increase their market share. In addition, they are adopting strategies such as mergers & acquisitions and development of new products.
Segments Covered in the Report
This report forecasts revenue growth at global, regional, and country levels and provides an analysis on latest industry trends in each of the sub-segments from 2013 to 2024. For the purpose of this study, Grand View Research has segmented the global IVD quality control market report on the basis of application, type, end-use, and region:
Application Outlook, by Revenue (2013 - 2024, USD Million)

Clinical Chemistry

Immunochemistry

Hematology

Molecular Diagnostics

Coagulation

Microbiology

Others

Type Outlook, by Revenue, 2013 - 2024 (USD Million)

End-use Outlook, by Revenue, 2013 - 2024 (USD Million)

Home-care

Laboratory

Hospitals

Others

Regional Outlook, by Revenue, 2013 - 2024 (USD Million)

North America

Europe

Asia Pacific

Latin America

MEA