Industry Insights
The global in vitro diagnostics (IVD) market size was estimated at USD 51,674.4 million in 2013. Increasing incidence rate of gastrointestinal and sexually transmitted diseases coupled with growing demand for large-scale population screening, especially for cancer and to identify whether a specific treatment or medicine would work on a patient is expected to propel industry growth over the forecast period.
The U.S. IVD market revenue by product, 2012-2020, (USD Million)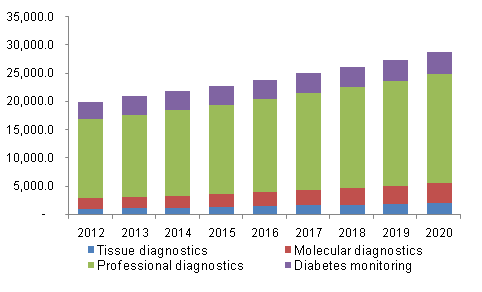 In vitro diagnostics market is expected to witness growth owing to advancements and innovations in the IVD technologies, which has resulted in the introduction of novel diagnostics test applications. It is found in virtually each stage of the patient care pathway and almost every healthcare setting. However, many of these tests are remotely performed making their presence and use unnoticed.
Rising geriatric population base and demand for diagnostic testing is expected to spur the in vitro diagnostics industry. Growing prevalence of diabetes has increased the IVD demand as patients suffering from diabetes regularly use IVDs to monitor the blood glucose. According to the National Diabetes Statistics Report 2014, around 9.3% of the U.S. population or 29.1 million people have diabetes and approximately 8.1 million people or 27.8% of the U.S. population suffering from diabetes are undiagnosed.
Various associations are operating to monitor the industry. For instance, BIVDA is an association of companies with high interest and involvement and represents distributors and manufacturers functioning in the UK.
Increasing recognition of the diagnostics role in patient care and rapidly changing healthcare environment, with growing awareness about the diseases, are expected to promote the in vitro diagnostics market over the next six years.
Growing demand for the point-of-care identification and detection of various infectious diseases such as viruses and bacteria causing lower and upper respiratory tract infections, including influenza, RSV, pneumonia, and Legionnaires' disease, coupled with pathogens causing malaria and filariasis is one of the major drivers for the industry.
Product Insights
Professional diagnostic IVD products were the largest segment with revenues of USD 36,117.3 million in 2013. The presence of high unmet medical needs such as in infectious disease category and its potential to provide rapid and reliable diagnostic results is expected to drive professional diagnostics growth.
Tissue diagnostics is expected to grow at a CAGR of 10.2% from 2014 to 2020 on account of increasing incidence rates of cancer and growing demand for lab automation. According to the National Cancer Institute, the most common cancers in 2015 are anticipated to be lung and bronchus cancer, colon and rectum cancer, melanoma of the skin, breast cancer, prostate cancer, and others. Moreover, approximately 1,658,370 new cases of cancer are expected to be diagnosed in the U.S. in 2015, therefore increasing the demand for tissue diagnostics segment.
Regional Insights
North America was the largest region owing to growing prevalence of chronic disorders such as cancer and respiratory diseases in this region. Europe IVD market was valued at over USD 15,755.0 million in 2013 and is projected to rise due to increasing incidence rate of pneumonia, cancer, and tuberculosis in future.
Europe was followed by Asia Pacific, which accounted for over 20% in 2013. Government initiatives, increasing clinical research activities with respect to advanced diagnostics, and growing per capita healthcare expenditure are expected to promote growth over the forecast period.
The in vitro diagnostics market contributes to the well-being and health of the European Economy. There are around 40,000 IVD products available, assisting patients and specialists on a wide range of conditions.
Competitive Market Share Insights
Siemens Healthcare, Johnson and Johnson, Becton Dickinson, Abbott Laboratories, Roche Diagnostics, and Beckman Coulter Inc. dominate the global IVD market share. The market players are providing various solutions in the form of reagents, services, and instruments. To acquire the share and gain sustainability, the companies are involved in extensive R&D activities to develop new products catering to the segments with increasing future growth rates such as tissue and molecular diagnostics.
In April 2015, Sekisui and Abbott announced an agreement to provide coagulation testing solutions for the laboratories around the globe. As per the agreement, Abbott would be the exclusive distributor of CP3000 coagulation instrument (Sekisui), in the U.S., Europe and regions that recognize CE mark.
In December 2014, Roche expanded CE-IVD for testing of human organ and tissue for next-generation blood screening assays. Cobas WNV and cobas MPX assays can be used for testing tissue and human organ, therefore expanding the range of approved uses for the cobas 6800/8800 systems and assays.