Industry Insights
The global industrial lubricants market size exceeded 15 million tons in 2015. Lubricants are utilized in a plethora of applications across the automotive, textiles, chemical processing and energy industries. Growing need for streamlined processing & lower machinery maintenance costs has fostered lubricating product's demand.
Lubricants are indispensable to proper machinery functioning since they reduce wear & tear between various moving parts. They also assist in lowering operation downtimes while contributing to higher productivity. Furthermore, the incorporation of various additives renders them corrosion & temperature resistant which ultimately prolong machinery & equipment lifespan.
U.S. industrial lubricants market volume by product, 2014 - 2024 (Kilo Tons)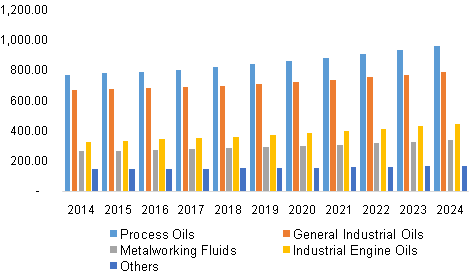 Regulations play a crucial role in forming consumption patterns & application trends. Stringent regulatory framework regarding emission control has fostered lubricants demand to improve operational efficacy & reduce resource wastage. Furthermore, lower fuel & energy consumption owing to better machinery performance has also contributed to industrial lubricants market growth.
The growth of key end-use industries has also influenced consumption trends in recent years. Expansion of the wind turbine industry owing to the shift in focus toward utilizing renewable energy is expected to provide a positive outlook. Similarly, expansion of the food & beverage processing sector, owing to aggressive commodity branding, low technological costs and entry of major multinationals, has generated high demand for lubricants in this segment as well.
Production levels have risen to a large extent in emerging economies owing to the rapid urbanization & industrialization of these regions. Industrial output in the BRICS nations was estimated at USD 4,046.71 billion in 2008 which grew to USD 5,598.81 billion by 2013. The exponential rise in automation and proliferation of rapid production technologies has thus contributed largely to market growth in these regions.
Product Insights
Process oils were the dominant product with 32% volume share in 2015. These oils contribute largely to improved productivity & efficiency in manufacturing operations, while also ensuring energy & cost savings over the long run.
Growing demand for engine oils to ensure higher performance & offset rising fuel costs has led to high demand for industrial lubricants to lower the coefficient of friction & keep engines clear from debris that hampers internal combustion. The product is expected to emerge as the fastest growing segment with a CAGR of 3.8% over the forecast period.
Application Insights
Chemical manufacturing was the dominant application accounting for over 26% volume share in 2015. Processing equipment is often subject to temperature extremes, continuous operations and contamination threats from water, chemicals & particulates. Lubricants serve to reduce friction, wear & tear and corrosion from such elements while optimizing production levels & reducing servicing downtime.
Textiles segment is expected to emerge as the largest application, growing at highest CAGR of 5.0% to overtake the chemicals segment by 2024. Highest revenue was generated in textile finishing & nonwoven applications to offset the effects of high speed, yarn breakage & abrasion during processing.
However, high demand for renewable energy resources to counterbalance dwindling crude oil reserves across the globe have led to increased lubricant consumption in the energy sector. Technologies harnessing & storing energy from renewable sources such as the ocean, wind and solar are growing at a rapid rate. Lubricants are thus being utilized in such machinery to reduce damage & corrosion while also contributing to higher energy conversion rates.
Regional Insights
Asia Pacific industrial lubricants market led the global industry with demand share exceeding 40% in 2015. The proliferation of rapid automated production processes to cope with the ever-growing needs of a burgeoning population has led to high growth in the region. The region is expected to witness the highest growth over the forecast period, on account of increasing awareness regarding energy efficiency & resource conservation in manufacturing processes.
However, similar production trends in emerging economies of Central & South America (CSA) has also impacted consumption in this region. Brazil, Argentina, Venezuela and Colombia are the frontrunners of economic growth in this region, with rising consumer disposable income and simultaneous rise in production levels. These factors are expected to drive lubricant consumption to streamline manufacturing processes & contribute to higher energy savings.
Competitive Insights
The global industrial lubricants market is characterized by the presence of the dominance of key multinationals such as BASF SE, ExxonMobil Corp., Petronas Lubricant International, Chevron Corp. that occupy a significantly larger share. Strategic collaborations between these and other regional players have led to the development of unique products from bio-based sources to gain a competitive edge.
New entrants are compelled to face intense competition from these existing players with their vast product offerings and well-established distribution networks. However, few players have managed to gain entry by differentiating their products using advanced technologies.
The industry currently comprises of participants such as Fuchs Group, The Lubrizol Corporation, Royal Dutch Shell, Philipps 66, Lucas Oil Products Inc., Amsoil Inc., Bel Ray Co., Total S.A., Kluber Lubrication, Valvoline International Inc., Chevron Corporation, Clariant, and Quaker Chemical Corporation.