Industry Insights
The global industrial robotics market was estimated at USD 25.68 billion in 2013. The upsurge in demand for industrial robots, in order to improve the productivity of high volume production lines, especially in manufacturing of electronic devices and vehicles which perform complex tasks are expected to impact market growth.
New generation robots, unlike their predecessors, possess human attributes such as flexibility, intelligence, memory, recognition of objects, and ability to learn. The increase in operation rate, cost reduction, and size reduction, in addition to improving quality and increasing manufacturing flexibility and efficiency, are important factors impacting the demand.
Industries implementing robotic technologies gather huge financial benefits owing to reduced overheads, increased productivity, flexibility and waste reduction. The introduction of sophisticated tools and development of self-programming robots is anticipated to gain momentum with the advancements in artificial intelligence over the forecast period.
Italy industrial robotics market, by application (USD Million)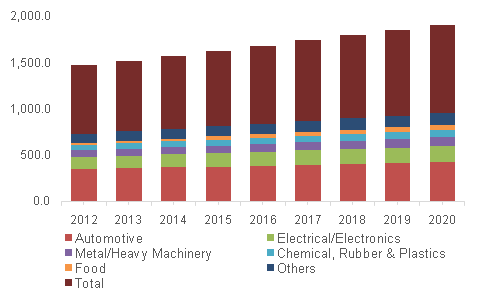 The introduction of robots with integrated touch and vision are anticipated to have a positive impact on the market on account of its ability to enhance speed and efficiency of delivery systems. The concept of simple autonomous robots functioning as a part of a greater group has also gained widespread importance.
Industrial robots have formed a new ecology of high-paying and rewarding jobs through activities including building, designing, marketing, installing, selling, maintaining and operating robots. High maintenance costs and inaccurate cost validations are estimated to obstruct market growth. Increasing system engineering and installation costs also prevent companies from adopting these robots.
Supportive government policies in Asian countries, namely, Taiwan, Korea and China through programs addressing tax incentives, investment in skills, R&D funding, and loans are expected to influence market growth positively. Europe invested USD 872 million on the SPARC robotics project which is expected to generate over 240,000 jobs in Europe over the next seven years.
Application Insights
In 2013, the automotive industry accounted for over 40.0% of the global market revenue. Additionally, there has been a growing number of robot deployments in the automotive industry as they ensure cost-effectiveness, safety and job efficiency. On the other hand, non-automotive applications are anticipated to fuel market growth from 2014 to 2020.
The food industry, electrical & electronics manufacturing, rubber industry and chemical & plastics industry are some of the end-use segments; where industrial robotics demand is projected to grow in the foreseeable future. Electrical and electronics manufacturing sector has contributed considerably to the overall revenue.
Industrial production automation indicator is a scale that shows the number of robots per 10,000 workers employed in an industry. Currently, there is a substantial difference in the robotisation level (according to robot saturation indicator) between the automotive industry and machines. This indicator reached 7-8 for developed countries and a 19 for emerging economies including BRIC nations. Hence, the industrial robotic market is expected to experience a substantial improvement in both developed and developing countries over the forecast period.
Regional Insights
The industrial robotics market is led by a few major countries including South Korea, Japan, the U.S., China and Germany. According to International Federation of Robotics' (IFR) statistics, Japan was the leading market for industrial robotics, followed by China. In 2013, Asia Pacific industrial robotics industry contributed to over 50.0% of the overall market revenue. Moreover, the concentration of robotic machines in Japan and South Korea is higher as compared to other countries. This can be attributed to the growing electronics industry, which involves high robot installations.
Significant increase in demand from automotive industry in Australia is expected to have a positive impact on growth. Strong focus on enhancing production techniques along with modernizing factories to improve productivity is one of the key factors accountable for robotic installations, especially in Brazil and the U.S.
Competitive Insights
Few companies that dominate the industrial robotic market include ABB, Adept Technology, EPSON Electronics, DENSO Corporation, Fanuc Robotics, Mitsubishi Electric, Kuka, Panasonic, Toshiba, and Yamaha. The industry requires high investments and funding, which result in high exit barriers and high costs.
The industry is identified to be capital-intensive which is expected to increase entry barriers for new market players. New players are expected to face issues related to insufficient venture capital for product differentiation and diversification, thus leading to increased focus on specific application areas. It is necessary that start-ups gain better insights of the market before continuing into the next stage.
Prominent industrial robotic producers, have leveraged their expertise in the area to diversify into service robotics. Numerous small businesses, offering robots at lower rates, have forced key players to decrease prices.
Industrial robotics member corporations attempt to achieve environmental sustainability through technological advancements under "Blue Competence" sustainability initiative. It was started by a German engineering association, Verband Deutscher Maschinen- und Anlagenbau e.V. (VDMA), under which ABB helped Volvo Cars to make a greener vehicle interior.