Industry Insights
Major networking, storage, management, and systems purveyors are foreseen to have a huge stake in the integrated systems market as consumers are progressively demanding abridged deployments and fewer standalone solutions. Integrated systems demand huge investments in technology, channel partnerships, service delivery, and integration. The integrated systems market is also foreseen to attain a considerable upsurge in growth as consumers trade single module performance for integrated service delivery, trending a phase change in data center infrastructure.
Global integrated systems market by service, 2012 - 2020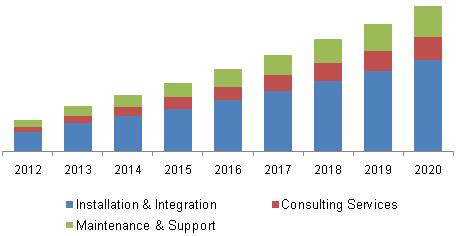 The IT sector is evolving and has witnessed a rapid shift from traditional silos. Over the last few years, the industry has experienced the emergence of integrated systems; wherein data center technologies are melded into pre-engineered and tested systems to operate as a whole. The underlying rationales for the aforementioned trend include the need to reduce Total Cost of Ownership (TCO), lower risk, and improve profitability. IT executives are increasingly considering integrated systems as an efficient way to enhance business agility. IT organizations focus on integrated systems adoption in order to support on-demand IT infrastructure and increase IT staff productivity and operational efficiency, which is expected to accelerate integrated systems market growth over the forecast period. Further, the aforementioned benefits associated with integrated systems help end-users better respond customer demands as well tap several market growth opportunities effectively.
Service Insights
Integrated systems service segment includes the provision of installation and integration, consulting and maintenance & support. As the name suggests, installation and integration services include implementation and begins with breaking down organizational silos, including servers, storage facilities, and networking that can be easily melded with the existing infrastructure to optimize enterprise IT performance. The segment is expected to witness high growth over the next few years, which may be attributed to high demand across several small, medium and large-scale enterprises.
Consulting services include understanding user requirements and provisioning a plan to build and operated integrated systems catering several IT needs of an organization. Maintenance and support services include any after sales services, and include annual maintenance contracts or preventive maintenance contracts. Maintenance and support tasks help enterprise free their staff to focus on core organizational competencies and innovate, and is expected to fuel the integrated systems market demand over the forecast period.
Product Insights
Integrated systems, also referred to as converged infrastructure, are pre-integrated, tested and validated systems that mainly comprise integrated platform/workload systems and integrated infrastructure. Integrated platform are essentially sold with additional pre-integrated customized system engineering and packaged software optimized to enable functions such as storage, application development, testing and integration tools as application development software, databases, testing, and integration tools; whereas integrated infrastructure encompasses storage, server and network integrated to provide shared compute infrastructure. The integrated infrastructure market may surpass the integrated platform segment over the forecast period, and in turn drive the integrated systems market.
End-Use Insights
The integrated system solutions are sold to customers in numerous domains, which include educational institutes, healthcare, retail, manufacturing, BFSI and telecom & IT. In terms of revenue, BFSI and IT & telecom are expected to emerge as a dominant segment owing to high adoption rate across these industries. Retail and manufacturing sector provide several opportunities for market growth, and may witness rapid growth over the forecast period.
Regional Insights
North America is expected to emerge as the dominant regional market owing to technological advancements and high market penetration of integrated systems. Further, presence of Facebook and Amazon that have successfully deployed integrated systems architecture may also drive the regional integrated systems market demand over the forecast period. Asia Pacific is expected to witness substantial growth over the forecast period. This may be primarily attributed to data center transformation projects coupled with rapid IT infrastructure development in this region. In light of the gradual improvement seen across major economies globally over the last few years, buyer confidence in deploying integrated systems initiatives is expected to exhibit considerable demand, however with much less zeal.
Competitive Insights
The global integrated systems market is highly consolidated with a few key players accounting for a considerable market share in 2013. The key industry participants include Oracle, IBM, VCE, Cisco and Hewlett and Packard (HP). Vendors usually provide maintenance services for the equipment deployed in the customer's premises. Integrated system purveyors are collaborating with both cloud-based storage and virtualization vendors to upsurge the converged infrastructure installation in enterprises.