Increasing chronic diseases, longer hospitalization duration, and government initiatives are expected to expand the market over the forecast period
The global Intravenous (IV) solutions market was valued at USD 6.9 billion in 2015 and is projected to grow at a CAGR of 7.8% over the forecast period. The emergence of this market is attributed to the fast-growing geriatric population and prevalence of malnutrition in the elderly and pediatric population.
A large cohort of the population aged 60 years and above is present across the globe, which is prone to developing gastrointestinal, cardiac, and neurological diseases, injuries, and cancers. On the other hand, advancement in surgical procedures and treatments has increased the life expectancy. The numerous surgical procedures necessitate medical attention, subsequently resulting in longer hospitalization. IV nutrition forms an integral part of any treatment to fulfill nutritional requirements and aid in faster recovery in patients.
The prevalence of cancer is forecasted to rapidly increase by approximately 70% in the next few decades. Stomach cancer is one of the top 5 cancers affecting the population. These patients are 'nil by mouth' and have to rely on Total Parenteral Nutrition (TPN) for survival. Moreover, several patients suffering from advanced cancer develop anorexia, which reduces their survival time. These patients respond poorly to chemotherapy and suffer from elevated toxicity. This condition is alleviated by peripheral or total parenteral nutrition.
North American Intravenous solutions market, by Type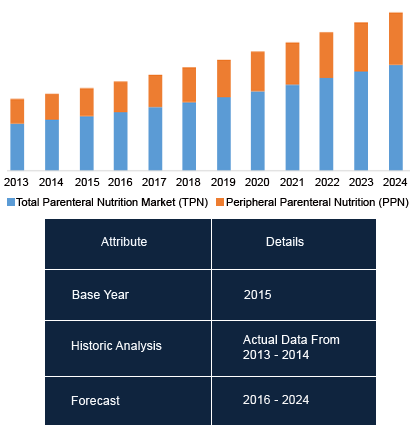 The parenteral solutions are packed in large and small volumes depending upon its intended use. Large Volume Parenteral (LVP) is available in 250-1000ml bags, whereas Small Volume Parenteral (SVP) solutions are packaged in 100 ml vials. Companies are investing in new manufacturing units to leverage on the existent LVP shortage. In 2015, B. Braun Melsungen AG invested in expanding its production capacities in Malaysia, Indonesia, and Spain.
Total Parenteral Nutrition dominated the market in 2015
On the basis of the type of nutrition, the market is segmented into TPN and PPN. TPN held a majority share in 2015 owing to the growing applications in the geriatric and pediatric population coupled with its requirement in the management of chronic diseases such as cancer and ulcerative colitis.
Prevalence of malnutrition is high in the developing countries. Around 3 million infant deaths occur every year due to malnutrition. In addition, 165 million infants who survive have a reduced development rate and impaired cognitive skills. The first 1,000 days of a child are crucial in terms of nourishment requirements for physical growth to develop a healthy intellectual capacity, which is provided through TPN. Growing government efforts by NGOs to counteract malnutrition is expected to bolster the demand in the coming years.
Patients suffering from chronic diseases, acutely-ill elderly people, and patients with a dysfunctional gastrointestinal tract need a continuous nutrition system to fulfill nutrition deficiencies. However, fairly stable patients prefer cyclic parenteral nutrition wherein patients are infused with IV solutions at night, which keep them off the equipment during the day. This helps in improving the patient's quality of life and minimizes the risk of hepatic damage.
Single dose amino acid solution was the most used nutrient in 2015
On the basis of nutrients, the market is segmented into carbohydrates, single dose amino acid solution, vitamins & minerals (salt and electrolyte), parenteral lipid emulsion.
Single dose amino acid held a considerable share in 2015, closely followed by parenteral lipid emulsions. Rising prevalence of kidney failure, protein deficiency diseases (Marasmus & kwashiorkor), and hepatic diseases is contributing to the high consumption of amino acid injections. Moreover, increased approvals of enhanced amino acids with fewer adverse effects are also fueling the market growth.
However, vitamins and minerals (salts & electrolytes) are expected to grow at the highest CAGR of 9.7%. Key factors contributing to its elevated growth include an increasing number of surgeries and post-operative nutritional management; treatment of diseases, such as anemia, beriberi, and pellagra, and chronic mental conditions; and replacement therapies.
In May 2016, Opsonin Pharma Ltd. launched its first IV infusion of 5 vitamins and 6 electrolytes, Clinosol in Bangladesh.
North America is the largest regional IV solutions market
In 2015, North America accounted for the maximum revenue share of more than 40%, followed by Europe. The U.S. is the most important market and accounts for the maximum share of the North America region. Approximately 740 units of normal saline are utilized every minute in this region. Moreover, the industry giant, Baxter, provides more than a million units per day. Although the demand is high, the U.S. experiences a shortage of saline solutions due to a limited number of suppliers and frequent recall incidences.
In January 2016, Baxter had to recall an entire batch of intravenous solutions after a customer reported a bug in the product. The company called a voluntary recall to avert further the serious implications associated with infected IV solutions. The root cause of the contamination was identified as a mechanical issue in one of the machines, which was subsequently rectified. Similarly, in April 2016, Hospira recalled an entire batch of IV solutions after noticing a particulate in a single-dose vial. In addition, 3 similar cases of particulate contamination had occurred in the company in March 2016, February 2015, and January 2013. The numerous recalls are further accentuating the shortage of IV solutions, which provides an untapped market potential to the emerging players.
The reimbursement scenario is promising for IV nutrition. In the U.S., Medicare covers up to 80% of the expenses of parenteral and enteral nutrition including physician services, medical equipment, and other associated medical services. In the developing countries, increasing power of purchasing compensates the absence of reimbursement coverage thus sustaining the growth of this vertical.
Asia Pacific is expected to emerge as the fastest-growing region over the forecast period with India being one of the fastest-growing nations due to increasing private funds and government initiatives in the region.
In July 2016, a state government in India issued an advisory to all the hospitals regarding taking appropriate precautionary measures prior to medical use of IV solutions. Programs, such as Integrated Child Development Service Program, Special Nutrition Program, and CARE Assisted Nutrition Programs, are developed by the government to offset the existent problem of malnutrition in the country.
In 2015, Milken Institute published a report exploring the potential funding alternatives to bolster the efforts of the government, NGOs, and private companies in counteracting the severe malnutrition problem in Southeast Asia.
The IV solutions market is dominated by a few sector players
Some of the market players operating in the region include Fresenius Kabi AG, B. Braun Melsungen AG, Hospira, and Baxter. These companies provide a wide range of products with different compositions specific to different disease conditions.
In July 2016, B. Braun Melsungen AG launched a new antibiotic, Meropenem, in injection USP and NaCl Injection USP in 500 mg and 1 gm container. The container can be stored at room temperature thus facilitating its use and storage.
In April 2016, Baxter launched an injection, Vancomycin in 0.9% saline solution, available in 500mg, 750mg, and 1 gm in the U.S. It will be used to treat infections caused by staphylococci bacteria.