"Increasing construction spending in Asia Pacific to drive iron oxide pigment market"
The global iron oxide pigment market size was USD 1.83 billion in 2015. Growing demand in construction, paint, and plastic industries has urged the iron oxide manufacturing companies to increase their investment in this market.
Growing construction industry in Asia Pacific and the Middle East are anticipated to drive market growth over the next eight years. Favorable government regulations regarding environmentally friendly products coupled with technological advancements are expected to have a positive impact on market growth.
U.S. Iron Oxide Pigment Market Revenue By Product, 2014-2024 (USD Million)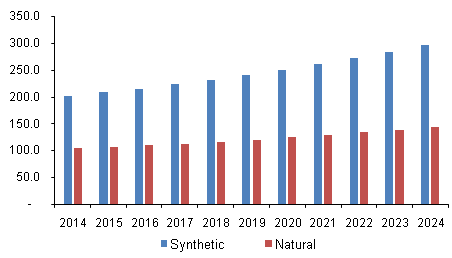 Major chemical manufacturers such as Lanxess and BASF SE have shifted their preference towards utilizing improved technologies for manufacturing high-quality pigments by following proper standards. The aforementioned factor is anticipated to have a positive influence on the companies for developing different colors of both synthetic and natural products.
The raw materials used for synthetic product manufacturing include nitrobenzene and cast iron. The increasing application scope of nitrobenzene in other industries, as an intermediate to manufacture pesticides, polishes, solvents, dyes, anti-odor agent, lubricant, and synthetic rubber is anticipated to increase price of nitrobenzene for manufacturing iron oxide pigment.
"Synthetic pigments were the leading product segment in 2015"
The industries consists of both natural and synthetic products and are used in wide range of applications including construction, plastics, coating, ceramics, ink, rubber, and cosmetics.
The synthetic iron oxide pigment was the largest product segment in 2015, owing to its excellent purity and quality level. The natural product is anticipated to witness the fastest growth over the next eight years, owing to their low price and abundance.
The products are manufactured through different chemical processes that include precipitation, calcination, Laux, and Penniman process. The rising technological advancements coupled with increasing demand for environmentally friendly products are anticipated to alter the current manufacturing process.
"Red iron oxide pigment led the global industry"
The iron oxide pigment market consists of different colors of pigments that include red, yellow, black, orange, and brown. The red iron oxide pigment is widely used and has the greatest demand compared to others.
Laux process is the most important process for manufacturing red iron oxide pigment, and there is a need of improving technologies in this process, which allows few prominent players to dominate the market.
The iron oxide pigments are widely used in plastic industry, which brings color to a variety of plastic products, such as food packaging, vinyl sidings, home computers, auto parts and fenders, soda bottles and toys. The yellow iron oxide is a stabilized zinc ferrite and is used in all engineering plastics including acrylonitrile butadiene styrene and polyamide.
"Coatings is expected to witness the highest growth over the forecast period"
Iron oxide pigments are found naturally in the ores and are produced synthetically, which are used as colorants in many industrial purposes that include construction, plastic, coating, paint, paper and others.
The construction and paint industries together hold one-third of the global demand with arising requirement for blends in these application segments. Construction materials were the largest application segment in 2015, with a high product demand particularly in concrete blocks.
Paint & coating application segment is anticipated to witness the fastest growth over the forecast period. Iron oxide pigments in paint application are required to optimize coloring effects and to maintain paint film strength.
"Asia Pacific maintained its leading position in the global market"
Asia Pacific dominated the global iron oxide pigment market and accounted for 41.7% of the industry in 2015 owing to growing infrastructure and rapid industrialization, particularly in countries such as China and India.
Europe is anticipated to witness steady growth over the next eight years owing to the declining infrastructure activities. The iron oxide pigment industry in the Middle East & Africa is anticipated to grow at a significant rate owing to increasing construction projects mainly in Nigeria, Saudi Arabia, and Qatar.
"Global industry dominated by top multinational corporations"
Major players operating in the global market include Applied Minerals Inc, LANXESS AG, Cathay Industries, Huntsman Corporation, Hunan Three-Ring Pigments Co. Ltd, Kronos Worldwide, BASF SE, Jiangsu Yuxing Industry & Trade Co., Ltd, Titan Kogyo, Ltd and Kolorjet Chemicals Pvt Ltd.