"High demand for lanolin from personal care & cosmetics to drive the market growth"
The global lanolin market size exceeded USD 135 million in 2015 and is expected to witness a significant growth owing to growing end-use industries including personal care & cosmetics, baby care, and pharmaceuticals, particularly in Asia Pacific. Increasing natural personal care & cosmetics consumption on account of a positive outlook on domestic manufacturing & growing consumer income has triggered industry growth.
Chemically, the substance is a mixture of various esters, alcohols, and fatty acids. It is a soft, yellow, waxy substance secreted by the sebaceous sheep gland acting as a waterproofing agent to protect the wool. It mostly finds use in cosmetic and personal care applications in skin creams, shampoos, soap, hair dressing and lip gloss.
U.S. Lanolin Market Revenue By Application, 2014 - 2024 (USD Million)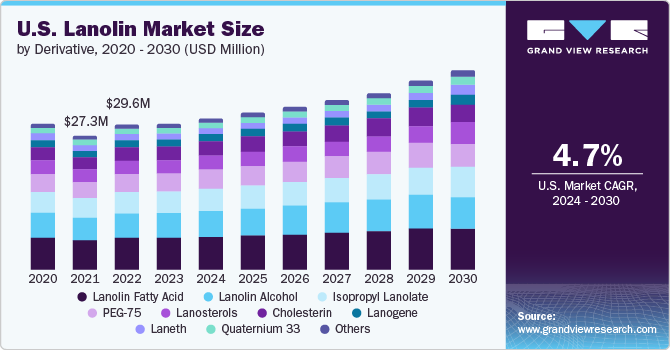 Cosmetics sector growth across the globe has resulted in an increasing demand owing to its ability to act as an emollient. The product offers superior moisturizing properties for dry skin as it emulsifies water on the skin by holding it onto the surface wherein, the cushioning effect is prominently visible.
Approximately, two billion pounds of cosmetic used today contains lanolin or its derivatives. Furthermore, the aggressive distribution strategy adopted by cosmetic manufacturers by making pocket size products at low cost has helped them achieve a considerable increase in sales in the past years.
The product also finds broad application scope in the pharmaceutical industry for skin treatment. It is a key ingredient for the treatment of dry skin resulting in reduced scaling, itching, abrasion, and pain. The potential lanolin uses have increased significantly as a result of its use in critical industrial processes.
Its usage is not only constrained to the current cosmetic or medicinal purposes. In fact, over the centuries, it has been discovered that wool wax can also be used for a variety of technical applications, such as protective preparations or lubricants for ferrous metals.
Strongly corroded seawater tanks and ships can be rust protected with low-viscous products (e.g. lanolin oil). Anti-corrosive preparations that contain lanolin are especially attractive for rust prevention & treatment on hardly accessible automobile parts.
"Personal care & cosmetics emerged as the dominant application segment in 2015"
The personal care & cosmetics application segment is expected to grow at a rapid pace accounting for over 46% of the global volume in 2015. It has become a product of choice for barrier creams and baby lotions owing to its exceptional moisturizing properties and the ability to act as an emollient.
Major cosmetics and personal care companies are increasingly utilizing lanolin waxes and oils to improve the sensory appeal and overall product value. These oils are believed to cleanse, promote elasticity and even the skin tone as well as impart moisture to skin that is frequently exposed to harsh elements such as pollution and air-conditioning.
The pharmaceutical application is expected to witness considerable growth, growing at a CAGR of 5.0% from 2016 to 2024. Rising geriatric population and the increasing prevalence of major disease outbreaks and pandemics is encouraging the development of advanced healthcare facilities.
Availability of hypo-allergenic grades or the product's purer forms for wound and skin treatment has observed an increase in demand from the pharmaceutical sector. Moreover, the product is widely used in medical industry as a medically graded emollient since it imparts a greater rate of healing for wounds.
"Asia Pacific is expected to dominate the lanolin market by 2024"
Asia Pacific was the leading regional segment and accounted for over 42.0% of total market volume in 2015. Increasing demand from personal care & cosmetics manufacturers is expected to foster the industry growth over the forecast period.
Emerging economies of Asia Pacific including China and India are projected to be the fastest growing for owing to the medical benefits attached with the product. Growing healthcare and pharmaceutical industries in the aforementioned regions along with the rising need for improved skin treatments has contributed towards the exponential growth of the industry over the past few years.
North America accounted for over 20% of the global volume in 2015. Moderately growing cosmetics and pharmaceutical sectors are expected to drive the regional consumption. Increasing use of bio-based resources to comply with stringent government regulations is anticipated to drive region's growth.
The European market has witnessed moderate growth on account of dwindling industrial production and stringent regulations for lanolin owing to a misunderstanding that labeled the product as an allergen, despite studies that proved otherwise.
"The market is highly fragmented in nature"
The global lanolin market is fragmented in nature with the presence of a large number of players. Matured regions however exhibit the characteristics of a high concentration due to dominant presence of multinational companies. The industry is characterized by a high number of new entrants that are seeking to tap lucrative opportunities in the global industry, while existing players are entering into strategic collaborations to increase capacities and expand their reach into emerging economies.
Prominent manufacturers include Lubrizol Corporation, Nippon Fine Chemical, NK Ingredients Pte Ltd., Barentz Group, Jiangsu Winpool Industrial Co., Ltd., Lanotec, Lansinoh, and Lanolin Industria Quimica Del Centro S.A De Cv Mexico among several others.