Industry Insights
The global legal marijuana market size was valued at USD 9.3 billion in 2016 and is expected to exhibit a CAGR of 34.6% during the forecast period. The market is expected to witness significant growth owing to legalization in several countries and high demand for both medical and recreational purposes.
Over the past few years, the number of companies operating in this market has increased exponentially. Producers are focused on expanding their customer pool by offering myriad portfolio of products and through geographical expansion. Products currently being offered include varieties of strains and extracts such as oils, tinctures, resins, and consumables based on concentration of cannabinoids like THC and CBD.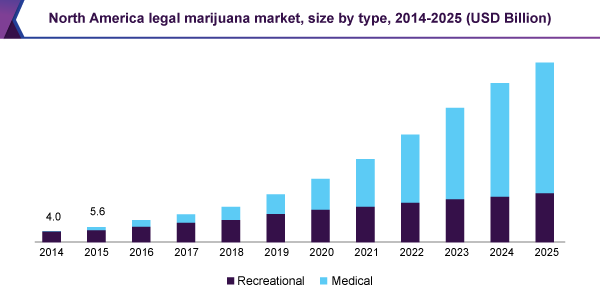 As countries begin to liberalize laws related to this drug, the market is expected to witness a surge in demand. Currently, majority of the cannabis is sold through illicit channels. To curb this illegal trade, governments have started legalizing marijuana in order to monitor the products that enter the supply chain and reap benefits through taxes levied on these products.
In North America, it has been reported that currently about 70-75% of cannabis trade is illegal, which has reduced to nearly 30.0% in states where marijuana has been legalized. This in turn has prompted several countries to initiate legalization programs.
Keen investors are awaiting legalization of recreational marijuana in countries like Canada. As recreational cannabis is legalized, the number of patients consuming it is excepted to reduce by 40.0%, owing to patients seeking easier means of access than going through medical supply channels.
Marijuana Type Insights
On the basis of type, the market is segmented into medical and recreational. The medical segment is estimated to dominate the global market and accounted for around 80.3% of the revenue in 2016. Several countries have legalized hemp products as treatment options for conditions such as multiple sclerosis, cancer-induced nausea, and chronic pain. Moreover, several countries have recognized health benefits of this product and are in process of legalizing it. With increase in volume of scientific studies and clinical trials, demand for cannabis for clinical use is expected to grow over the forecast period.
Countries such as U.S. (on state level) and Uruguay have legalized marijuana for recreational purposes. However, Canada is anticipated to legalize recreational use by late 2018. These countries are expected to provide growth opportunities to producers, as consumption of this drug and its derivatives is expected to increase with rise in number of consumers. Recreational use of this drug is considered as a substitute for cigarettes and alcoholic beverages such as beer. Producers in Canada and several U.S. states with legalized recreational use are focusing their marketing strategies on targeting beer and cigarette consumers. Manufacturers have also started promoting derivatives such as tinctures, oils, and resins, along with products like vaporizers, among millennials who are considered primary consumers.
The market for recreational cannabis is anticipated to witness faster growth as compared to that for medical usage owing to large customer pool. Moreover, it has been reported that patients in U.S., where recreational use is legal, opt for recreational version of this drug over medical variants. This is mainly because of the stringent regulatory and approval process for receiving prescription of medical marijuana. Moreover, high cost and complex distribution channels wherein pharmacies include cost of packaging and labeling could deter buyers from purchasing the medical form of the product.
Medical buyers therefore avoid additional cost by opting for recreational products. Furthermore, patients who do not qualify for medical usage are benefitted through recreational programs due to easy accessibility and low price of the products. All these factors are expected to boost the legal marijuana market over the forecast period. The recreational segment is expected to register a CAGR of 43.2% between 2017 and 2025. Subsequent to Canada, several other countries are likely to legalize the same for adult use in the latter half of the forecast period.
Product Type Insights
Bud form is anticipated to be a dominant segment throughout the forecast period. Wide acceptability of buds and their lower price as compared to derivates or extracts are expected to boost demand for these products. Buds are widely used for smoking and are in high demand in recreational markets. This segment was valued at USD 5.8 billion in 2016 and is anticipated to witness significant growth owing to increase in number of market participants focusing on catering to the ever-increasing demand. Countries such as U.S., Canada, Columbia, and Israel have witnessed entry of new players that focus on increasing production output and expanding their geographical reach.
The oil segment is expected to register the fastest CAGR of 40.4% over the forecast period. Hemp oil is in high demand for its clinical use. Doctors who prescribe cannabis are concerned about the quantity of cannabinoid intake. Complications associated with smoking is another key factor that restricts physicians from prescribing it for smoking. Owing to this, several physicians prefer hemp extracts in the form of oil or edibles, which is expected to boost demand during the forecast period.
Extracts are gaining popularity in countries where the market is regulated and well-established. Consumers in these countries prefer variety of options for consumption, owing to which, buds are expected to witness a decline in growth rate as compared to extracts. However, growing demand for extracts may still not have a significant impact on the revenue share of buds, and therefore this segment is anticipated to dominate the market throughout the forecast period.
Medical Application Insights
Key applications include treatment and management of various diseases. Based on medical applications, the market is segmented into four key segments, namely, chronic pain, mental disorders, cancers, and others. Medical cannabis comprises dried buds and extracts, which are sold legally to patients for clinical purpose. Demand for medical cannabis has grown rapidly owing to increase in number of countries that have legalized it for medical purpose.
Cannabis comprises a number of active compounds, especially THC and CBD, which can be used for treatment of various diseases. Although it is possible to isolate and extract one type of cannabinoid from the whole plant, several physicians believe that these cannabinoids work together to get the desired effect for treatment. Physicians call it "entourage effect" and therefore, believe in prescribing the whole bud or extracts containing all compounds.
Hemp products have been widely used for treatment of chronic pain. This segment accounted for 40.0% of the overall revenue in 2016 and is anticipated to be a dominant segment throughout the forecast period. Consuming cannabis reduces pain and in turn enhances quality of life among patients suffering from chronic pain. Medical marijuana is most widely used for relieving chronic pain, which is expected to boost market revenue over the forecast period.
Mental disorders are estimated to be the second largest segment by application in the global market, expanding at a CAGR of 30.2% between 2017 and 2025. Medical studies have shown that cannabis can be used for treatment of mental and neurological disorders such as epilepsy, ADHD, anxiety, and Alzheimer's disease. Use of cannabis for treatment of mental disorders has increased as novel studies are being conducted for proving their effectiveness in treatment of these conditions. Cannabis oil is gaining popularity for treatment of epilepsy among children. Legalizing cannabis for medical use in new markets is expected to boost revenue growth in future.
Regional Insights
North America accounted for the largest share in the global market and was valued at USD 7.2 billion in 2016. U.S. and Canada are anticipated to be largest in terms of revenue. After legalization of recreational cannabis in most U.S. states, the market has witnessed considerable growth. California and Colorado are some of the most lucrative states in the country. However, marijuana remains illegal at federal level in U.S., which in turn, may affect overall revenue growth in the country.
Canada, on the other hand, has an established medical cannabis market and plans to legalize recreational use at a federal level in July 2018. Canadian producers are banking on this opportunity as the country is slowly leading in terms of hemp production and export. Canada is anticipated to expand at a CAGR of 66.8% between 2017 and 2025.
Europe is anticipated to emerge as the largest market for legal cannabis by the end of forecast period, with a 55.6% share in 2025. Several countries in Europe have legalized it for medical use and are amidst streamlining the process for reimbursement and distribution. Countries such as Germany, Poland, and Italy are anticipated to emerge as strong markets. Moreover, countries like Netherlands and Czech Republic are anticipated to emerge as large exporters of hemp, owing to lax laws.
Latin American countries like Uruguay and Colombia are planning to capitalize on their climate and affordable labor force to emerge as exporters of cannabis. Production in these countries incurs significantly low cost as compared to countries in the western hemisphere.
Israel is also among the noticeable countries in the market. Israel has become a leader in cannabis research and is a key supplier of technology to U.S. and Canada. With legalized use of cannabis for medical purpose, the country is anticipated to witness high revenue growth. Australia legalized medical marijuana in February 2017 and the country plans to boost local production in the following years and import cannabis from other countries till local production is established. Australia is anticipated to expand at a CAGR of 46.1% between 2017 and 2025.
Trade Route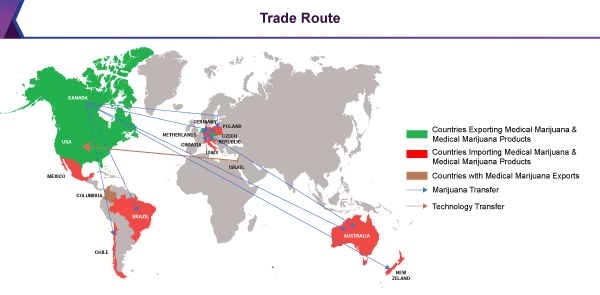 Legal Marijuana Market Share Insights
Canopy Growth Corporation; Aphria, Inc.; Aurora Cannabis; Maricann Group, Inc.; Tilray; The Cronos Group; Organigram Holdings, Inc.; ABcann Medicinals, Inc.; and Tikun Olam are some of the players operating in the market.
Owing to established market and favorable export policies, Canadian producers are currently leading the market through focused mergers and acquisitions in order to expand their geographical presence.
Primary Insights
Medical marijuana is becoming one of the most lucrative businesses and has seen the influx of several independent investors who have started investing in this market. Soon after the legalization of medical marijuana in Canada, the local market witnessed the entry of several new growers. Although many growers appear to be promoting medicinal cannabis, only a few actually cater to patients who need Cannabis for medical purposes.
Several are awaiting the legalization of Cannabis in Canada for recreational use. Following legalization of recreational cannabis in summer/fall 2018, it is likely that many of the growers will cater to that market. Canadian officials are evaluating the value and consequences of smoking Cannabis for medical use. Therefore, it is likely that in the long run, it will be manufacturers of marijuana-based pharmaceuticals that will cater to patient population seeking marijuana for medical purposes, while the growers of marijuana will target the recreational market. In the short term, the market may see two groups of producers—one focusing in medical & export and others only involved in recreational marijuana, if insurance reimbursements increase.
Cancer patients, especially those suffering from chemotherapy-induced nausea, patients with epilepsy, rheumatoid arthritis, Alzheimer's; adults with ADHD & stomach disorders, anxiety disorders; and AIDS are prescribed medical marijuana. However, doctors are weary of prescribing marijuana for other diseases, especially for children and young adults. The Canadian government also sees the urgent need to review clinical trial data before supporting the use of medical marijuana and their reservations are evident in the reimbursements cut for the use of Cannabis for veterans. Additionally, the use of marijuana for conditions such as erectile dysfunction and cardiovascular conditions, among many other potential conditions that are thought alleviated by Cannabis, remain questionable. Physicians continue to remain skeptical and may not prescribe marijuana for such conditions based on anecdotal evidence and the lack of clinical data.
Despite these challenges, it's very likely that other Commonwealth countries like Australia may follow Canada in the legalization of recreational and medical Cannabis, expanding the scope of this under tapped market.
- Manit Patel
CEO, Akseera Pharma Corp
The market is dominated by Canadian growers because they have been the first movers. The Canadian government legalized marijuana early as compared to its counterparts. This will streamline the regulatory system, as unlike in U.S., producers don't have to worry about federal regulations and state laws being different. Market players from Germany and Australia are confident in Canadian growers and will easily import from them. Columbia seems to be a lucrative market for production; however, it is difficult to comment of any restrictions that might come up at a federal level.
- Independent Marijuana Consultant
Cannabis has worked wonders for people suffering from chronic pain. What's important to understand is the primary difference between THC and CBD and people need to be educated regarding the effects of CBD. New strains are coming up in the market, most of which have low THC and high CBD content. Producers have started marketing these products and have seen sales increase. People need to understand that not all cannabis will get a patient 'high'; in fact low THC and high CBD strains can help treat epilepsy. Currently, several people are underdiagnosed for diseases that can be treated with medical cannabis. Moreover, physicians do not usually prescribe this product to patients as they are of mixed opinions. Several physicians will choose to opt for other treatment options first and might even continue those treatments without opting for marijuana, as they are not certain of the treatment. Until there is substantial buildup of scientific information,we might not see many prescriptions from physicians.
- Independent Marijuana Educator & Physician
Report Scope
| | |
| --- | --- |
| Attribute | Details |
| Base year for estimation | 2016 |
| Actual estimates/Historical data | 2014 - 2016 |
| Forecast period | 2017 - 2025 |
| Market representation | Revenue in USD Billion & CAGR from 2016 to 2025 |
| Regional scope | North America, Europe, Asia Pacific, Latin America, & MEA |
| Country scope | U.S., Canada, Germany, Italy, Australia, Uruguay, and Israel |
| Report coverage | Revenue forecast, company share, competitive landscape, growth factors, and trends |
| 15% free customization scope (equivalent to 5-analyst working days) | If you need specific information, which is not currently within the scope of the report, we will provide it to you as a part of customization |

Segments Covered in the Report
This report forecasts revenue growth at global, regional, and country levels and provides an analysis on latest industry trends in each of the sub-segments from 2014 to 2025. For the purpose of this study, Grand View Research has segmented the global legal marijuana market report on the basis of type, product type, medical application, and country.
Marijuana Type Outlook (Revenue, USD Million, 2014 - 2025)

Product Type Outlook (Revenue, USD Million, 2014 - 2025)

Medical Application Outlook (Revenue, USD Million, 2014 - 2025)

Chronic Pain

Mental Disorders

Cancer

Others

Regional Outlook (Revenue, USD Million, 2014 - 2025)

U.S.

Canada

Germany

Italy

Australia

Uruguay

Israel