Industry Insights
Levulinic acid, also known as 4-oxopentanoic acid, is an organic compound that is classified as a keto acid. Its physical form is a white crystalline solid and is soluble in water, ethanol, and diethyl ether, but is insoluble in aliphatic hydrocarbons. In recent years, the need for sustainability has constantly driven the chemical industry towards exploring renewable chemistry and biotechnology to develop products from bio-based sources. These products are developed with the objective of using them as "platforms" for manufacturing a host of industrial and specialty chemicals to replace their synthetic counterparts. Levulinic acid has long since been identified as such a platform chemical. As a result of this, in spite of its relatively small market size, it has been the subject of significant R&D to act as a precursor to specialty chemicals including fuel additives such as Methyltetrahydrofuran (MTHF), pesticides such as D-amino levulinic acid (DALA), Diphenolic Acid (DPA) and so on. The technology to produce bio-based levulinic acid is not very complicated, with the most widely used approach being the dehydrative treatment of biomass or carbohydrates with acid. Other key technologies include hydrolysis of acetyl succinate esters, acid hydrolysis of furfuryl alcohol, and by oxidation of ketones with ozone. Presently, levulinic acid finds applications in pharmaceuticals, pesticides, cosmetics, food additives, and minor uses in nylons, synthetic rubbers, and plastics.
With key raw materials for bio-based levulinic acid being biomass, bagasse, manure, and brewery waste, supply at feasible cost has been a challenge for market participants. Additionally, as with any bio-based replacement chemical, the price has been a burning issue in the levulinic acid market. At current prices ranging between USD 5 per kilo and USD 8 per kilo, manufacturers are faced with a daunting task of matching target prices of close to USD 1 per kilo to penetrate into the downstream platform applications. With a number of R&D initiatives expected to move towards commercialization over the next six years, it is expected that levulinic acid prices shall become more competitive in the coming future. Favorable regulatory scenario and growth in application markets are expected to have a positive influence on levulinic acid demand over the next six years.
Application Insights
Key application segments analyzed and reported in this study include pharmaceuticals, food additives, cosmetics, and agriculture applications such as Organic potassium fertilizer DALA, 2--Methylindole-3-acetic acid. Presently, levulinic acid is serving niche markets, owing to its high price. Levulinic acid demand for agriculture applications and other pesticides is expected to grow at a CAGR of 6% from 2014 to 2020. Major levulinic acid uses in pharmaceuticals include calcium levulinate and indomethacin, which is a non-steroidal anti-inflammatory drug, prescribed for fever. Levulinic acid demand for pharmaceutical applications is expected to grow at a CAGR of 5.4% from 2014 to 2020. Apart from these applications, levulinic acid is also sparingly used in cigarettes to increase nicotine delivery in smoke and binding of nicotine to neural receptors.
Downstream Potential Insights
Key downstream potential applications for levulinic acid analyzed and reported in this study include methyltetrahydrofuran (MTHF), delta-aminolevulinic acid (DALA), ethyl levulinate, diphenolic acid (DPA) and others. Commercial scale application for levulinic acid has recently been linked to automobile fuel extenders, primarily MTHF, which is miscible with gasoline in all proportions and displays favorable oxygenate and vapor pressure properties.
Levulinic acid market volume share by application, 2013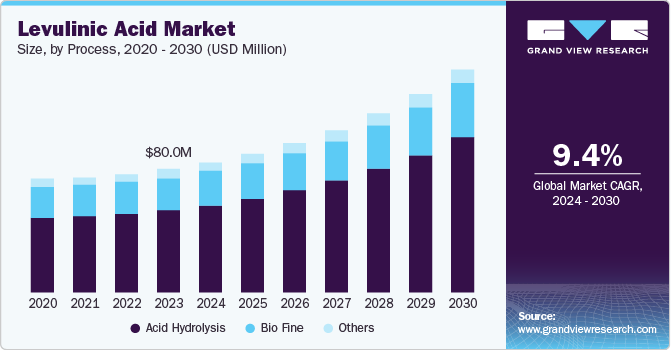 Intermediates during the conversion of the levulinic acid to MTHF include γ -Valero lactone (GVL) and 1,4 pentanediol, which are also attractive products in their own right. It is estimated that levulinic acid manufacturers could face a potential demand of over 20,000 kilo tons from MTHF applications by 2020.
Regional Insights
North America was the largest levulinic acid consumer in 2013, followed by Europe and the rapidly developing Asia Pacific market. European and U.S. based downstream companies usually source levulinic acid from Chinese manufacturers at low prices for their respective applications. For example, Segetis is reported to be sourcing levulinic acid from China for its L-ketals product portfolio. Europe was the second-largest consumer for levulinic acid in 2012, accounting for over 31% of the global volumes. North America levulinic acid market revenue is expected to grow at a CAGR of 4.6% from 2014 to 2020.
Competitive Insights
Key market participants for levulinic acid include Segetis, Biofine, DuPont, Hebei Langfang Triple Well Chemicals Co., Ltd., Hebei Shijiazhuang Worldwide Furfural & Furfuryl Alcohol Funan Resin Co., Ltd., Jiangsu Yancheng China Flavor Chemicals Co., Ltd., Shijiazhuang Pharmaceutical Group Ouyi Pharmaceutical Co., Ltd. and Shanghai Apple Flavor & Fragrance Co., Ltd. Biofine has been one of the leading participants in the levulinic acid space, focusing on MTHF and DALA downstream applications. Segetis, a Minnesota-based company, recently developed a molecule on esters of levulinic acid made from corn cobs and bio-based hydroxyl compounds. Levulinic acid is to be used as raw material for the manufacturing of plasticizers, solvents, and polyols for polyurethane foams. Levulinic acid acts as a potential replacement to phthalate plasticizer added to manufacture PVC, the largest consumed commodity plastic.