Applications for liquid biopsy are expected to witness significant market development over the coming decade
Global liquid biopsy market was valued at USD 18.38 million in 2015 projected to grow multifold by 2030. These novel, minimally invasive, form of cancer diagnostics has attracted a significant amount of attention owing to the potential prospects of the application. Furthermore, the growing concern to reduce cancer mortality, and the need to reduce complications associated to conventional biopsies are major factors expected to drive development over the coming years.
Major complications related to conventional tumor biopsies for a number of different cancers include infections, colonic perforation, peritonitis, collapsed lung, pancreatitis, sepsis and hematoma. Furthermore, in the current scenario, a biopsy costs between USD 2000 to as high as USD 10,000. The increases in costs due to additional treatment required owing to the complications may drive this cost up four times. In a market where the patients are growing increasingly aware of, and favorable to less or minimally invasive procedures, the need to reduce the aforementioned complications and reduce procedure costs conclusively, fuel development of more efficient and less cumbersome liquid biopsies.
Currently, a number of products for prognostic usage for metastatic cancers especially associated with breast & prostate cancer are available due to which the potential for revenue growth is currently limited to these. However, through an in-depth analysis for a broad list of assays under clinical development, it is likely that the market will witness three distinct phases of development over the coming year during which the complete addressable revenue potential may grow upto a USD 25 billion by 2030 globally, although the actual revenue generated may be lower and will depend on a number of important factors such as the market penetration, number of procedures performed and procedure costs.
U.S. liquid biopsy market, by application, 2013 - 2030 (USD Million)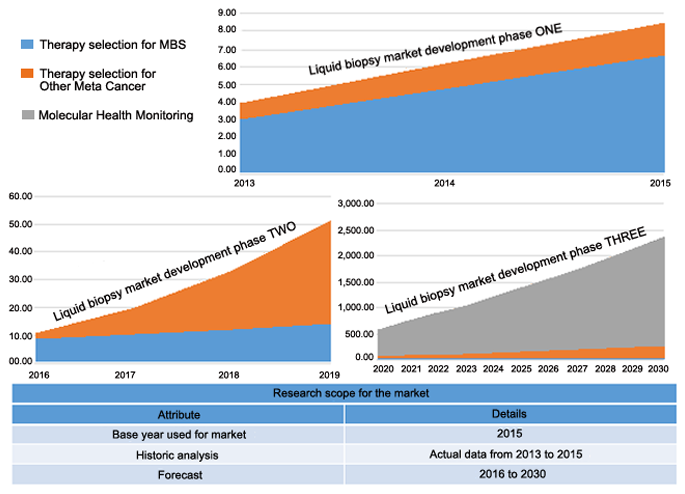 Owing to a number ongoing clinical trials, for the development of liquid biopsy assays and tests, that are anticipated to successfully conclude & commercialize by 2020, it is expected that a significant growth in the number of liquid biopsies performed post 2020 for prognosis and molecular monitoring of a number of metastatic cancers will considerably increase the revenue generated from and drive growth upto 2030.
Therapy selection for metastatic cancer and cancer monitoring are key applications of liquid biopsies
As the number of available proof-of-concept studies and research increases, combined with the presence of a strong assay portfolio, a significant growth in the adoption of liquid biopsy assays by oncologists can be expected post 2020. Cancer monitoring for recurrence and management of metastatic cancers is estimated to be the most lucrative application for these tests are probable to account for the larger share of the revenue.
Most liquid biopsy tests are expected to be blood sample based
The biomarkers for liquid biopsies are potentially extractable from a wide range of bio fluids including blood, urine and saliva, the highest ongoing R&D and presently available tests are predominantly blood based. Furthermore, presence of strong testing methodologies available for whole blood cellular analysis and molecular outlining along with the presence of a number of fractionation and preparation methods for separation and purification, blood sample based liquid biopsy tests are anticipated to account for a higher share of revenue.
A high number of tests under development that use Circulating tumor DNA as biomarker for liquid biopsy
The recent developments involving microfluidic biochips that have proven improved ability to capture circulating tumor cells in cancer patients' associated metastasis, have laid a strong foundation for the development of liquid biopsies to test for the relevant biomarkers viz; circulating tumor cells (CTC), circulating tumor DNA (ctDNA), and exosomes.
Moreover, rapid development of next generation sequencing and its growing application in oncology has made it considerably more feasible for oncologists to employ sequencing for studying tumor specific genetic information available in CTC, ctDNA and exosomes. As ctDNA is a bit more abundant in the blood stream than CTC and a number of assays are under clinical trials are being developed to test ctDNA, it is expected that over the forecast period their usage for liquid biopsies will generate the highest revenue.
Multiple gene analysis using NGS technology expected to have higher market application for liquid biopsies
PCR microarray and NGS technology are both considerably important for the analysis of aforementioned biomarkers to conduct any liquid biopsy analysis. However, due to the marked advantages associated with multiple gene analysis and consequent usage of NGS as the means to that end, this technology is likely to witness higher demand in this market over the forecast period.
A number of market entities are involved in observational & investigative clinical trials for the development of liquid biopsy tests
Some of the key players that have commercialized tests for CTC, ctDNA and exosomes in this space and are directly involved in liquid biopsy include Adaptive Biotechnologies, Biocept, Guardant Health, NeoGenomics Laboratories, Personal Genome Diagnostics, Qiagen, RainDance Technologies, Cynvenio, and Trovagene.
Furthermore, major diagnostics and NGS market participants are actively involved in the R&D of novel liquid biopsy assays and tests. Participants such as Foundation Medicine, Illumina, Roche, Natera Inc., LabCorp, Sequenom, Pathway Genomics, Epic Sciences among others have potentially strong product offerings in their development pipelines. A number of ongoing clinical trials with projected positive results are due to be completed between 2017 to 2019. Subsequent successful commercializations are expected to take place that will consequently fuel significant growth in revenue between 2020 to 2030.
Analyst Perspective
Application of liquid biopsies for cancer screening and diagnosis is a very high interest market segment in the advanced diagnostics space of the global healthcare industry. With the ongoing rapid development of next generation sequencing technology, the growth in capability of researchers and oncologists to capture, probe and investigate CTCs and ctDNA holds immense potential for breakthrough developments in cancer care and in reducing cancer related mortality.
As we understand that the market has drawn considerable attention of oncologists, clinical researchers and healthcare investors alike, we have prepared this report to provide an in depth analysis of the expected development of liquid biopsy between 2016 to 2030.