Industry Insights
Global liquid crystal polymers (LCP) market demand was 42.8 kilo tons in 2012. Rapid miniaturization of electronic components such as connectors and surface mount devices is expected to remain a key driving factor for global LCP market over the forecast period. Denser component packaging coupled with higher fabrication temperature offered by LCP is also expected to have a positive influence on the market growth.
Global LCP market volume by application, 2012-2020 (Kilo Tons)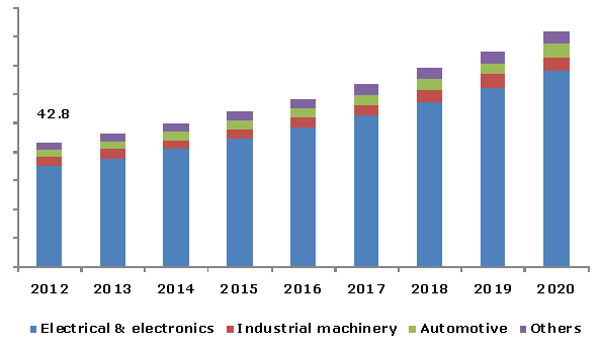 LCP possess properties such as low viscosity and high flow resulting in high-temperature resistance enhanced dimensional stability and excellent mechanical strength. These factors make LCP the best-suited material to be used in miniaturization of components in telecommunications, information technology, and diagnostic instruments. Increasing engineering resin substitutes for ultra-thin components is also expected to drive LCP market growth over the forecast period. LCPs efficiently manufacture ultra-thin components up to 0.1mm thickness with less turn-around time. In comparison to LCPs, other engineering resins such as nylon 46, polyphenylene sulfide (PPS), polycyclohexylenedimethylene terephthalate (PCT) and polyphthalamide (PPA), take longer production cycles and manufacture components up to 0.25mm thick. Major LCP brand in the global market includes Vectra, Zenite, SumikaSuper, Xydar and Siveras. Growing demand for lightweight, high performance materials from the automotive industry to improve fuel efficiency is also expected to drive LCP demand over the forecast period. Its mechanical strength and lightweight properties allow automobile industry to use in small parts requiring high tolerances. Chemical resistance and high dimensional stability are key requirements for LCP resin to be used in automobiles motor oil dispensing pump. Increasing demand for halogen-free materials in flame retardant applications has helped in LCP market development. Factor such as warpage and low weld strength attributed in LCP are expected to hinder the market growth. Increasing investment to develop products for niche applications are expected to yield key opportunities for industry participants.
Application Insights
Electronics & electrical was the major application over the past few years accounting for half of global LCP market demand. Electronics and electrical applications are expected to continue their dominance over the forecast period. Components such as connectors with pin high density are expected to drive LCP market in electronics and electrical application. Other major applications for manufacturing electronics and electrical components include computers, NASA satellite electronic components, high-density circuit boards for weaponry & missiles, light emitting diodes (LEDs), chip carriers, coil bobbins sensors, switches, and high-speed digital circuit board packaging. Increasing demand for micro injection molding coupled with high-temperature resistance & flow properties is expected to drive LCP market growth for electronics and electrical applications. Industrial machinery was followed by electronics and electrical applications. Industrial machinery applications include chemical mass transfer tower packaging materials and brittle ceramic material replacement owing to their toughness and chemical inertness. Automotive was followed by industrial machinery application. Major LCP automotive applications include in the manufacturing of ignition components, lamp sockets, bezels, lighting reflectors and transmission powertrain. Other major LCP applications include in the manufacturing of medical and aerospace components.
Regional Insights
China was the leading regional market regarding consumption and accounts for just below half of total LCP market volume. China is expected to continue its dominance over the forecast period on account of the rapid growth of domestic electrical and electronics industry. Rapid industrialization is another factor contributing towards LCP market growth in machinery. Other Asian countries such as India and Indonesia are also expected to witness significant growth owing to the growth of major end-use industries. Other major demand is expected from key regions of North America and Europe. Countries in these regions such as U.S. and UK are expected to witness steady growth rates.
Competitive Insights
Global LCP market is highly consolidated and is dominated by top multinational corporations which are present across the value chain. Key industry participants compete on the basis of price and quality of service offered by establishing effective distribution channels across the globe. LCP manufacturers are also increasing their production capacity to counter supply-demand gap globally. Key industry participants include Polyplastics Co., Ltd, Celanese Corporation, Sumitomo Chemical and Solvay S.A. Other major manufacturers include Toray International, Inc., Ueno Fine Chemicals Industry Ltd, Samsung Fine Chemicals and Shanghai PRET Composites, Co. Ltd.