Industry Insights
Increasing incidences of respiratory disorders clubbed with the introduction of favorable U.S. FDA regulations is expected to drive medical gas equipment market demand over the next six years. Growing global base of geriatric population and increasing prevalence of lifestyle habits such as smoking and lack of exercise are triggering incidence rates of respiratory disorders. WHO published estimates suggest that the global base of population pertaining to the age group - 65 years and above is expected to rise from 7% in 2000 to 16% in 2050.
Global medical gas equipment market, by product, 2012 - 2020 (USD Million)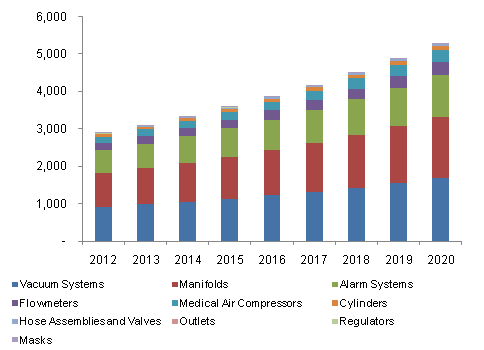 Furthermore, growing demand for home healthcare and point of care markets and the subsequent introduction of portable medical devices are expected to boost market demand. Global medical gas equipment market is expected to grow at a CAGR of 8.0% over the next six years to reach USD 5,313.9 million in 2020.
Product Insights
Key market products include manifolds, hose assemblies & valves, outlets, alarm systems, cylinders, regulators, flow meters, medical air compressors, masks, and vacuum system. Medical gas vacuum systems dominated the medical gas equipment market in terms of revenue in 2013 owing to increasing usage rates and higher prices associated. The overall vacuum systems market was valued at over USD 900.0 million. Moreover, masks are identified as the most attractive segment of the medical gas equipment market. Low manufacturing costs associated with these products coupled with very high usage rates are two factors attributing to its attractiveness. Regulators and medical gas outlets are also expected to witness significant growth over the forecast period. Growing number of initiatives addressing safety issues have encouraged manufacturers to frequently update their product portfolio and this is expected to drive segment growth during the forecast period.
Regional Insights
Key regional segments of medical gas equipment include North America, Europe, Asia-Pacific and RoW. North America dominated the overall medical gas equipment market in terms of revenue share in 2013. The presence of sophisticated healthcare infrastructure, high volume of minimally invasive medical procedures and implementation of the U.S. Food and Drug Administration Safety and Innovation Act are some factors attributing to its large share. Europe was the second most revenue generating region of the medical gas equipment market in 2013. The presence of associations such as the European Industrial Gases Association and Medical Gas Association coupled with sophisticated healthcare infrastructure in developed Western European countries are some factors expected to drive regional growth. In addition, the presence of lucrative growth opportunities in the emerging Eastern European markets such as Russia and Poland is expected to serve the European medical gas equipment market with future growth opportunities. Asia Pacific medical gas equipment market, on the other hand, is expected to grow at the fastest CAGR during the forecast period owing to the presence of rapidly improving healthcare infrastructure, patient awareness and healthcare expenditure levels in the emerging markets of India and China.
Competitive Insights
The overall market has a wide presence of local manufacturers who commercialize their products on the basis of price by taking advantage of their pre-established supply channels. In addition, the presence of limited product differentiation opportunities and the entry of manufacturers with large revenue bases such as Atlas Copco are expected to keep the industry rivalry at high levels throughout the forecast period. Some key medical gas equipment manufacturers include Air Liquide, Matheson Tri-Gas inc., Air Products and Chemicals Inc, Praxair Inc., Linde Gas, Air Gas Inc., BeaconMedaes LLC, Medical Gas Solutions, Allied Health Care, Ohio Medical, Powerex, Amico Corp. and Gentec Corp. Air Liquide dominated the overall medical gas equipment market in 2013. The presence of an extensive product portfolio, successful implementation of growth strategies such as ALMA – 2015 and sales growth achieved via investing in emerging Asian, Latin American and Eastern European economies and tapping on the available growth opportunities are some factors accounting for its market position.