Industry Insights
The growing prevalence of incontinence coupled with increasing the prevalence of Hospital-Acquired Infections (HAIs) is expected to drive the medical nonwoven disposables market during the forecast period. The disposable products made out of nonwoven are apt for eliminating the transmission and potential cross-contamination, owing to their high bacterial filtration efficiency.
Global medical nonwoven disposables market, by product, 2012 - 2020 (USD Million)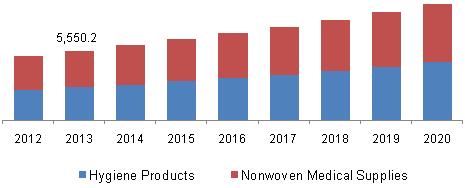 Medical nonwoven disposables have a higher demand than the traditional textiles, owing to their ability to provide greater protection against infections to the patients as well as medical practitioners. This is expected to be a high impact rendering driver for the market. For instance, a study by Moylan indicated that disposable nonwoven products reduced infection by 2.5 times as compared to traditional textiles. The global medical nonwoven disposables market was valued at USD 5,980.2 million in 2013 and is expected to grow at a CAGR of 7.7% during the forecast period. However, the availability of substitutes such as reusable drapes, gowns, masks for surgical procedures, reusable underwear, and panty shields is expected to impede the market growth during the forecast period. Moreover, reusable products prove to be a cost-effective alternative to the disposable ones owing to the fact that the former can be machine washed and be dried up to 250 times.
Product Insights
The product segment analyzed in the report is bifurcated into hygiene products and nonwoven medical supplies. Nonwoven medical supplies dominated the medical nonwoven disposables market in 2013 with over 50.0% of revenue share. Increasing demand for disposable nonwoven medical supplies during surgical interventions and the presence of large procedure volume are some major factors attributing to its large share among other medical nonwoven disposables. However, the hygiene products are expected to gain lucrative revenue share over the next years. Growing usage rates and increasing prevalence of urinary and fecal incontinence are the major factors expected to attribute towards the growth of this segment. Disposable incontinence pads & ostomy liners dominated the disposable nonwoven hygiene products market in 2013. These pads are used for light to medium incontinence and help alleviate and prevent skin rashes and irritation. The introduction of novel features such as sustainable and chlorine-free incontinence pads with biodegradable materials is expected to drive segment growth over the next six years. Furthermore, surgical drapes dominated the hygiene products segment in 2013. High usage of these during medical procedures coupled with growing awareness about hospital-acquired infections is the major factor attributing to the dominance of this segment.
Regional Insights
North America was the largest regional medical nonwoven disposables market in 2013 owing to the increasing prevalence of incontinence in this region. Statistics suggest that currently, around 28.3 million population of North America require disposable adult incontinence products, with 10% of men and 33% of women over the age of 50 being periodically incontinent. Another major factor leading to high demand for incontinence products is the presence of a large geriatric population base in this region which prefers medical nonwoven disposables over other available alternatives owing to the ease and protection they provide. Asia Pacific is the most lucrative region of the medical nonwoven disposables market. Growing geriatric population base in China and Japan is a major factor contributing towards the growth of this regional market. Such a large presence of the geriatric population in the country is expected to result in the demand for adult diapers surpassing baby diapers by 2020. Furthermore, rising patient awareness levels in this region and increasing the prevalence of hospital-acquired infections is expected to boost usage rates of the medical nonwoven disposables.
Competitive Insights
The medical nonwoven disposables market is highly fragmented marked by the presence of a significant number of participants. The key companies present in the market include Covidien, Kimberly-Clark Corporation, and Svenska Cellulosa Aktiebolaget (SCA). The market players are indulging themselves in the constant development of new and better medical nonwoven disposables. The introduction of novel products such as biodegradable and gender-specific diapers is affecting the medical nonwoven disposables market growth positively. For instance, the introduction of superabsorbent Core-Lokt technology by Kimberly-Clark and TENA Identifi by SCA provides greater efficacy and comfort for patients suffering from incontinence. Furthermore, the availability of odor-neutralized undergarments, panty shields, and new enhanced absorbent render better protection and comfort, thereby gradually becoming the preference of the patients. The companies thus are developing products such as Wings hook & loop 3D by Covidien provide super absorbency, and have a breathable top sheet for added protection and odor control.