Report Overview
The global microRNA market size was valued at USD 854.6 million in 2020 and is expected to expand at a compound annual growth rate (CAGR) of 19.8% from 2021 to 2028. Key trends that have collectively contributed to market growth over the years include emerging microRNA (miRNA) tools for disease-associated analytical applications, immense traction gained by miRNA target prediction and identification, persisting wide adoption of the majority of the miRNA tools. Additionally, miRNAs are amongst the most important potential biopharmaceutical candidates that are entering in commercial space for developing potential future medicines.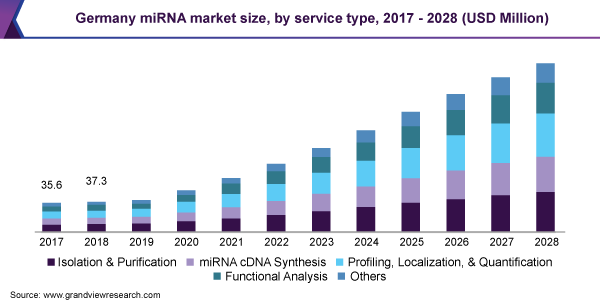 Biopharmaceutical companies are increasingly engaging in the search for new therapeutic molecules that can act as new drugs which is further driving the market for microRNA. There are several miRNA-based candidates that are under clinical trials such as anti-miR compounds and specific inhibitors for miRNAs which can act as potential therapeutic solutions. Hence, RNA therapeutics is considered a trending investing area that will lead to the development of profitable drugs.
Increasing adoption of microRNA as a biomarker is driving the market. The miRNA biomarkers are of particular focus in genome-wide studies, data-driven methodology, as they demonstrate high reproducibility and robustness when compared to traditional methods. Hence, they serve as promising candidates for the development of biomarkers. Moreover, the growing interest in liquid biopsies has further led to the increasing importance of miRNAs for biomarker discovery and development.
Steep increase in the research activities exploring the potential of miRNA biomarkers across prognosis, diagnosis, and therapeutics is expected to favor the market expansion in the near future. For instance, in January 2020, researchers explored the possibility of miRNA found in peripheral blood as a biomarker for diagnosing Bipolar II disorder (BD-II) using next-generation sequencing. miRNAs can be a possible noninvasive solution for the diagnosis of other neurodegenerative disorders.
In addition, the technological innovation for improving the sensitivity and selectivity of miRNA detection is further contributing to the growth of the market for microRNA. The newly developed methods for miRNA detection include nanoparticle-based amplification, RCA-based methods, DSN-based methods, LAMP-based methods, and enzyme-free amplification. Similarly, in January 2020, researchers developed a program-based isothermal amplification technique for specific and quantitative digital measurement of miRNA. The advantage of the system is that contamination is reduced by the fact that this system is dependent on the signal amplification process rather than direct replication of the targeted sequence, as it is done using PCR-based approaches.
Products Insights
The consumables segment dominated the market for microRNA and held the largest revenue share of 59.9% in 2020. A wide range of consumables is used for miRNA profiling such as detection kits, qPCR primers, and transfection reagents among others. The high adoption of consumables as they are replaced regularly owing to their non-durable nature can be primarily attributed to segment growth. Some prominent players providing consumables include Thermo Fisher Scientific Inc.; Miltenyi Biotec; and NanoString.
Based on the instruments segment, real time PCR dominated the market in 2020, with a share of over 32.0% as it is considered as a gold standard when compared to other techniques for the detection of miRNA. It is routinely used as a reliable technique for detecting miRNA expression owing to its large dynamic range, high sequence specificity, and high sensitivity. It is used for a wide range of miRNA research applications such as miRNA profiling, validation, quantitation, and functional analysis.
NGS is expected to witness substantial growth of 18.2% during the forecast period. It is gaining popularity as it is a powerful tool for enabling systematic studies of the genome and it also provides insights for better disease understanding. In addition, next generation sequencing is integrated with several informatics tools that allow fast processing for analyzing complex miRNA sequencing data. For instance, CAP-miRSeq allows deep microRNA sequencing with preprocessing, miRNA qualification, alignment, and variant detection in the miRNA coding region. In addition, it allows rapid processing and provides easier downstream analyses and quality assessment.
Services Insights
Profiling, localization and quantification services dominated the market for microRNA and held the largest revenue share of over 35.0% in 2020. Increasing strategic collaboration between companies for providing microRNA profiling services can be primarily attributed to segment growth. For instance, in May 2020, Toray approved TATAA Biocenter's microRNA profiling services on the 3D Gene microarray platform. The 3D Gene platform used for microRNA profiling has improved performance and robustness for performing and managing all workflow from sample preparation, microRNA profiling, and data analysis.
The isolation and purification segment is expected to witness the fastest CAGR of 16.9% over the forecast period owing to the growing focus on the development of new microRNA purification methods. For instance, in November 2020, researchers developed a magnetic bead-based RNA purification method which is relatively new and incorporates specific RNA isolation kits for efficient analysis of small RNA such as miRNAs. In addition, the RNA prepared using this method was found to be suitable for mRNA and miRNA expression analysis using real time PCR.
End-use Insights
The academic and government research institutes segment dominated the market for microRNA and accounted for the largest revenue share of 54.2% in 2020. Supportive government initiatives for facilitating the research in genomics by academic and research institutes can be primarily attributed to the growth of the segment. For instance, in May 2020, the Australian government awarded a grant of around USD 21.6 million for supporting genomics research in pediatric disease and cancer. There are several projects that received grants which included studies at the University of Queensland that involve whole-genome sequencing of breast cancer patients and analyzing their gene expression.
Growing importance of microRNA for the diagnosis of several diseases such as cancer, cardiovascular diseases and infectious diseases by diagnostic labs, CROs, and hospitals is also set to contribute to market growth. Biotechnology and pharmaceutical companies such as Regulus Therapeutics, Mirna Therapeutics and miRagen Therapeutics are extensively getting involved in the development of RNA based therapeutics which can be attributed to its lucrative growth through 2021-2028. Most of the products developed by these companies have shown positive results in preclinical and early clinical trials.
Application Insights
The cancer segment dominated the market for microRNA and accounted for the largest revenue share of more than 33.0% in 2020. Cancer is amongst the most significant pathology that has a role of mRNA-miRNA interplay. There are several microRNA target sites that are clustered in cancer-associated genomic regions. In addition, there are tumor suppressor miRNAs which are commonly suppressed in the translation of mRNAs which encodes for oncogenes leading to inhibition of tumorigenesis and cancer development. Hence, microRNA dysregulation is extensively studied for finding a therapeutic solution for treating different cancers.
miRNAs have unprotected 5′-phosphate and 3′-hydroxy ends which makes them prone to degradation by ribonucleases, which causes them to be only expressed for a relatively short period of time hence limiting its use for treating cancer. For combating such challenges researchers are focusing on developing an efficient delivery system for microRNA. Recently, a nanoparticle delivery system is emerging as an attractive option for the targeted delivery of microRNAs. Several nanotechnology-based formulations are employed such as naturally occurring EVs, organic-based lipid nanoparticles (LNPs), gold, Polyamidoamine (PAMAM), and silica dendrimers.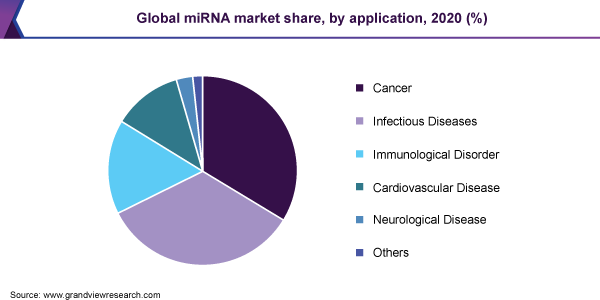 The cardiovascular disease segment is expected to grow at a lucrative rate of 16.1% during the forecast period owing to the introduction of new molecular biomarkers for the early detection of cardiovascular diseases. microRNAs are attractive targets for cardiovascular therapeutics owing to several advantages such as tissue-specific expression pattern, secretion to the corresponding body fluids, and stability. In addition, there are several studies pointing the role of microRNA in cardiovascular diseases. For instance, it is involved in the regulation of blood pressure, lipoprotein metabolism, and the development of hypertension which eventually decides the progression of cardiovascular diseases.
Regional Insights
North America dominated the microRNA (miRNA) market and accounted for the largest revenue share of 45.8% in 2020; growth in the region can be attributed to several factors such as the presence of key players, extensive R&D activities, and established research infrastructure for proteomics, genomics, and oncology. In addition, companies in the region are receiving patent approvals for their miRNA biomarkers. For instance, in May 2020, DiamiR received U.S. Patent approval for miRNA-based methods that are used for detection and monitoring brain aging. The patent covers the use of methods for quantitative analysis of miRNA present in detectable blood plasma and brain as biomarkers of brain aging.
In Asia Pacific, the market for microRNA is expected to witness the fastest growth rate of 20.6% through 2021 to 2028. The growth of the market in the region can be primarily attributed to rapid advancement in genomic studies and the adoption of new tools for supporting research endeavors. For instance, in February 2021, researchers from China identified blood microRNA (miRNA) as potential biomarkers for pyrrolizidine alkaloids induced hepatic sinusoidal obstruction syndrome (HSOS) by using microarray-based miRNA profiling. In addition, the study also involved various computational microRNA-target tools for predicting the relationship between miRNA and their target mRNA.
Key Companies & Market Share Insights
Companies are expanding their patent portfolio for microRNA expression analysis. For instance, in July 2020, Sistemic Ltd announced the expansion of their patent covering for the use of microRNAs as predictive analytes for cellular function. The patent covers microRNA expression analysis of mesenchymal stem cells obtained from different donors for identifying miRNAs that will be subsequently linked to cellular functions for supporting donor screening and developing MSCs based cell therapies. The grant of patent is another expansion in the company's existing miRNAs patent portfolio for stem cell characterization, donor screening, quality control of stem cell products, and potency assay development. Some of the prominent players in the microRNA (miRNA) market include:
Merck KGaA

Thermo Fisher Scientific, Inc.

Horizon Discovery Ltd.

Synlogic

QIAGEN

GeneCopoeia, Inc.

New England Biolabs

Quantabio

NanoString

BioGenex

SeqMatic LLC

Miltenyi Biotec

Sistemic Scotland Limited

Biodynamics Laboratory Inc.

OriGene Technologies, Inc.
microRNA Market Report Scope
Report Attribute

Details

Market size value in 2021

USD 1.1 billion

Revenue forecast in 2028

USD 3.6 billion

Growth rate

CAGR of 19.8% from 2021 to 2028

Base year for estimation

2020

Historical data

2017 - 2019

Forecast period

2021 - 2028

Quantitative units

Revenue in USD million and CAGR from 2021 to 2028

Report coverage

Revenue forecast, company ranking, competitive landscape, growth factors, and trends

Segments covered

Products, services, application, end-use, region

Regional scope

North America; Europe; Asia Pacific; Latin America; Middle East & Africa

Country scope

U.S.; Canada; Germany; U.K.; France, Japan; China; India; Brazil; South Africa

Key companies profiled

Merck KGaA; Thermo Fisher Scientific, Inc.; Horizon Discovery Ltd.; Synlogic; QIAGEN; GeneCopoeia, Inc.; New England Biolabs; Quantabio; NanoString; BioGenex; SeqMatic LLC

Miltenyi Biotec; Sistemic Scotland Limited; Biodynamics Laboratory Inc.; OriGene Technologies, Inc.

Customization scope

Free report customization (equivalent up to 8 analysts working days) with purchase. Addition or alteration to country, regional & segment scope.

Pricing and purchase options

Avail customized purchase options to meet your exact research needs. Explore purchase options

Segments Covered in the Report
This report forecasts revenue growth at global, regional, and country levels and provides an analysis of the latest industry trends in each of the sub-segments from 2017 to 2028. For the purpose of this report, Grand View Research has segmented the global microRNA (miRNA) market report on the basis of products, services, application, end-use, and region:
Products Outlook (Revenue, USD Million, 2017 - 2028)

Instruments

By Technology

Real Time PCR

Microarray

NGS

Others

By Workflow

Isolation & Purification

Whole Blood

Serum

Plasma

FFPE

Fresh Frozen Tissue

Others

miRNA cDNA Synthesis

Profiling, Localization, & Quantification

Functional Analysis & Others

Others

Consumables

By Specimen

Whole Blood

Serum

Plasma

FFPE

Fresh Frozen Tissue

Others

By Workflow

Services Outlook (Revenue, USD Million, 2017 - 2028)

Service Type

By Specimen

Whole Blood

Serum

Plasma

FFPE

Fresh Frozen Tissue

Others

Application Outlook (Revenue, USD Million, 2017 - 2028)

Cancer

Infectious Diseases

Immunological Disorder

Cardiovascular Disease

Neurological Disease

Others

End-use Outlook (Revenue, USD Million, 2017 - 2028)

Biotechnology & Pharmaceutical Companies

Academic & Government Research Institutes

Other end-users

Regional Outlook (Revenue, USD Million, 2017 - 2028)

North America

Europe

Asia Pacific

Latin America

Middle East & Africa
Frequently Asked Questions About This Report