Industry Insights
The global microwave oven market size was valued at USD 10.27 billion in 2014. Availability of a varied range of ovens has enabled consumers to cook several dishes without any hassles. Changing lifestyle and food consumption preferences is expected to drive ready-to-eat and frozen foods' demand. Growing female working population and busy schedule of people are also anticipated to impact favorably market growth.
North America microwave oven market demand by product, 2012-2022, (USD Million)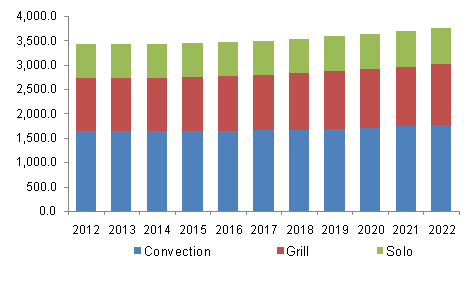 Microwave ovens are expected to undergo developments on account of changing consumer preferences coupled with the impact of socio-economic factors as well as macro-economic factors. Macro-economic indicators including rising population, increase in disposable income, and rising consumer awareness are expected to impact favorably the industry growth.
Product Insights
Products analyzed in the study include convection, grill, and solo ovens. Convection ovens accounted for approximately 45% of the global demand in 2014. They are mostly used in commercial businesses which include catering, hotels & restaurants wherein large amounts of food is prepared, which requires constant defrosting and reheating.
Growing health consciousness and availability of healthy cooking options are expected to foster industry growth. People are increasingly opting for grilled as well as roasted food containing less oil content, which can be prepared in lesser time, thereby boosting the grill ovens demand.
Application Insights
Application segments include commercial and household verticals. Household vertical accounted for approximately 65% of the global demand in 2014. Most of the household kitchen appliances have reduced extensive amount of human involvement for preparation of food. Improvement in living standards has also encouraged consumers to buy technology-driven kitchen appliances.
Household ovens demand is expected to increase on account of its ability to cook a variety of food in quick time. For instance, the launch of convection microwave by KitchenAid, equipped with Crispwave technology and crisper pan allows grilling, frying and convection cooking. LCS0712ST product offered by LG uses Easy Clean technology for interiors, which enables quick cleaning without the use of any cleaning agent. In addition, it is equipped with LED display and child lock features.
In commercial businesses, these appliances are used for preparing food in larger quantity and they need to withstand longer operational duration. Thus, these ovens are designed for handling excessive amount of electricity load and continuous usage of the equipment.
Structure Insights
On the basis of structure market has been segmented into built-in and cook top. Built-in can easily fit in kitchen's customized spaces and also provides an aesthetic appearance. These appliances are expensive in comparison with counter top ovens. However, the built-in ovens save counter space and also offer easy cooking.
Varied companies are expected to launch innovative counter top ovens which occupy lesser space. Additionally, consumers are also opting for counter top due to their less installation cost.
Regional Insights
North America accounted for approximately 35% of the global demand in 2014. Microwave ovens have a well-established industry in North America, and most of the households and commercial establishments are already equipped with these appliances. Lack of replacement activities and lower demand for new products owing to saturation are the primary factors for the declining market growth in the region.
However, Asia Pacific region is anticipated to witness significant growth in the industry. Significant increase in the disposable income coupled with the growing working class population is expected to spur ovens' demand in Asia Pacific region. Growing inclination of consumers to spend more on premium kitchen appliances is also anticipated to favorably impact the overall product demand in countries such as India, China, and Bangladesh.
Competitive Market Share Insights
Prominent players include AB Electrolux, Whirlpool Corporation, LG Electronics, Alto-Shaam Inc. and Panasonic Corporation, and Sharp Corporation. They focus on acquisitions & partnerships, and product launches as their key strategies, for expanding their reach.
In October 2014, Whirlpool announced the acquisition of Hefei Rongshida Sanyo Electric Co. Ltd., a Chinese home appliance company for strengthening its position in emerging Chinese home appliance industry.
In 2014, LG Electronics announced the launch of a premium segment of smart appliances equipped with HomeChat messaging service in line with its strategy of enhancing user experience. The service helps in the monitoring, communication and operation of smart appliances. The company's smart appliances including light-wave ovens can be controlled via NFC or Wi-Fi from a remote location.