Industry Insights
The global smart home industry was estimated at USD 13.07 billion in 2013 majorly attributed to increasing consumer interest towards energy efficiency and optimum resource utilization. Additionally, growing importance of security issues is also a key factor that is anticipated to fuel growth in demand for smart and connected homes over the forecast period. The introduction of innovative wireless technologies including HVAC Controller, security, and access regulators and entertainment controls are expected to foster market growth.
Asia Pacific smart home market, by application (USD Million)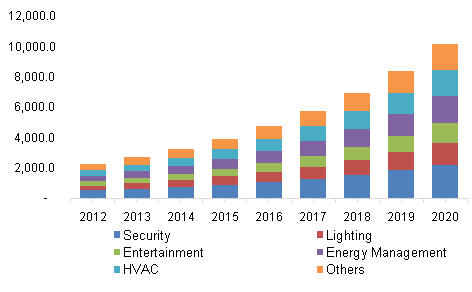 The real estate industry is anticipated to experience growth on account of growing demand for smart & connected homes and home automation systems which form an important part of smart homes. The upsurge in need for push button control, energy-preservation, shifting demographic preferences and need to safeguard the global environment from polluting effluents such as greenhouse gasses and toxic wastes is expected to result in significant market growth.
The market is likely to experience growth on account of rising geriatric population base, better M-2-M communication systems, new product development, and improvements in Internet of Things (IoT). Technology is responsible for providing effective energy saving solutions which are backed by various initiatives and favorable reforms undertaken by government bodies in developed regions including Europe and North America. High-end devices coupled with technologically advanced features such as IP and Bluetooth render a large proportion of the overall population with unaffordable technology which is in turn expected to drive demand.
Lack of standardization, high installation costs, rising awareness among consumers, and lack of skilled labor are anticipated to impede growth over the forecast period. The increasing importance of consumer durables and electronics with the assistance of power line communication are projected to provide new avenues in the market. Asia Pacific smart home market, by application (USD Million)
Application Insights
Approximately 20.0% of the total market worth was contributed by security systems in 2013. With cumulative global energy cost increasing on account of rising apprehensions regarding greenhouse gasses and growing demand, the market is anticipated to witness growth owing to growing requirement for energy-efficient solutions.
Important advantages of using this technology include reduced electricity expense and efficient & productive use of devices involving the use of Wi-Fi and ZigBee. Furthermore, use of home security monitoring techniques in providing systems such as window sensor alarms, security cameras, and burglar alarms help in notifying the user of a possible security break. On the other hand, entertainment allows consumers to control distantly media, audio, and video access devices. With the help of IP-based platform, this technology also offers to record TV programs from a remote location.
Regional Insights
North America is anticipated to capture a significant share owing to increasing product adoption. In 2013, this region constituted nearly 40.0% of the overall revenue share and anticipates to observe a substantial increase in the next seven years. Population aged 65 years and above is expected to reach nearly 88 million by 2050 from approximately 40 million in 2010 conferring to the U.S. Bureau of Census.
Rising demand for home healthcare and assistive medical care at home is expected to drive growth owing to increasing population demographic. Installation of automatic reminder system to make broadcasts such as a doctor's appointment or prompt the user to take medicine, turn off the stove, and other activities. The concept of context home services plays a significant role by providing in-home assisted living which is expected to boost demand.
Europe smart home market is estimated to account for more than 30.0% of the total demand for smart home over the forecast period. Demand for new technological advancements and rising consumer awareness in Asia Pacific is expected to fuel demand in this region.
Competitive Insights
Companies emphasize on the expansion as well as the introduction of new innovative products. Honeywell, ABB Ltd., Lutron Electronics, Crestron Electronics, Control4 Corporation Tyco International Ltd., Legrand S.A., Siemens AG, Schneider Electric S.A., and Emerson Electric Co. are the leading players in the global market share.
The key growing strategy employed by companies in the marketplace is the frequent introduction of new products and continuous upgrades of current product lines. For instance, Siemens predominantly focuses on ensuring the broad range of appliances, robust distribution and network stations, and high technical proficiency. Honeywell International proposes solutions and systems for a secure, informed, and comfortable living.