Industry Outlook
The global mining chemicals market size was valued at USD 23.20 billion in 2016. It is anticipated to witness a CAGR of 6.4% from 2016 to 2024. Growing demand for minerals, rising emphasis on water & wastewater treatment, and increasing mining activities are among the key trends spurring market growth. Surging demand for gold, copper, and platinum from various applications is projected to stir up the demand for products over the coming years.
Raw materials such as cyanide, sulfuric acid, nitric acid, uranium, mercury, and lead are used for the manufacturing of mining chemicals. These chemicals are toxic and harmful to human & the environment. Therefore, it is regulated under REACH (Registration, Evaluation, Authorisation, and restriction of Chemicals), OSPAR convention, and Industrial Chemicals Act.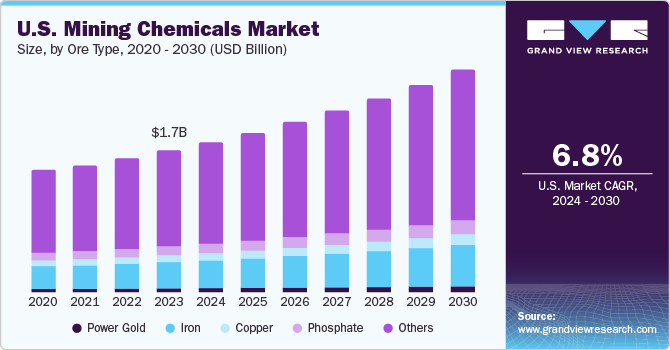 The mining industry has been facing many challenges due to low quality of ore bodies. Increasing demand for gold has led to rise in mining activities, which in turn is expected to drive demand for mining chemicals over the forecast period. For instance, majority players use cyanide for the extraction of gold from its ore.
The mining industry expansion has been moving beyond Asia, to Nigeria, Panama and Oman. Investors are attracted to mining opportunities in underdeveloped countries. Countries such as Indonesia and Ukraine have begun their mining and smelting industries as a response to the Indonesian ban on shipping ore.
The market is highly competitive in nature and logistics are one of the key parameters contributing to the final product. Logistics account for approximately 20.0% of the overall cost or more than that, particularly for overseas shipments. Distributors have to compulsorily evaluate all the possible transportation ways in order to deliver the product in the same form that the consumer needs and to provide economy of scale.
Mining activities impure the air and water. Acid mine drainage is considered as the biggest threat to water sources. Mining with acid drainage can have a long-lasting negative impact on rivers and aquatic life.
Product Insights
Grinding aids dominated the global market with a market share of over 46.0% in 2015. The trend is estimated to continue over the forecast period. Increasing focus on recovery of high quality minerals is likely to be an important factor supplementing the growth of the segment. Grinding and milling of ores are essential in recovering valuable minerals.
The collectors used as mining chemicals include xanthates, dithiophosphates, and thiocarbamates. Collectors help in the recovery of copper at low pH value. There are many collectors including copper, lead, soluble, and oily. These collectors are named based on their chemical structure and group. Xanthates are used to treat ores such as iron sulfides and penalty elements. Collectors accounted for a 17.3% of the overall market in 2015.
Flocculants consist of anionic, cationic, and nonionic polymers. It absorbs particles and destabilizes them by bridging or charge neutralization. Anionic flocculants react with the positively charged suspension that results in the production of salts and metallic hydroxides. Cationic flocculants react with negatively charged suspensions. Flocculants have major application in industries and municipalities involved in water treatment
Frothers were the first reagent used for mineral concentration. Frothers create perfect hydrodynamic conditions such as gas hold up and bubble size required in the flotation cell. Increasing importance of frothers in mineral flotation is poised to work in favor of the market.
Application Insights
Growing demand for minerals has resulted in the growth of the mineral processing market. Processing is mainly dependent upon the area of mining. Various processes include open pit & underground, crushing, transport, grinding & sizing, leaching & absorption, elution & electro winning, water treatment, bullion production, and tailing disposal. Mineral processing accounted for around 40.0% of the mining chemicals market in 2015.
Explosives & drilling accounted for a market share of 35.1% in 2015. Drilling and blasting are the major operations used by opencast mining. There are two types of rock breakage including rock penetration and fragmentation. Rock penetration includes drilling & cutting, while blasting is used for fragmentation. Drilling is performed in order to remove ore deposits and to decrease the operational cost.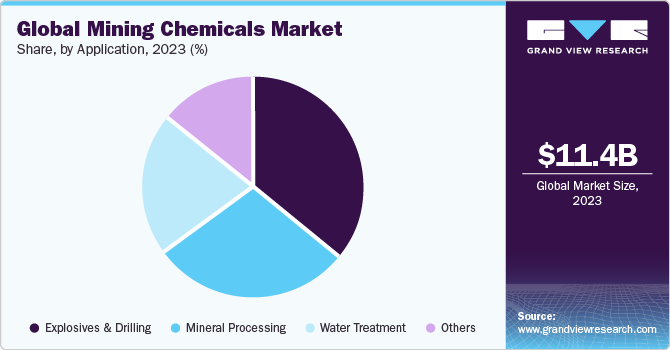 Mine water is acidic and requires limestone or caustic soda to raise the pH level. Chemicals such as coagulants and flocculants are added to combine the small and large particles. More than 70.0% of the pollutants are released into the water by mining industry. These factors are anticipated to increase waste water treatment activities over the coming years.
Other applications include solvent extractants and explosive emulsifier. Explosive emulsifiers are used for high performance and reliability along with explosives. The emulsifiers are used to get long-term stability against thermal & mechanical stress.
Regional Insights
Asia Pacific was the largest market for mining chemicals in 2015, with a share of just over 40.0% in the global market. The region is driven by mineral processing and explosives & drilling sectors. Moreover, emerging economies such as China and India are projected to boost the demand for mining chemicals over the forecast period.
China is one of the leading producers of coal, gold, and rare earth metals. There are more than 10,000 mines in China, which produce a significant share of the world's overall supply. It is also the largest consumer of mining chemicals used for the extraction of minerals. These factors are expected to have a positive impact on the growth of the market.
The U.S. was at the forefront of North America, representing 68.5% of the region in terms of revenue in 2015 and it is predicted to follow the trend. Regulations regarding recycling of wastewater are likely to increase waste water treatment activities in the country. Domicile of some of the major companies for mining chemicals, including Ashland, The Dow Chemical Company, Chevron Phillips Chemical Company, ExxonMobil, and Cytec, is supporting the growth of the market in the U.S.
The Europe market is mature and technologically advanced. It has rich resources of minerals and extraction of those minerals play a crucial role in the economy. Increasing consumption of metals and minerals in Europe is projected to fuel the demand for mining chemicals over the forecast period.
Mining Chemicals Market Share Insights
The market is highly competitive with the presence of a large number of manufacturers operating at the global level through widespread distribution channel. Ashland Inc.; The Dow Chemical Company; Chevron Phillips Chemical Company LP; BASF SE; and ExxonMobil are the major players in the market.
Expansion and agreement are the key strategies being adopted by market players to strengthen their position. For instance, the specialty chemical segment of Akzo Nobel N.V. announced an investment of more than EUR 20.0 million for Expancel product line for expandable microspheres in Sweden.
Segments Covered in the Report
This report forecasts revenue growth at global, regional & country levels and provides an analysis of the industry trends in each of the sub-segments from 2013 to 2024. For the purpose of this study, Grand View Research has segmented the global mining chemicals market report on the basis of product, application, and region:
Product Outlook (Revenue, USD Million, 2013 - 2024)

Frothers

Flocculants

Collectors

Solvent Extractants

Grinding Aids

Others

Application Outlook (Revenue, USD Million, 2013 - 2024)

Regional Outlook (Revenue, USD Million, 2013 - 2024)

North America

Europe

Asia Pacific

Central & South America

Middle East & Africa