Industry Insights
The global mining chemicals market size was over USD 21.00 billion in 2015. Declining quality of ore has led to the utilization of complicated processing methods which is expected to propel demand for mining chemicals over the next eight years. Increasing demand for metals in numerous industries including construction, oil & gas, and packaging is expected to propel mining of zinc, copper, iron, and silver. Subsequently, major extraction companies including BHP Billiton have been investing increasingly in countries with high mineral reserves including China, Peru, Chile, and South Africa. In addition, increasing deep surface mining activities are expected to propel demand for the product over the forecast period. Increasing R&D activities in order to develop and commercialize new, sophisticated, and environment friendly chemicals is expected to lower cost and ultimately propel market growth.
Europe mining chemicals market revenue, by product, 2013 - 2024 (USD Million)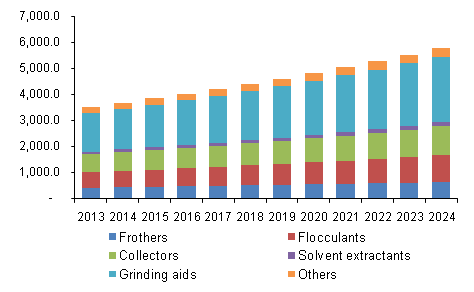 Stringent government regulations regarding the use of cyanide are expected to restrict growth over the next eight years. The Australian government introduced Environment Protection Water Quality Policy 2003 in order to limit utilization of certain chemicals for mining and industrial applications, which is expected to restrain growth. Furthermore, high transportation cost, leading to high price of chemicals, is expected to hinder growth over the forecast period.
Product Insights
In 2015, grinding aids segment dominated the global market, in terms of product. Increased floatability of the ore, which results in easy extraction, is expected to propel demand over the forecast period. Increasing issues related to the quality of ore and efficiency of metal extraction processes is expected to augment product utilization over the next eight years. Growing utilization of frothers in froth floatation process of nickel, copper, and other rare elements is expected to fuel market growth.
Flocculants are expected to witness significant growth on account of increasing use in water and wastewater treatment. Government regulations regarding environmental protection and industrial waste treatment are expected to have a positive impact on growth. Solvent extractants including ketoxime blends and modified aldoxime are being increasingly used for purification and extraction of minerals.
Application Insights
Explosives and drilling segment is expected to witness a CAGR of over 6.5% in 2015 on account of increasing requirement for deep surface mining in order to extract high-quality minerals. Depletion of existing reserves is expected to propel demand over the forecast period. In addition, high utilization of coolant and corrosion inhibiting chemicals in mining is expected to augment demand. Water & wastewater treatment is expected to witness considerable growth on account of stringent government regulations in order to control water pollution.
Regional Insights
Asia Pacific is expected to witness a rapid growth of over 7.0% from 2015 to 2022 owing to high investment in economies including China, Australia, Indonesia, Malaysia, and New Zealand. The governments in numerous economies have been taking steps in order to abolish red tape mechanism in order to promote investments which are expected to augment growth. Australian government invested over USD 105 billion in the mining industry in 2012. Similarly, Canada, Chile, Brazil, Russia, Peru, and the U.S. have been investing highly on mineral and metal extraction activities which are likely to propel utilization of mining chemicals in the region over the next eight years.
The European market is expected to witness sluggish growth on account of strict environmental regulations and unstable economic conditions in the region. However, increasing mining activities in Russia is expected to have a positive impact on demand over the forecast period. In addition, the presence of major companies including Anglo American, Rio Tinto, and BHP Billiton in the region is expected to have a positive impact on growth.
Competitive Market Share Insights
Key companies include BASF, Chevron Phillips, SNF Flomin, Cytec, and Ashland. The mining chemicals industry is highly fragmented with the presence of numerous players across the globe. This has led to high rivalry among the companies. Expansion of production capacity and new product development are the key strategies being adopted by the companies in order to strengthen their market position. In April 2014, BASF increased production capacity of its Ireland-based solvent manufacturing facility.