Industry Insights
A Mobile Stroke Unit (MSU) includes advanced life support care ambulance comprising CT scanner, a clot dissolving drug, i.e., Tissue Plasminogen Activator (tPA), and telemedicine technology. The Mobile Stroke Unit market is expected to increase, owing to growing stroke incidence, various awareness programs undertaken by the government organizations, and research funds received by the research universities for better contribution towards prevention, diagnosis, and treatment of stroke.
Every year, around 15 million people have stroke, out of which six million die and five million are left disabled permanently. This is largely owing to the lack of awareness and recollecting the stroke warning signs. According to the American Heart Association/American Stroke Association (AHA/ASA), one in three Americans is unable to recall the warning signs of stroke.
Global Mobile Stroke Units Market, 2012-2022, (USD Million)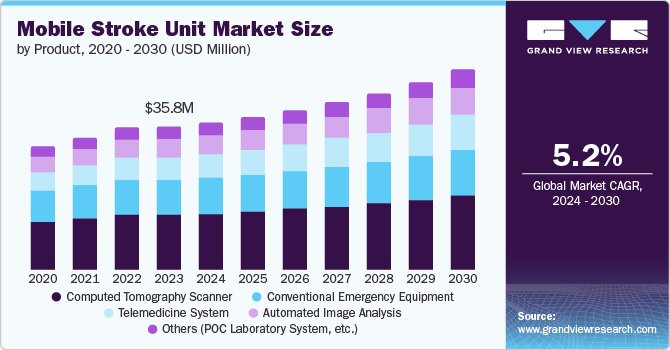 In February 2009, the UK launched the first stroke awareness campaign known as Act Face, Arm, Speech, Time (F.A.S.T) by the Public Health England (PHE). This campaign increased alertness of people about the common signs of stroke and to call 999 (emergency number), if they observe such symptoms in them or others. Realizing the success of this campaign, Act FAST was further adopted by Australia and the U.S.
In addition to increasing awareness, other factors that can control stroke are keeping a check on blood pressure, cholesterol, and weight. According to the AHA/ASA, around 87% of the incidents are ischemic in nature caused by clogged or narrowing of blood vessels. Thus, regular checking of blood pressure and controlling it is one of the preventive measures. In addition to this, obesity is also a dominating factor. Around 60% Canadians are overweight and obese and to stop this growing epidemic, the Heart and Stroke Foundation has launched the Target Obesity initiative. This initiative focuses on preventing obesity by improving nutrition and physical activities in Canada's schools, communities, and workplaces.
Regional Insights
Mobile stroke unit has growth potential in the U.S. owing to a number of research projects undertaken by the research universities to establish the efficiency of the MSU offers against hospital treatment and also the medical research investment by the government. In 2011, out of the USD 30.2 billion spent by the U.S. for medical research, 1% was for stroke research.
The government is also adopting many initiatives to increase the awareness. One such step was by inculcating the Act FAST campaign introduced by the UK in February 2009. Medtronic in partnership with the AHA has launched the Cryogenic Stroke Initiative as majority of these in the U.S. are classified as cryogenic strokes.
Currently, there are four MSU in the U.S., operated by UC health (Colorado), UT health (Houston), Cleveland Clinic (Cleveland) and Mercy Hospital (Ohio). The USD 1 million unit is a gift to Lucas County from the Mercy Foundation and is projected to be operational from October 2015. Lucas County 911 operators are expected to dispatch traditional life squad along with the MSU to businesses or homes where there is suspected patient.
Germany is the second country with the potential for the mobile stroke unit market. The concept was first initiated from Germany, where the University of Saarland just placed the CT scanner in the ambulance along with a neurophysiologist to study the efficiency of this method in saving the patient's life. The concept further got revolutionized when NeuroLogica Corporation and Meytec GmbH launched "VIMED STEMO". There are only two such units in Germany.
In November 2015, the German Ministry of Education and Research (BMBF) granted USD 1.86 million to OMEICOS Therapeutics. The grant received would be used to develop a molecule for prevention and treatment of atrial fibrillation. Stroke costs around 29 billion every year to the European nations. To address this issue, in June 2015, the EU funded the 'RETRAINER' project to speed up stroke rehabilitation.
Increasing research grant along with the growing healthcare cost makes the UK another lucrative market. Every year, the UK government spends around USD 68 on every stroke patient. There are approximately 152,000 cases every year,i.e., one in every 3 minutes 27 seconds. The British Heart Foundation funds over USD 22 million for research to improve patient care and rehabilitation for stroke.
Competitive Insights
Meytec, Nueurologica Corporation, Excellance Inc., Frazer, and Falck are few MSU market players. In May 2012, NueroLogica and Meytec partnered to launch VIMED STEMO, combining Neurologica CT scanner along with Meytec telemedicine technology. Their combined competencies allow on-board physicians to quickly evaluate patients and commence with the treatment within an hour after symptom onset.