Industry Insights
Global nanoclay reinforcement market size was estimated at USD 822.3 million in 2014. Rising demand for these materials on account of their various characteristics including toughness, stiffness, dimensional stability, thermal resistance, chemical resistance, enhanced barrier properties and flexibility at high temperatures is expected to boost growth over the next seven years.
Nanoclay is a key factor in improving properties of various polymers including PE, PP, and PET. Advancement in nanotechnology has played an important role in understanding the nature of the material and its behavior in various applications. This is expected to drive demand over the next seven years.
Ease of availability and low manufacturing cost has prompted plastic producers to increase its consumption and therefore has resulted in continuous growth over the past few years. Nanoclays are the most consumed nanomaterial commercially and account for over 50% of the market value.
Increasing expenditure on construction coupled with growing demand for furniture in emerging markets of China, India and Brazil has contributed towards rising demand for nanoclay from these sectors. Growing demand for liquid silicone rubber or LSR from various end-use industries including medical, electrical, aerospace and automotive has resulted boosting growth.
U.S. Nanoclay Reinforcement Market, By Application, 2012-2022, (Kilo Tons)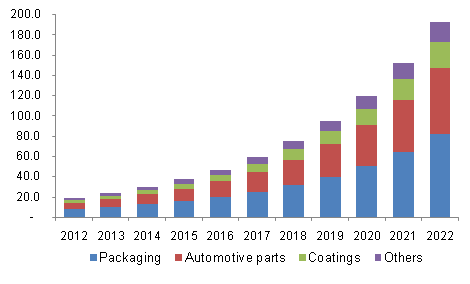 Application Insights
Packaging was the largest segment accounting for USD 343.0 million in 2014. Owing to its high barrier properties, it has become an important part of the packaging industry and is used in various food packaging applications. Growing demand for low cost, flexible packaging is expected to stimulate growth over the forecast period.
Coatings are expected to grow at a CAGR of 26.0% from 2015 to 2022, in terms of volume. Rising consumer awareness regarding the benefits of nanoclay reinforced products on account of its various performance enhancing characteristics is expected to promote growth. Regulatory support to increase production output for nanotechnology-based products is likely to play a key role in fuelling growth.
End Use Insights
Automotives dominated the global market accounting for approximately over 35% of the volume share in 2014. There has been an increasing demand for the product from automobile component manufacturers to incorporate lightweight and high strength materials which help in improving efficiency with no adverse effect on impact resistance. The presence of EURO 6 and 7 norms has resulted in manufacturers utilizing the product to reduce vehicle weight and improve fuel efficiency.
Low manufacturing cost and ease of processing are some of the key features which have supported in increasing consumption of the material in automobile applications over the past few years.
The increasing use of these reinforced materials in cosmetics owing to their ability to enhance coverage and color retention for lipsticks, eye-shadows, and nail lacquers is expected to drive demand.
Military & defense and energy sectors are expected to be crucial growth markets over the forecast period. These materials are being increasingly used on account of their ability to improve efficiency and performance of renewable energy devices as well as improve the level of safety in various aerospace and military applications. Although military & defense accounted for just over 10% of the volume share in 2014, the segment is likely to witness above average growth from 2015 to 2022.
Regional Insights
North America nanoclay reinforcement market accounted for over 30% of global volume share in 2014. Growing importance of nanotechnology and government support for the development of nanoparticles is expected to result in above average growth for the market over the next few years. Government initiatives across the world to support various investments for research and development of nanotechnology are expected to boost growth for these materials.
Asia Pacific is expected to witness significant growth over the forecast period at a CAGR of over 26.5% from 2015 to 2022, in terms of volume. Robust manufacturing base and government support for research & development will be potential parameters for stimulating growth.
Rapid urbanization in BRICS is driving the domestic construction industry. Increasing demand for lightweight and highly durable materials is expected to augment growth. Technological advancement to develop lightweight and durable electronics has resulted in an increasing need for nanoclays owing to their excellent barrier properties and mechanical properties.
Competitive Insights
Nanophase Technologies, BYK Additives, Nanocor Incorporated, Elementis Specialties Inc, BASF SE, 3M ESPE, DuPont, Evonik Degussa GmbH, Axson Technologies SA dominated the global nanoclay reinforcement market share in 2014. In October 2013, BYK additives acquired Southern Clay Products, Inc. and are now on focusing on expanding its market.