"Technological innovation regarding nanoscale fibers expected to steer product demand"
The global nanofibers market size was USD 390.6 million in 2015. Increasing adoption of low-cost polymers to produce nanocomposites has contributed to significant market growth over the past few years.
Polymeric nanofibers have gained significant growth owing to its low-cost materials and the efficiency of electro spinning technology for mass production of these products. In addition, its mechanical properties and compatibility with biomedical devices have contributed to its significant penetration in medical, life science, and pharmaceutical (MLP) sectors.
U.S. Nanofibers Market Revenue By Product, 2014 - 2024 (USD Million)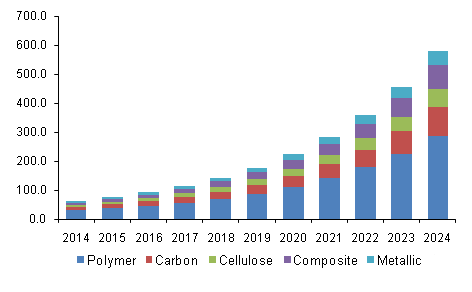 Recent advancements in technological aspects have led to new manufacturing techniques such as magneto spinning, force spinning, rotary jet spinning, phase separation, and melt-blown technology. Electro spinning is the most adopted technique for mass production of nanofibers. Companies such as RevolutionFibres, FibeRio, Donaldson, Finetex EnE, Sigma Aldrich, Elmarco, and Nanopareil are involved in continuous R&D investments for developing new production technologies.
Technological innovation is a significant factor that has steered industry growth over the past few years. Owing to its enhanced mechanical strength, nanofibers have significant opportunities for companies in high-value sectors including aerospace, automotive, defense, solar energy, and fuel cells. Fabrication of broad range of products from composite nanoscale fibers is expected to drive innovation in the industry and thus enhancing its penetration in automotive and textiles market.
"Polymer was the leading product segment in 2015"
Polymer nanofibers emerged as the dominant product segment in 2015. Ease of access and low cost of various natural and synthetic polymers can be attributed to high demand. Versatile compatibility of these products with electro spinning technique is the major factor that enhanced its wide scale adoption among the dominant producers. The segment is expected to grow at a CAGR of 25.3% from 2016 to 2024.
Major applications such as tissue engineering, drug delivery systems, medical implant devices, water & air filtration, and protective clothing have contributed to significant penetration of polymer products in the industry. In terms of global demand, polymer nanofibers market size was estimated to be 495.4 tons in 2015.
Cellulose nanofibers are expected to emerge as the fastest growing product category over the forecast period. Shifting consumer preference towards environment-friendly products has urged manufacturers to adopt sustainable strategies in their manufacturing techniques. This is expected to steer bio-based nanomaterial demand over the next few years.
The segment is anticipated to reach a net worth of USD 271.7 million by 2024. Owing to its excellent mechanical properties such as lightweight and durability coupled with the ease of access to huge range of plants is expected to play a major role in steering micro-fibrillated cellulose demand over the next few years.
"MCE was the leading end-use segment for nanofibers in 2015"
Mechanical, chemical, & environmental (MCE) emerged as the leading end-use segment accounting for over 38% of the global nanofibers market revenue in 2015. High penetration in this segment can be attributed to the filtration application owing to the enhanced efficiency of nanofibers in air and aerosol filtration. Another factor contributing to the market growth is attributed to catalyst applications in chemical industry. This segment is expected to grow at a CAGR of 24.7% over the next eight years.
Electronics is anticipated to emerge as the fastest growing end-use segment over the forecast period. This segment is estimated to reach a net worth exceeding USD 290 million by 2024. Owing to the ease of fabrication and low operating costs, nanofibers have witnessed significant prominence as a building block in electronic products. Deploying electro spinning technique for developing optically inert products with enhanced mechanical strength is expected to steer the industry growth over the forecast period.
"North America was the leading nanofiber market followed by Europe in 2015"
North America nanofibers market dominated the global industry in terms of value and is anticipated to grow at a CAGR of 25.5% from 2016 to 2024. Rising prevalence of nanotech enabled procedures in several biomedical applications such as surgery, drug delivery, tissue engineering, and pharmaceuticals is anticipated to steer demand over the next eight years.
Surging consumer interest towards recyclable and sustainable products coupled with the growth of key end-use industries including packaging, automotive, and electrical & electronics is anticipated to drive regional market growth.
Asia Pacific nanofibers market is expected to witness the fastest growth over the next eight years to reach an estimated volume of 2,376.1 tons by 2024. Ongoing R&D investments coupled with growing nanoscale material prevalence in medical and electronics sectors are expected to steer future investments in the region.
"Innovative production technologies to drive industry competitiveness"
The global nanofibers market is highly fragmented with the presence of a huge number of small and large scale companies. Some of the key industry participants include FibeRio Technology Corporation, Toray Industries, Ahlstrom Corp., Revolution Fibres, Donaldson, Elmarco, and Johns Manville Corp.
Other prominent players operating in the industry include DuPont, Asahi Kasei, Jiangxi Xian Cai Nanofibers Technology, Johns Pyrograf Products, Inc., and MemPro. Major strategies adopted by key players include capacity expansion and long-term strategic partnerships with end-use companies to enhance their position in the nanofibers market.