Industry Insights
Global tissue engineering market size was valued to be around USD 4,700 million in 2014. Increasing need for bridging the gap of demand and supply of organs is a key factor contributing to market growth. Application of biomaterials and tissue engineering was initially confined to surgical manipulation of tissues and prosthetic, however, now includes cardiac, corneal, liver tissue engineering and others.
The requirement for reliable, humane, effective, and cost-effective alternatives has driven the need for in-vitro testing with human equivalents. The use of animal testing models has raised various ethical issues and hence, the demand for tissue engineered human equivalents is growing at a rapid rate.
U.S. Tissue Engineering Market, By Application, 2012 - 2022 (USD Million)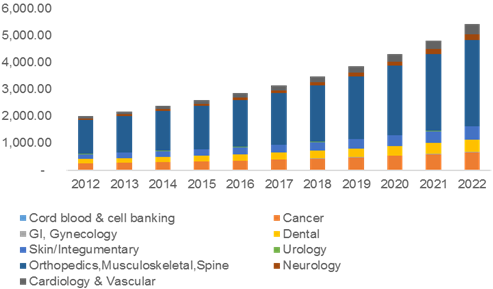 For performing toxicity and efficacy testing, various rats and mice models were used, which are now gradually being replaced by reconstructed epidermal tissues. They have been approved by the European Centre for the Validation of Alternative Methods to Animal Testing (ECVAM). These skin tissues are either protected by patents or commercialized by private companies with their proprietary procedures, which make them highly expensive and less accessible.
The human skin biopsies procedures require keratinocytes and fibroblasts for cell proliferation. The down-streaming process requires a large amount of vital cells so as to provide the required cell material. Such requirements are fulfilled by using automated process, but the lack of structural definition and a wide range of human cell sizes are challenges on which the industry players are working on. Increasing demand for tissue engineering has led to the introduction of a module, which uses the combination of enzymatic and mechanical applications along with high cell vitality rates.
Moreover, the government bodies are streamlining the regulatory aspects for the use of regenerative medicines by various clinics. Inorder to address the growing concern in relation to the increasing number of unproven stem cell therapies, regulatory bodies are cracking down on such clinics. In February 2016, the FDA issued notices to all the clinics, which were found to use unapproved stem cell therapies. These therapies used were mostly drugs and hence the FDA announced a public hearing for such clinics.
The applications of regenerative medicines, which were earlier confined to orthopedics, have now expanded to all the areas of healthcare including cancer. Favorable government regulatory framework, continuous technology advancements, and increasing research funding are expected to drive the demand for regenerative therapy market.
Application Insights
The orthopedic application dominated the market in 2014 owing to growing number of reconstructive and replacement surgeries. The aging population and the increasing number of accidents drive the need for bone implants. Tissue engineered devices are capable of filling the gap between the demand and the lack of supply of orthopedic products. In April 2014, Bonus BioGroup commenced clinical trials for repair of facial bone deficiency. These trials will work on the upper and lower jawbone cavity, which can be reconstructed by implanting human bone grafts.
Neurology is one of the fastest growing segments owing to the wider scope of development offered by this nascent segment and the increasing number of researches undertaken. For instance, in March 2016, researchers from the University of Alabama found a reprogramming factor, which could increase the efficiency of Human induced Pluripotent Stem Cells (HiPSCs). They are generated without destroying the human embryo.
Regional Insights
North America market was the largest in 2014, owing to the presence of leading international players, funding support by the U.S. government and private organizations for research, and improvement in the regulatory guidelines to streamline the market.
According to the U.S. Department of Health and Human services, approximately USD 4 billion in private capital has been invested in regenerative medicine. The very first regenerative venture capital fund was introduced in 2006. USD 225 million California-based Proteus Fund is focusing on tissue engineering and aesthetic medicines.
There is increasing industry-academia collaboration to leverage on the research capabilities and to accelerate the product commercialization rate. In September 2015, Cesca Therapeutics, Inc. and Center for Immune Cell Therapies (CICT) collaborated to explore the application of AutoXpress platform for immune cell therapy.
The demand for 3D printing technology to reduce the cost and errors in tissue engineered scaffolds is driving the demand in Europe. Industry players are continuously upgrading the present 3D technology and thereby offering better and enhanced organ and tissue printing. In September 2014, 3Dynamic Systems Ltd. (3DS) launched two new 3D printers named Omega and Alpha bioprinters. The company is currently working on fabricating bone and complex tissues by using the bio-printer. This breakthrough technology can be used to treat many severely injured patients.
Asia Pacific offers a wide scope for tissue engineering and regenerative medicines owing to the presence of a huge base of manpower, technologically-advanced procedures, and government funding. In addition, increasing industry-academia collaborations and acquisitions by international players are expected to drive the demand for these therapies.
The demand for the human cells has also increased the interest of industry players from the pharmaceutical industry. For instance, in April 2015, Takeda Pharmaceutical Company Limited and Center for iPS Cell Research Application (CiRA) signed a ten-year collaborative research agreement. Through the academia-industry collaboration, both the parties will develop clinical applications, where they can use human pluriponent cells for heart failure. Furthermore, in December 2015, Pandorum Technologies Pvt., Ltd. manufactured its first 3D printed artificial human tissue. The artificial liver performs all the critical functions such as secretion, detoxification, and metabolism.
Competitive Market Share Insights
Some key players operating in this segment include Medtronic, Inc., Zimmer Biomet, Acelity, Athersys, Inc., Organogenesis, Inc, Stryker Corporation, Tissue Regenix Group Plc and RTI surgical, Inc.
Companies are now entering into collaborations to gain leverage on research and technology competencies of other competitors. In December 2015, Acelity acquired SNaP Therapy System from Spiracur. Through this acquisition, Acelity is expecting to enter the acute wound care market and to expand its product portfolio.
In addition, many companies are upgrading product portfolios to meet the current demand. For instance, in December 2015, Medtronics bone graft was approved by the FDA for new indications. Infise Bone graft product was approved for Anterior Lumbar Interbody Fusion (ALIF) and Oblique Lateral Interbody Fusion (OLIF) procedures.