Industry Insights
Nitrogen trifluoride (NF3) is an inorganic compound and has toxic, odorless, non-flammable properties. NF3 is manufactured by the reaction of hydrochloric acid (HCL) and ammonia (NH3) and primarily used in the cleaning of silicon wafers in semiconductor and solar energy applications. Fluorine gas (F2) is produced either from fluorite (fluorspar) or fluorapatite, used in uranium enrichment, switchgears and electronic cleaning applications. Fluorine in the form of uranium hexafluoride (UF6) and sulfur hexafluoride (SF6) are used for uranium enrichment and as a dielectric medium for gas insulated switchgears, respectively. Nuclear enrichment enables uranium for further processing in power generation and other applications. Increasing uranium production is expected to boost the demand for UF6 in the nuclear power production driving groth in the F2 market. NF3 is considered in place of other cleaning agents such as sulfur hexafluoride, per fluorocarbons and hexafluoroethane on account of its environmental effectiveness. Increasing solar power generation is expected to boost the NF3 market demand for thin film solar cells. In addition, NF3 is used in plasma processing for fabricating the integrated circuits of televisions, laptops and tablets. It mainly cleans the silicon wafers at Plasma Enhanced Chemical Vapor Deposition (PECVD) in Liquid Crystal Displays (LCDs). NF3's fluorine content is used for cleaning the silicon-based impurities in the chamber. Hence, increasing demand of LCD televisions is expected to boost NF3 market demand for use in televisions. However, the Kyoto Protocol has recognized NF3 as the second most GWP gas after SF6 and included it in the list for second commitment period from 2013. The adoption of Kyoto Protocol by the U.S. and European countries is expected to restrict NF3 market demand for different applications in the region. Additionally, being highly reactive and hence toxic to human beings in case of direct and prolonged exposure which can be a major restraint for the F2 market.
Application Insights
NF3 is majorly used in manufacturing of semiconductor chips, flat panel displays and solar cells, whereas, F2 is used in uranium enrichment, sulfur hexafluoride, and in electronic cleaning. Semiconductor chip was the largest application segment for the NF3 market and accounted for 45.9% of total demand in 2013. It is mainly used to clean manufacturing chamber of silicon chips in the semiconductor industry. It is also used in the cleaning of PECVD (Plasma Enhanced Chemical Vapor Deposition) chambers for the manufacturing of large volumes of flat panel displays in laptops, mobile phones, digital cameras, camcorders, point-and-shoot cameras, and pocket video cameras. Additionally, NF3 market applications also include cleaning of silicon wafers in plasma enhanced chemical vapor deposition (PECVD) for the production of thin-film solar cells or thin film photovoltaic cells. Uranium enrichment was the largest application for the F2 market in 2013. F2 is used in the form of uranium hexafluoride (UF6) for nuclear enrichment of uranium trioxide (U3O8). Sulfur hexafluoride (SF6) is majorly used as a dielectric medium in electronic applications. The other uses of SF6 include contrast agent for ultrasound imaging, tracer compound and casing medium for the magnesium production. F2 is used in the cleaning of PECVD manufacturing chamber for the production of semiconductors. It is mainly used for cleaning silicon wafers present in the silicon-based semiconductors.
Regional Insights
Asia Pacific was the largest regional NF3 market as well as F2 market with 43.5% and 45.4% of the total demand respectively. The growth of semiconductor industry in South Korea, China and Japan is expected to augment drive NF3 market demand in the production of semiconductors. Demand is expected to be further propelled owing to increasing demand for flat panel displays in emerging markets such as China and India.
North America NF3 market volume, by application, 2012 - 2020 (Tons)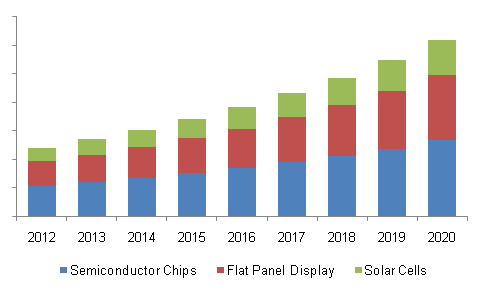 The increase in nuclear power generation in China, India and Australia is expected to boost the F2 market demand for uranium enrichment over the forecast period.
Competitive Insights
Companies in the NF3 market include Mitsui Chemicals Inc, American Gas Group, Central Glass Co. Ltd, Formosa Plastics, Kanto Denka Kogyo Co. Ltd, Ulsan Chemical Company Limited, Foosung Co. Ltd, Hyosung, Linde Group, Navin Fluorine India and OCI Materials Co.