Industry Insights
The global non-resilient flooring market is poised for high growth over the forecast period due to a surge in new home and commercial construction activities in developing economies. The market was valued at USD 183.45 billion in 2013. Non-resilient flooring includes hard surfaces that are used as floor coverings in a wide range of applications including residential and commercial. Ceramic and stones are the primary elements of this type of floors. There are a variety of types and styles that can be seen all over the residential and commercial settings. The ceramic and stone product market has been recovering since the global economic downfall.
Increased property resale has stimulated the homeowner remodeling and home improvement projects and the escalation in the prices of the residential property across the globe. This has proved to be an incentive for non-movers to invest in their homes and upgrade to stone countertops and floors. As the residential market has witnessed growth in the recent years, the ceramic and stone product suppliers have strategically increased their reliance on home center and online retail channels. Developed countries such as the U.S. import ceramic tiles in large volumes from Mexico, China and Italy. However, the commercial and industry non-resilient flooring applications have lagged behind in terms of demands due to the availability of substitutes and the overall decline in the in public buildings construction activity.
Global non-resilient flooring market by application (USD Billion), 2012 - 2020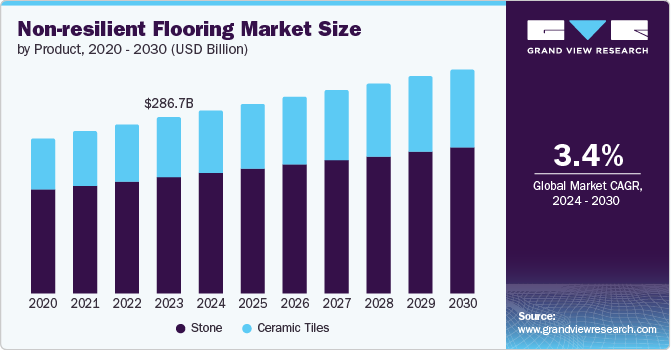 Application Insights
Non-resilient flooring is applied across residential, commercial and in industrial sectors. Ceramic tiles are extensively used in new residential as well as in home improvement activities. The residential sector contributed to over 50% of the overall revenue in 2013. These floors are also used in places that have a continuous exposure to water and moisture such as bathrooms, swimming pools, and saunas along with other architectural constructions. Furthermore, ceramic tiles are used in commercial applications such as malls and shopping centers as well as work and office spaces.
Product Insights
Modern digital tile printing techniques offers a wide variety of prints and patterns on ceramic tiles thus making them available in a wide range of choices. Ceramic tiles find multiple applications and can be used indoors and outdoors. These can be used as floor coverings and wall tiles and can be used anywhere irrespective of the style and décor of the house. Moreover, these floorings hold up good under circumstances such as heavy footfall, requiring only minimal maintenance for a longer life. The tile installers are trained for modern installation techniques that adhere to the industry standards. The University of Ceramic Tile and Stone (UofCTS) provides online education and training for the ceramic tile and stone flooring industries on the standards called "Tile Installer Thin-set Standards (ITS) Verification" in order to familiarize in the installers of the installation industry updates. Stone floors comprise either man made or natural stones, whereas natural floor consists of slate, granite, marble, concrete, terrazzo, ceramic, and quarry. Marble, granite and other natural stone products are projected to grow at an exponential rate. Manufactured stone, concrete tiles and engineered quartz products are also outpacing overall non-resilient flooring industry growth.
Regional Insights
Developing economies such as China and India from the Asia Pacific region dominate the global non-resilient flooring market owing to high production and consumption capacity of the region. Increasing construction activities in the residential and commercial sector has led to an increase in the demands for ceramic and stone floors in the region. The Great Urbanization, a systematic relocation of people in China from rural to urban centers is fueling the rise in consumerism, a construction boom and increasing demand for floor covering. European countries such as Germany, Italy and the U.K., that are known for their architectural designs and buildings, prefer stone and ceramic floors over others, thus driving the growth of the regional non-resilient flooring market.
Competitive Insights
Key players in the global non-resilient flooring industry include Mohawk Industries, Shaw Industries Group, Dal Tile, Mannington Mills, RAK Ceramics, China Ceramics, Ceramica Saloni, Kajaria Ceramics, and Porcelanosa Grupo. Major vendors across the globe are reworking on their distribution channel and marketing strategies. Mohawk Industries and Dal Tile have showcased their ceramic tiles collections on their websites and online catalogues for the customers to find out products best suitable for their individual applications. Tile manufacturers around the globe are aiming for expansion of their production capacities and supply chain in order to serve the increasing demands from the developing economies.