Industry Insights
The global Nurse Call System Market was valued at USD 675.6 million in 2014 and is expected to grow at a CAGR of over 13.74% in the next seven years. Key factors attributing to the market growth include increasing baby boomer population, need for more diversified and integrated platforms, the preference for mobility devices, and changing reimbursement scenario.
In January 2014, Medicare announced USD 362 billion for the fee-for-service payments covering over 49 million older Americans. However, with increasing healthcare costs and rising pressure pertaining to the dynamic healthcare requirements, Medicare decided to reimburse systems based on their quality and outcomes and not based on their quantity. Medicare estimates that the current reimbursement practice costs an extra USD 2.1 billion and expects to minimize this by implementing technology advanced products. With this change in reimbursement policies, hospitals, and other healthcare facilities are trying to streamline their workflow processes by adopting technology-oriented nurse call systems.
U.S. Nurse Call System Market, by technology, 2012 - 2022 (USD Million)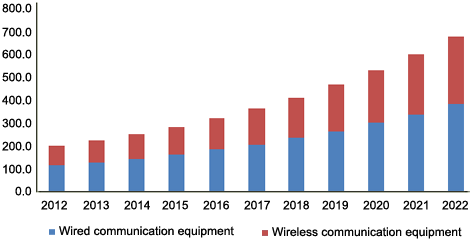 Moreover, with the rise in home healthcare and nursing home facilities, the market participants are focusing on the need for better patient response time along with eliminating nurse fatigue. Vendors are differentiating their products by integrating their devices with different diagnostic solutions and technologies. For instance, in March 2016, Rapid Healthcare, Inc. had certified two of the Brother Mobile Solution's mobile printers to be used for its patient verification and identification of software applications. Industry players offer customized services as per hospital needs through such integration.
Technology Insights
In 2014, wired technology dominated the Nurse Call System Market in 2014 with revenue estimated at over USD 500 million. Key factors attributing to its large share includes the development of novel solutions such as the integration of the wired bed and devices to the central system. Hospitals are expanding their facilities to offer real-time information by incorporating technologically advanced systems for example in March 2016, Waupun Memorial Hospital announced a USD 23 million expansion plan for its facility. Key features of this expansion would include the integration of the wired beds to the diagnostics systems which would send all information to the nurse call systems and allow a two-way communication.
Wireless technology is identified as the fastest growing technology segment over the forecast period. Key factors attributing to its rapid growth include the higher level of system integration, better patient mobility, and reduced cost for installation as compared to wired technology. Patient mobility is crucial for senior living facilities and assisted living facilities, where caregivers are away from the patients. In such cases, wireless nurse call buttons or pendants are of a great help. In April 2015, Mircom launched MiCare wireless nurse call system in the U.S. Sands Expo in Las Vegas. The product has self-healing networking technology with the ultrasonic signaling which accurately responds to emergency situations so that the patient receives the required level of care.
End-use Insights
In 2014, hospitals and clinics have the largest market share owing to increasing number of patient flow, incorporation of sophisticated nurse call systems, and increasing incidences of emergency cases. Moreover, hospitals using EHR meaningfully will receive incentives from the Medicare and Medicaid according to the provision in 2009 Health Information Technology for Economic and Clinical Health (HITECH) Act.
Assisted living facility is the fastest growing end-use segment owing to the increasing number of senior care services. The nurse call pendant such as Tek-CARE has a passive infrared (PIR) motion detector, which helps staff keep a check on the patients. Moreover, with technology advancements patient monitoring and medical reporting are integrated with the nurse call equipment to improve quality and productivity. The online software keeps track of the caregiver response time, the number of emergency calls, and the patients requests, thus improving patient care.
Regional Insights
North America Nurse Call System Market held more than 40% revenue share in 2014, owing to a number of regulatory reforms, changes in reimbursement coverage, and funds received to update hospitals with technology-driven nurse call systems. The U.S. healthcare providers are facing a shortage of registered nurses. It is estimated that around 55% of the nurses would retire between 2011 and 2020 which in turn is expected to boost the demand for novel and automated nurse call equipment.
By connecting nurses to patients and other healthcare providers, the demand for increasing healthcare services and the inability to offer a better patient response can be fulfilled. Hospitals are funding to update existing technology and infrastructure for better patient care. For instance, in March 2016, Monmouth Medical Center received USD 10 million funds to update its nurse call systems and overall infrastructure to offer a better patient experience.
The Europe Nurse Call System Market is expected to witness a rapid growth owing to a steady rise in the government funding, the establishment of separate nursing technologies bodies, and standardization of technology driven applications. In October 2012, the NHS established Nursing Technology Fund to support midwives, nurses, and health visitors to offer digital technology in all healthcare facilities to deliver more effective, safer, and efficient care. The first round of funding launched in the FY13/14 USD 43.16 million, which was increased to USD 50.36 million in the FY14/15 and FY15/16.
Asia-Pacific is the fastest growing market with a CAGR of over 10.5% owing to a large number of geriatric population and increasing patient flow in the outpatient clinics and nursing homes. In March 2016, the Singapore Ministry of Health (MoH) announced the expansion of long-term and acute care nursing homes. The government built the nursing home and then appointed operators to run it under the Build-Own-Lease (BOL) scheme. The increasing need to provide apt patient care and faster response time is expected to boost the growth of Nurse Call System Market in coming seven years.
Competitive Market Share Insights
Key players operating in the Nurse Call System Market include Hill-Rom Holding, Inc., Tyco SimplexGrinnell, Ascom Holding, Honeywell International, Inc., Rauland-Borg Corporation, TekTone Sound & Signal Mfg., Inc., Stanley Healthcare, Azure Healthcare, West-Com Nurse Call Systems, Inc., and Critical Alert Systems LLC.
Market participants are in the process of introducing nurse call equipment with better mobility and data integration. Hospitals offer funds to companies that provide internet-based (IP) nurse call system. In March 2016, Ascom received an order of USD 1.85 million from Finnish Hospital for its Ascom Myco smartphone. The order was in addition to the ongoing project of Ascom such as mission critical communication and alert systems.