Industry Insights
Global oilfield equipment market size was estimated at USD 97.34 billion in 2013. High demand is resulting in increased crude yielding activities which in turn are expected to drive demand over the forecast period. To yield better results, there is need to develop high performance and efficient and reliable tools.
Industry participants are expected to make heavy investments to come up with better equipment to improve recovery & productivity of crude operations. Regional governments mainly in Asia Pacific are expected to participate and encourage their use significantly to improve their energy supply and lower import rates.
Companies have also invested in technological development to ensure safety and security during use of this equipment, which is expected to drive global oilfield equipment market. Oil & gas industry shift towards developing other unconventional energy sources to meet global demand is expected to contribute significantly towards market growth over the next six years.
The entrance of equipment rental industry participants over the forecast period is expected to drive the global industry as they are highly expensive in nature and require proper technical support. Skilled workforce coupled with geopolitical issues between countries is expected to restrain the global market in future.
North America oilfield equipment market revenue by product, 2012-2020, (USD Million)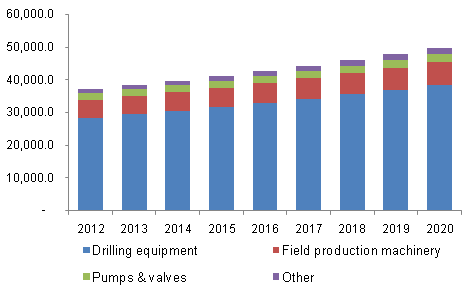 The shift towards green energy sources is expected to lower energy sources extraction activities which in turn are expected to bring down global market growth over the forecast period.
Product Insights
Product segment includes drilling equipment, field production machinery, pumps & valves, and other. These product types are used for performing multiple operations including crude extraction, processing, and transportation.
Drilling equipment was the leading product segment and accounted for a share of 73.65% of total market volume. Drilling rigs or augers are the key drilling tools used in the oil & gas industry. Drilling rigs are used for exploration & production activities, while augers, also known as portable rigs, are useful for remote locations especially marshy and wet areas.
These augers are also used to remove unwanted water accompanied during oil extraction. Transportation of crude is the major concern for the industry on account of its toxic nature and huge cost associated with it.
Efficient energy sources transportation means setting up of proper pipeline transport system for its safe and cost effective movement from supplier to end-use customers. Therefore, these pipeline systems require pumps and valves which are driving overall global demand over the forecast period. Other segment includes tools used for crude oil treatment and removal of impurities, such as harmful chemicals, before its transportation to refineries or end-use customers.
Regional Insights
North America was the leading segment on account of shale gas developments coupled with huge demand from the U.S. and Canada. Asia Pacific covered significant share and is expected to grow at the highest CAGR over the forecast period.
China is expected to establish as a major regional consumer on account of developments in crude oil & natural gas extraction operations. Latin America and the Middle East & Africa is expected to grow at a significant CAGR over the forecast period.
Competitive Insights
The global market is fragmented in nature and is expected to attract a significant number of service providers over the forecast period. Key market players include National Oilwell Varco, Aker Solutions, Halliburton, Schlumberger, Cameron International, Weatherford International and Baker Hughes.
The global market comprises a wide range of market players across the value chain. There are companies such as National Oilwell Varco and FMC Technologies which manufacture and sell oilfield tools. Also, there are companies such as Halliburton, Weatherford International, and Schlumberger, which are involved in finding & extracting crude. Other companies, such as Transocean and Rowan, which own & lease out equipment mainly oil drill rigs.
Over the forecast period, industry participants are expected to witness high growth and enjoy profits on account of technological breakthroughs which include directional drilling, hydraulic fracturing, and horizontal drilling. In addition, rising crude demand coupled with swelling prices is further increasing exploration & production activities in remote places which in turn is expected to drive market players' growth over the foreseeable future.