"Rising demand for packaged spices and seasoning in restaurants"
The global oleoresin market size was USD 449.4 million in 2015. Owing to its high temperature applications along with favorable solubility characteristics, oleoresin is widely used as a flavoring agent in the food industry. Growing market demand for packaged spices and spice mixes in food applications has assisted the overall market growth.
They mostly have their applications in salad dressings and coloring pickle products. They are mainly suited for high temperature applications which consist of baking and frying. Besides, they are used widely as an additive in food industry due to its solubility characteristics. Oleoresin are mostly preferred because of their microbiological advantages, uniformity in flavor and aroma, ease of storage and transport.
U.S. oleoresin market volume by product, 2014-2024 (Tons)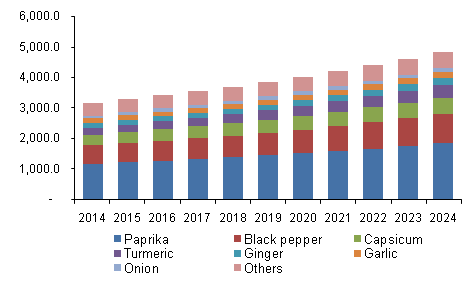 Factors such as growing population, dynamic lifestyle, and increase in a number of fatal diseases across the globe are anticipated to positively impact the market. These extracts are also used in pharmaceutical industry for treatments related to back pain, distress and cancer. Oleoresin commonly derived from certain spices such as turmeric and paprika are not only intended for their flavor but also for their intense coloring properties they offer.
Growing confectionery & baked food products demand in developed regions is presumed to aid the overall market shortly. Changing dietary trends and food consumption patterns are expected to aid the confectionery & baked food along with beverages demand.
Oleoresin extraction process involves huge investments in the preliminary stages, making the entry barriers high for new entrants in the industry. India held over 50% of the overall production in 2015. Growing preference for natural ingredients over synthetic colors and flavors among consumers are also expected to benefit the demand. Rising raw material prices due to pesticide usage and reduction in cultivable land in recent past may have negative impact on the market.
The European Food Safety Authority has declared the usage of capsicum oleoresin as a potential feed additive for chicken for helping them increase their fattening ratio. Such regulations are expected to assist the growth for oleoresin market over the forecast period.
Several R&D initiatives has been taken to introduce oleoresins for aromatherapy applications. Recent advances are being made to produce raw material components which are cheaper and are not affected by microbial contamination.
"Paprika oleoresin held over one third of the revenue share in 2015"
Major products include paprika, black pepper, capsicum, turmeric, garlic, ginger, onion, and others. Some other products include cinnamon, fenugreek, rosemary, savory, vanilla, tamarind, cocoa, mustard, white pepper, coriander and west Indian bay leaves. Paprika emerged as the leading product segment and accounted for over 25% of total market revenue in 2015.
Paprika product type produced by extraction of lipids and pigments from sweet red pepper pods find applications in processed food including snack food seasonings, food coatings, sausage, dressings and dry soluble seasonings. This is anticipated to spur the demand for paprika oleoresin over the forecast period.
Black pepper helps in stimulating the appetite and also helps people suffering from nausea, dysentery, and dyspepsia due to its anti-inflammatory and insecticidal properties. Capsicum oleoresin are gaining wide popularity among law enforcement officers and police agencies due to its usage as pepper spray, which serves as an effective mechanism to deter any danger faced by individuals.
"Flavor was the largest application segment in 2015"
The major application includes food & beverage, flavors, pharmaceuticals and others. Some other applications include meat canning, sauces, confectionary, perfumery & soap and as a base in various seasoning applications.
Flavors accounted for over 35% of the overall market and emerged as the leading segment followed by food & beverages. Growing demand for flavors can be attributed to shifting consumer preferences to participate in diet and lifestyle management. Spice oleoresins are especially used as a seasoning agent in fast foods.
Oleoresins chili contain capsaicinoids which are widely used to cure cardiovascular and gastrointestinal diseases. They contain inherent properties such as analgesic and anti-obesity which is found useful for cancer treatment.
"Europe held over one-third of revenue share in 2015"
European oleoresin market led the global industry with demand share exceeding 30% in 2015. Countries such as Germany, UK, Romania and Hungary accounted a large share in the regional spice market. Growing consumption of ethnic foods has resulted in increased consumption in the regional market.
In addition, changing lifestyle coupled with growing consumption of healthy natural food has resulted in a positive demand in the recent past. These resins used in food and beverages industry are used by a wide range of consumer groups.
"Few companies hold a large market share of the overall output"
The global oleoresin market is concentrated in nature with fewer companies holding a major share in the industry. The global industry is expected to witness an increase in mergers, acquisitions and strategic alliances over the next seven years.
Major companies include Universal Oleoresins, Ungerer & Company, Plant Lipids, Akay, Synthite, AVT Natural Products Ltd, Indo World, Paprika Oleo's, Paras Perfumers, Ambe Group, Asian Oleoresin company, Cymbio Pharma Pvt Ltd and Bioprex Labs.