Industry Analysis
The global essential oils market size was valued at USD 6.63 billion in 2016, growing at a CAGR of 9.7% during the forecast period. Increasing applications in aromatherapy coupled with rising demand for fragrances and flavors in food & beverages and personal care is expected to drive essential oils market growth over the forecast period.
The rapid expansion of food & beverage industries and increasing consumer disposable incomes are expected to contribute to the demand for fragrances and flavors produced using essential oils. These scents provide stimulation in aromatherapy, massages, and other relaxation techniques. Numerous overall health benefits associated with essential oils are anticipated to drive the product demand in medical and pharmaceutical applications as well.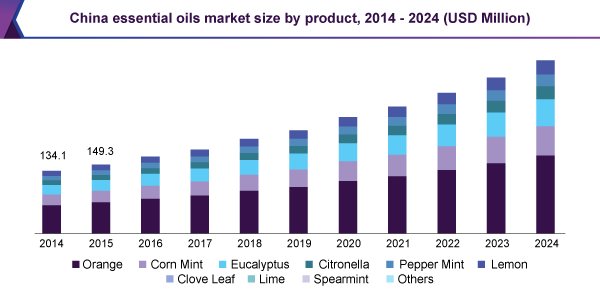 The product also has no detrimental side effects unlike most conventional drugs and medicines, which is a major driving factor for the market. Increasing demand for natural personal care products and pleasant aromatic cleaning agents is expected to foster growth in other applications.
Rising demand for flavors, odorants, and pharmaceutical ingredients is another major factor driving product growth in diverse end-use industries. Intensive R&D and technological advancements are likely to develop the market in emerging economies.
High urbanization and industrialization rates in China, India, Brazil, and Mexico have influenced the end-use industries in the region, with increasing demand for flavors and aromatics. Growing consumer disposable income and awareness regarding health benefits associated with these oils are projected to foster the growth of the global industry.
Other drivers include rising standard of living and high per capita income in emerging economies leading to increased spending in spa & relaxation industries. The industry is also expected to benefit from numerous government tax benefits, incentives, and other compensations offered by the private companies to promote and market such products.
Product Insights
The orange oil was the most significant and fastest product segment with a demand of 52.5 kilotons in 2015. Growing demand for orange oils as a raw material in personal care and cleaning agent's industry is one of the significant factors for their increased production. Mounting consumption of orange oil by geriatric population has fostered the development of therapeutic applications. Owing to rising demand for flavors and aromas in food and beverage, medicine, spa & relaxation the demand is expected to boost over the forecast period.
Corn mint oil segment was the second largest and fastest product segment in 2015. High menthol levels in the product have fostered its growth in cleaning agents and household products manufacturing sector. Corn mint oil has antioxidant and antibacterial properties and is increasingly being utilized in medical applications to treat rheumatic pain, neuralgia, indigestion, laryngitis, and toothache. The increasing application in medicinal purposes to treat flatulence, stimulate appetite, sooth cough, gallbladder problems, and other chronic ailments is expected to foster the global market development over the forecast period.
The demand for other products such as basil, asafetida, jasmine, rose, cardamom, chamomile, grapefruit, lavender, mustard, and others are steadily increasing across the globe. Other segments occupy over 40% of the total market share in terms of revenue. Growing consumer awareness regarding numerous health and sanitation benefits is expected to boost market growth.
Application Insights
Food & beverage emerged as the leading segment and accounted for a share of 32.9% in 2015. Rising consumer income across developing nations coupled with high demand for premium cuisine is expected to contribute to the segment growth. Orange, lemon, spearmint, anise, asafetida, basil, citronella, coriander, rosemary, and others are increasingly being used to extract oils and improve flavor in food & beverages instead of adding whole herbs and spices. Rising demand for attractive color and taste in local dishes is further fueling to market growth.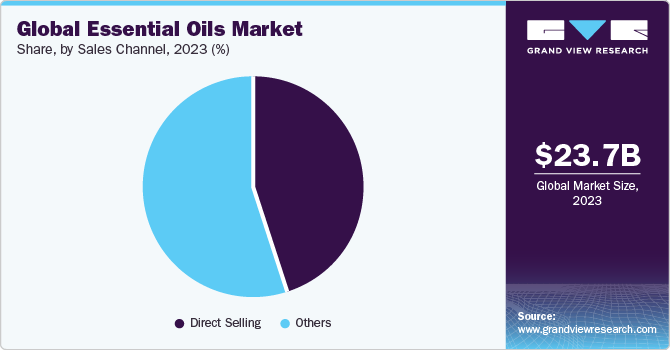 The spa & relaxation segment occupied the second largest share of 30.84% in 2015. Essential oils are beneficial for blood circulation stimulation and have excellent soothing effects on the central nervous system. Various health benefits have also fostered product application in massage and aromatherapy sectors. The industry is probable to progress further with pioneering niche applications along with increasing demand from developing countries such as Brazil, India, and China.
Other applications include, but are not limited, to insect repelling, pet care, room freshening, odor repelling, sports equipment disinfection, and personal care. Rapidly growing personal care industry and rising demand for natural essential oil-based products are projected to boost market development over the forecast period. Other applications may also comprise bathing, compresses, Jacuzzis, steam inhalations, floral waters, and vaporization or diffusion in public places and individual residences.
Regional Insights
Asia Pacific is expected to be the fastest growing regional market which accounted for 10.2% of the total volume share in 2015. The region is expected to reach 10.7% of the overall market share by 2024 owing to rapid industrialization, growing consumer disposable income, and increasing interest and awareness regarding essential oils and natural products are expected to foster regional development.
Increasing production of essential oils along with growing demand from various crucial user industries are probable to increase the demand for different types of essential oil products across the globe. Innovative extraction techniques along with technological advancement in the production process are likely to surge the preference for products.
North America accounted for approximately 40.8% of the market in 2015 by volume. The U.S. is the primary exporter & importer of essential oils. It chiefly exports to United Kingdom, Germany, Japan and Canada. However, the U.S. imports most of its requirements from France and India. It is also the principal importer of citronella oil along with other European countries such as Netherlands Germany, France & United Kingdom.
The region is expected to witness a high growth owing to increasing medical applications with growing consumer interest and awareness regarding health benefits associated with essential oils and natural ingredients. High geriatric population coupled with rising prevalence of diseases and epidemics has fostered regional development across the medical and pharmaceutical sectors. Increasing demand for natural ingredients in cosmetics and beauty products is also likely to boost demand in the U.S. personal care products sector.
Essential Oils Market Share Insights
The industry is highly fragmented with a considerable number of key players such as Biolandess SAS, Sydney Essential Oil Co., and Young Living Essential Oils. High level of integration both in distribution and raw material is likely to be witnessed. Technological advancement and colossal price competitiveness is a significant trend followed in the global market.
Some of the companies engaged in the development and expansion of this industry include H. Reynaud & Fils, The Lebermuth Company, DoTerra, Essential Oils of New Zealand, Farotti S. R. L., Flavex Naturextrakte GmbH, Ungerer Limited, West India Spices Inc., and India Essential Oils.
High entry barriers owing to advancement in technology and cost of capital are likely to maintain low competition among industrial participants. The industry is also characterized by balanced production capacities and different market size which is projected to lower internal and higher profit margins rivalry among existing players.
Segments covered in the report
This report forecasts volume & revenue growth and provides an analysis of the latest trends in each of the sub-segments from 2014 to 2024. For the purpose of this report, Grand View Research has segmented the global essential oils market report on the basis of product, application, and region:
Product Outlook (Volume, Tons; Revenue, USD Million, 2014 - 2024)

Orange

Corn Mint

Eucalyptus

Citronella

Pepper Mint

Lemon

Clove Leaf

Lime

Spearmint

Others

Application Outlook (Volume, Tons; Revenue, USD Million, 2014 - 2024)

Medical

Food & Beverages

Spa & Relaxation

Cleaning & Home

Others

Regional Outlook (Volume, Tons; Revenue, USD Million, 2014 - 2024)

North America

Europe

Asia Pacific

Middle East & Africa

Central & South America