Industry Insights
Global omega 3 market size was USD 1.82 billion in 2014 and is expected to witness substantial growth over the forecast period owing to increasing demand for functional foods in various countries including India, China, U.S., Japan, Australia, Germany, and Italy. Rising consumer health awareness along with increasing investment in clinical research and development will promote growth over the next seven years.
North America Omega 3 market revenue, by application, 2012 - 2022 (USD Million)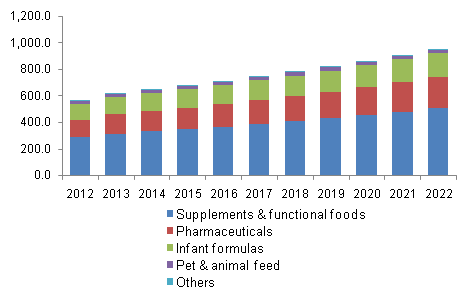 Health benefits offered by consumption of EPA/DHA including reducing bad cholesterol, blood pressure and coronary heart diseases such as heart attacks and strokes is expected to drive its demand in the near future. Moreover, growing importance for body functions including blood clotting, fertility, muscle activity, digestion and cell division & growth will drive demand over the forecast period. Growing consumption of omega 3 for infant products on account of the presence of DHA, which promotes brain, nerve and eye development is expected to stimulate industry expansion.
Approval by various agencies including EU, The Food and Drug Administration (FDA), The American Dietetic Association and EFSA (European Food Safety Authority) will augment growth over the forecast period. However, lack of recommended dietary intake (RDI) standard is likely to hinder industry growth over the next seven years. Increasing R&D investments along with ongoing product development to improve omega 3 effectiveness is expected to open new avenues over the forecast period.
Application Insights
Supplements & functional foods were the largest segment valued at USD 0.96 billion in 2014. Growing importance of DHA as it enhances brain development and functions will augment market growth over the next seven years. In addition, growing demand for supplements & functional foods by consumers in light of increasing health concerns along with high disposable income will propel industry expansion over the forecast period.
Pharmaceutical was a prominent segment accounting for over 20% of the overall revenue share in 2014 and is expected to witness rise owing to increasing awareness about health and hygiene among consumers. Also, increasing spending on the pharmaceutical sector in China, India, Indonesia, Malaysia, Philippines, Singapore, Thailand and Vietnam will stimulate industry expansion. High investment by foreign players including Swiss company Novartis, British firm GlaxoSmithKline (GSK), and Germany's Bayer is further expected to propel industry penetration in the near future.
Regional Insights
Europe omega 3 market exceeded 23.5 kilo tons in 2014 and is expected to propel industry growth as a result of favorable regulations on the usage of omega 3 in functional food and infant formula.
North America is a significant market for omega 3 and is expected to show high gains over the next seven years mainly in the U.S. on account of rising functional foods & beverages consumption coupled with technological advancements by various key players including Croda, and DSM. Recovery of the pharmaceutical sector in the U.S. is expected to drive growth over the forecast period. Prevalence of prominent industry participants including Pfizer and Merck &Co. along with high R&D expenditure in the U.S. and Mexico will propel industry expansion.
Asia Pacific is likely to witness significant rise at a CAGR of 7.5%, in terms of volume, from 2015 to 2022 on account of increasing demand for infant formulations mainly in China and India. In addition, rising awareness regarding health benefits of the product for coronary heart diseases will fuel market growth over the next seven years. In addition, growing consumption of functional food mainly in India, China and Japan is expected to create immense market potential over the next seven years.
Competitive Insights
The industry is extremely competitive with key companies involved in R&D activities and constant product innovation. The market is dominated by major participants including BASF, DSM, Pronova, Croda and Omega Protein. Other players include Aker BioMarine, Axellus, EPAX, BioProcess Algae, GC Rieber Oils, Martek Biosciences and Lonza.
In October 2015, DSM launched a new line of high concentrate DHA (docosahexaenoic acid) and EPA (eicosapentaenoic acid) products sourced from fish oil and a high concentrate docosahexaenoic acid from the vegetarian algal oil. The products contain 85% omega 3 to support cardiovascular and cognitive health. In June 2015, Croda introduced Incromega DHA, which is ideal for cognitive health and has certification of EFSA (European Food Safety Authority).