Industry Insights
Global fish oil market size was USD 2.25 billion in 2014 and is expected to witness substantial growth over the forecast period owing to increasing aquaculture activities. Rising consumer awareness regarding health benefits of omega 3 is expected to propel fish oil demand over the forecast period.
Growing demand for hydrogenated vegetable oils and margarine on account of changing eating habits is expected to simulate industry expansion. In addition, growing product consumption in protective coatings and lubricants is expected to augment growth over the forecast period.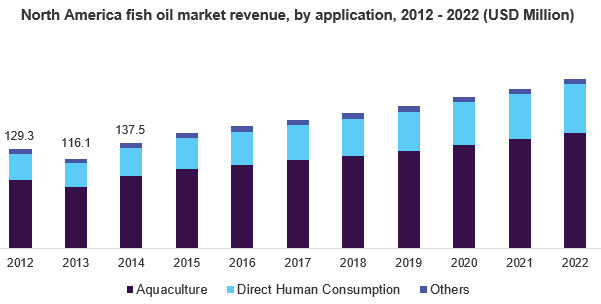 Fish oil is basically the fat or oil which is extracted from the fish tissue. It is commonly come from the oily fish, such as herring, tuna, anchovies, and mackerel. However, it is also produced from the livers of the other fish types. Nearly 30% fish oil is made up from the omega 3 while remaining 70% is made from other constituents.
Fish oil is healthy source of omega-3 fatty acids. In high doses, fish oil can lower levels of triglycerides as high levels of triglycerides increases the risk of heart disease. Furthermore, fish oil is also prescribed during irregular heartbeats and for depression. Increasing chronic diseases across the world is expected to boost the demand for fish oil in the coming years.
Consumption of DHA/EPA helps in reducing blood pressure, bad cholesterol, and coronary heart diseases including strokes, which is expected to fuel industry expansion. Increasing prevalence of heart diseases among consumers on account of unhealthy lifestyle will spur demand over the forecast period. In addition, increasing use of the ingredient in cosmetic products, as emollients and in general ointments is expected to promote industry growth.
Rising aquaculture activities, mainly in China and India, owing to favorable climatic conditions and abundant availability of farming land is expected to drive demand for feeds consisting of fish oil. Increasing consumption of omega-3 supplements owing to its numerous health benefits is expected to fuel industry expansion over the forecast period.
Increasing direct consumption of fish oil is expected to stimulate industry growth. However, high prices of the product coupled with a large demand-supply gap are expected to restrain market growth over the next seven years.
Increasing health approvals by various agencies including EU, The American Dietetic Association, The Food and Drug Administration (FDA), and EFSA (European Food Safety Authority) along with regulatory support to promote fishing industry is expected to have a positive impact on the market. Increasing R&D investments along with technological development to utilize the ingredient in the healthcare sector will open new market avenues in the near future.
Application Insights
Aquaculture was the largest segment valued at USD 1.97 billion in 2014 and is expected to show substantial gains over the forecast period as a result of rising importance of breeding and regular stocking for enhancing fish production output. In addition, increasing aquaculture production of salmon along with positive industry outlook on aquaculture in China owing to cheap labor and application growth is expected to stimulate market growth.
Salmon & trout accounted for 57.7% of the global volume share of aquaculture in 2014 and will witness growth in light of robust farming base of salmon fish in Norway and Chile. Increasing importance of salmon for direct human consumption on account of strengthening muscle & heart and improving metabolism is expected to propel aquafeed demand containing fish oil in the near future
Demand for direct human consumption was 92.7 kilo tons in 2014 and is expected to witness growth as a result of growing consumption of supplements & functional foods. Growing consumer awareness regarding the high content of protein and health benefits such as reducing cholesterol levels of the product is expected to fuel growth.
Regional Insights
Europe fish oil market was valued at USD 0.69 billion in 2014. The region is expected to witness growth on account of rising aquaculture activities in Norway and UK. In addition, the European Commission passed the Common Fisheries Policy Reform and Strategic Guidelines in April 2014, which is expected to promote aquaculture sector in the region.
North America accounted for over 7.5% of the global volume market share in 2014 and is expected to witness gains over the next seven years owing to increasing awareness of nutritional benefits of fish oil containing foods in the U.S. However, high consumption of red meat in the U.S. and Mexico on account of their high protein content is expected to have a negative impact on the market over the next seven years.
Asia Pacific is expected to witness substantial rise at a CAGR of 2.4%, in terms of volume, from 2015 to 2022 on account of growing aquaculture sector mainly in China, India, Indonesia, Thailand, and Bangladesh. Moreover, rising awareness towards nutritional diet in emerging economies of China and India is expected to fuel demand for dietary supplements.
Fish Oil Market Share Insights
The industry is moderately concentrated with key companies involved in continuous R&D and product development. Key participants include Croda Inc., COPEINCA ASA, EPAX AS, Omega Protein, GC Rieber Oils, Colpex, American Marine Ingredients and Corpesca S.A.
In June 2014, Enzymotec Ltd. launched Omega PC, a premium fish oil based product which is a wild, and cold fish extract consisting of omega 3 fatty acids. In May 2014, American Marine Ingredients introduced distillation method developed by the University of Alaska for the production of omega-3 fish oils.