Industry Insights
The global pain management devices market was valued at USD 3,185.5 million in 2014 and is expected to increase at a rate of 13.4% over the forecast period. The high prevalence of diabetes coupled with rising geriatric population base is a high impact rendering driver for this market.
According to the estimates of the International Diabetes Federation, the global prevalence of diabetes is expected to increase from 366 million in 2011 to 552 million by 2030. The increasing prevalence of this disorder makes a number of people susceptible towards developing chronic pain, thereby increasing the demand for pain management devices in near future.
North America pain management devices market share, by type, 2012 - 2022 (USD Million)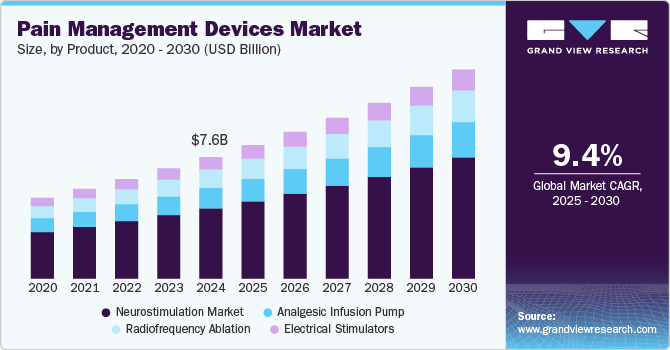 The market is expected to be primarily driven by the huge geriatric population base suffering from and susceptible to various diseases; for instance, the non-communicable diseases including cardiovascular disorders, cancer, and diabetes account for around 87% of the burden in the aged population globally.
Moreover, the rise in the number of people suffering from cancer has led to a consequential rise in the chronic pain among patients suffering from this disorder. The pain usually arises from a tumor compressing a nerve and other factors depending upon the stage of cancer. The therapies given to the patients are also the potential contributor towards the cancer pain. As per the estimates, around 20%-50% of cancer patients experience acute pain at the time of diagnosis and around 75% complain about pain during the disease progression.
Type Insights
The key products available in this market include electrical stimulators, radiofrequency ablation, analgesic infusion and neurostimulation devices. The neurostimulation devices that included spinal cord stimulators, deep brain stimulators, and sacral neurostimulators dominated the product segment in 2014 with over 48.9% of the revenue share. The Neurostimulation devices have wide applications in chronic pain management, which include stimulation of spinal cord, deep brain, sacral nerve, vagus nerve, gastric electric stimulation, repetitive transcranial magnetic stimulation, and respiratory electrical stimulation.
The Neurostimulation devices are more efficient than traditional methods as they show a sustained reduction in pain. Additionally, traditional therapy involves intake of medicines and these medicines possess many adverse effects; thus, these factors contributed to the growth of neurostimulation devices segment.
On the contrary, radiofrequency ablation devices are expected to witness lucrative growth over the forecast period owing to their extensive use for curing various disorders such as tumors, cardiac diseases, and varicose veins.
Radiofrequency ablation for pain management is the most effective treatment as its effect lasts for 6 to 12 months. The radiofrequency ablation device is mainly used to treat cancer pain, musculoskeletal pain, and neuropathic pain.
Application Insights
The applications of pain management devices are assessed on the basis of products. The products have applications in various diseases such as cancer, neuropathic pain, facial pain & migraine, musculoskeletal diseases, and trauma.
The neurostimulation devices have a substantial share in neuropathic pain as spinal cord stimulation yields best results for the treatment of this pain. Moreover, these devices possess benefits such as customized level of stimulation depending on the activities undertaken by the person in a day.
The radiofrequency ablation devices held significant shares in cancer pain management. These devices exert action by high-temperature thermal therapy that induces coagulation necrotic cells by heating tissue to 100°C. This mechanism of radiofrequency ablation devices helps in killing cancer cells, thereby enabling effective pain management.
Regional Insights
North America dominated the overall pain management device industry in terms of revenue share in 2014 at 49.5%. This can be attributed to its favorable healthcare infrastructure, which facilitated the access to advanced pain management devices. Additionally, government initiatives such as Precision Medicine and Affordable Care Act coupled with well-planned reimbursement policies contributed to the growth of this industry in North America. Moreover, rising awareness amongst people along with high purchasing parity led to an increased demand for these devices.
Asia Pacific is expected to grow at the lucrative rate during the forecast period owing to the increasing governmental support to improve healthcare infrastructure. Moreover, economic developments in countries such as India and China with higher disposable incomes are expected to increase the demand for pain management devices.
Market Share Insights
The key players operating in this industry include B Braun Melsungen AG., Baxter International Inc., Boston Scientific Corporation, Codman and Shurtleff, DJO Global LLC, Pfizer, Medtronic Plc,Smiths Medical, St. Jude Medical, and Stryker Corporation. The key trends witnessed in this market are strategic alliances and mergers & acquisitions to gain an edge over competitors.
For instance, In May 2015, St. Jude Medical's acquired Spinal Modulation, Inc. a developer of Axium Neurotransmitter system, which targets a neural structure within the spine. This acquisition is expected to strengthen the product portfolio in pain management devices.