Industry Insights
Increasing global geriatric population base, the incidence rate of target diseases and supportive government initiatives are some vital factors expected to drive the personal mobility devices market. With the advent of technologically advanced personal mobility devices such as Segway Personal Transporter and laser enabled rollators by TOPRO, personal mobility devices market is expected to experience growth over the next six years. The global personal mobility devices market was valued at USD 4,157.0 million in 2013 and is expected to grow at a CAGR of 9.2% during the forecast period.
Global personal mobility devices market, by product, 2012 - 2020 (USD Million)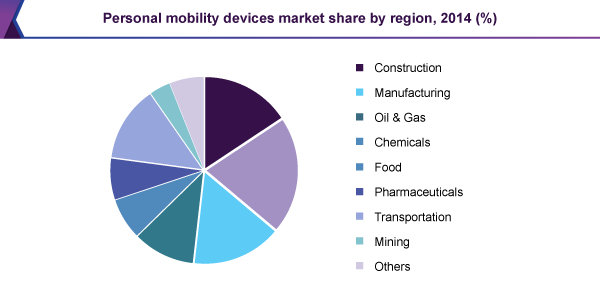 Estimates published by the WHO suggest that the global base of population pertaining to the age group – 65 years and above is expected to rise from 7% in 2000 to 16% in 2050. Aging is considered as the greatest risk factor affecting personal mobility due to the fact that old age is expected to heighten the susceptibility of a person towards developing target diseases such as rheumatoid arthritis and osteoporosis thereby increasing the need for support via personal mobility devices. Patients above the age group of 60 years are also more likely to be affected by motion impairing disorders such as spasticity (cerebral palsy, multiple sclerosis, and spinal cord injury), Parkinson's disease and Dystonia. The introduction of favorable government initiatives such as the Affordable Care Act and the Older Americans Act in U.S, Disability Tax Credit Certificate in Canada and formation of China Rehabilitation Research Center (CRRC) are further expected to boost the growth of the personal mobility devices market during the forecast period.
Product Insights
The personal mobility devices market is estimated by analyzing three major categories namely wheelchairs, scooters and walking aid. Wheelchairs are the most commonly used personal mobility devices providing support to the disabled and geriatric population. It increases the ease of performing basic functions thereby, enhancing the quality of life. The demand for wheelchairs is expected to grow at a significant rate during the forecast period due to a rapidly increasing global geriatric population base. Powered wheelchairs emerged as the largest product sub-segment in 2013 owing to rapidly growing market penetration rates. The walking aids market is further segmented into rollators and other walking aids such as canes, crutches, and walkers. The global rollators market is estimated to grow at a lucrative CAGR of over 11.0% from 2014 to 2020. Premium rollators are expected to gain popularity in coming years owing to the special features attached to it such as laser attachment (Alzheimer's patient), oxygen tank holders, lockable wheels, hemiplegic handles, extended weight bearing capacity, light frame, pressure brakes, larger wheel diameter etc.
Regional Insights
North America was the largest consumer of the personal mobility devices market in 2013. Increasing geriatric population, rising demand for assistive devices, coupled with the presence of a sophisticated reimbursement framework working towards reducing the out of pocket expenditures of patients are major factors attributing to the region's large market share. Europe accounted for over 30% of the revenue share in the personal mobility devices market in 2013 and was the second largest consumer of personal mobility devices in the mentioned period. Asia-Pacific is expected to grow at the fastest CAGR during the forecast period. The Large presence of untapped opportunities in the emerging markets of India and China and constantly improving healthcare infrastructure in these markets are some attributes accounting for the aforementioned conclusion.
Competitive Insights
Major players of the personal mobility devices market include Carex Health Brand Incorporation, TOPRO, Invacare, Drive Medical Design & Manufacturing, Sunrise Medical, Electric Mobility, Pride mobility, Kaye Products, Briggs Healthcare, Nova, Patterson Medical, Graham-Field Health Products Incorporation and Eurovema AB. Market players adopting sustainability strategies such as entering into strategic collaborations, mergers & acquisitions and expansion of product portfolio are further expected to accentuate market growth.