Industry Insights
The global personal mobility devices market size was valued at USD 4,157.0 million in 2013 and is anticipated to grow at 9.2% over the forecast period. Rising prevalence of target diseases such as arthritis, Parkinson's, and Alzheimer's amongst geriatric population, technological advancements, rising awareness of mobility devices among consumers, and favorable reimbursements scenario are the major factors driving the market over the forecast period.
According the estimated published by WHO, the global geriatric population is anticipated to rise from 7% in 2000 to 16% in 2050. The geriatric population is prone to target diseases such as arthritis, and others. According to the data published by CDC, from 2013 - 2015, 54.4 million U.S. adult population was affected by arthritis. The incidence for arthritis was reported as 1 in 4 adults. By 2015, 23.7 million arthritis patients reported activity limitation. It is forecasted that by 2040, 36.4 million adult arthritis patients will report the activity limitations This is expected to positively impact the market by increasing demand for personal mobility devices.
There are various government initiatives undertaken for increasing accessibility of these mobility devices. The WHO has introduced priority Assistive Products List (APL) for improving access to high quality and affordable assistive devices thereby supporting various initiatives such as Global Co-operation Assistive Technology (GATE). The APL consists of 50 assistive products that are selected on the basis of the need and impact of the devices on person's life. The personal mobility devices included in assistive product list are canes, crutches, walking frames, wheelchairs and rollators. Thus, demand for these mobility devices is expected to increase over the forecast period.
Furthermore, the favorable reimbursement policies for the purchase and rentals of personal mobility devices is also driving the market. Few of the mobility devices such as walkers, wheelchairs, canes, and crutches are covered under Medicare Part B. The patient must pay 20% of the product price out of pocket and the remaining 80% is paid by the Medicare. The repairs and replacements of reimbursed mobility devices are covered by the Medicare.
Indian government has initiated the Scheme of Assistance to Disabled Persons for Purchase/Fitting of Aids/Appliances (ADIP Scheme) to help disabled people in procuring sophisticated, durable and modern, scientifically manufactured, standard aids and medical devices to promote social, psychological and physical rehabilitation of people with disabilities thereby reducing the incapability due to disability and enhancing economic potential for purchasing these mobility devices. Assistive devices are given to public work departments with an aim to promote independent living, and to reduce the extent of disability.Technological advancements in the mobility devices is one of the important driver for this market. The introduction of transfer lifts, mobility scooters, and automated rollators is expected to significantly improve usage rates of mobility devices. Segway's Personal Transporter, laser enabled rollators by TOPRO for Alzheimer's patients and M300 Corpus HD Power wheelchair are some of the examples of technological advancements.
Product Insights
In 2013, wheelchairs emerged as the largest segment. Wheelchair is one of the most common assistive device used in personal mobility. United Nations provides appropriate legislations for requesting member states in supporting development, production, distribution and servicing of these mobility devices. Provision of appropriate wheelchairs enhances mobility and quality of life and reduces common problems such as progression of deformities & pressure sores and improves digestion & respiration. According to the data published by KD Smart Chair, the estimated number of wheelchair users in U.S. is 3.3 million. There are approximately 2 million new users every year. Thus, the demand for the wheelchairs is increasing. Powered wheelchairs emerge as the largest segment in terms of revenue in 2013. Rapidly increasing global geriatric base and growing penetration of powered wheelchairs are the key factors for the largest market size.
Whereas, the walking aids segment is anticipated to grow at a lucrative growth rate over the forecast period. According to the estimates published by WHO in 2011, approximately 18% of the population has moderate, extreme or severe difficulty with walking. As the population grows, this number is expected to further rise. Thus, the demand for walking aids will grow over the forecast period. The rollators market is anticipated to grow at the lucrative growth rate of 11.0% over the forecast period.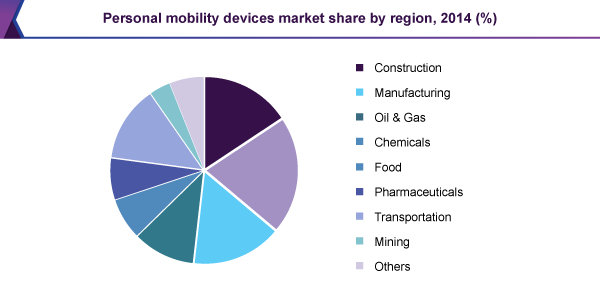 The special features in the premium rollators such as laser attachment in case of Alzheimer's patient, lockable wheels, oxygen tank holders, hemiplegic handles, light frame, larger wheel diameter, pressure brakes and extended weight bearing capacity are some of the factors expected to increase the penetration of premium rollators. Rollators priced above USD 200 are considered to be premium rollators in our study. Increasing disposable income and acceptance of technologically advanced rollators especially in European and North American countries is expected to drive growth of premium rollators.
Regional Insights
North America dominated the overall market in 2013 with a revenue share of 39.5%. Increasing geriatric population, growing prevalence of age associated diseases, presence of improved healthcare infrastructure, high healthcare expenditure, rising disposable incomes, and favorable reimbursement policies for the purchase as well as rental services are among the key factors for the largest revenue share. Presence of favorable government initiatives is also expected to boost market growth over the forecast period.
The U.S. government doubled the funding for Rehabilitation Engineering Research Center programs for accelerating the research in this area. As per data published by Human Resources and Skills Development Canada, approximately 14.3% of population suffers from disabilities pertaining to vision, hearing and motion impairment. The Canadian government formed a Disability Tax Credit Certificate allowing disabled person to pay little or no tax. The Ontario Ministry of Health and Long-Term Care (OMHLT) has provided support and funding to its disabled residents in accordance with the Assistive Devices Program (ADP)
Europe was the second largest market in terms of the revenue share and accounted for over 30% of revenue share. As per estimates published by European commission, nearly 80 million people suffer from physical disability. Increasing geriatric population and favorable initiatives undertaken are among the key market drivers for this market. The European Disability Strategy 2010-2020 is the EU framework for implementing United Nation's convention to consider people with disabilities for participating in the society on equal basis as others.
However, Asia Pacific is expected to emerge as the fastest growing segment with a lucrative growth rate of 10.45%. This is attributed to the increasing geriatric population base in East Asian countries such as Japan and China. Additionally, extensive R&D activities undertaken by the organizations such as China Rehabilitation Research Center (CRRC) is expected to drive regional market growth. Increasing disposable incomes, rising awareness, increasing healthcare expenditure and the favorable government initiatives aimed at improving healthcare access in this region are among few factors expected to boost the market growth.
Personal Mobility Devices Market Share Insights
The market is highly fragmented in nature with participants such as TOPRO, Carex Health Brand Incorporation, Drive Medical Design & Manufacturing, Invacare, Sunrise Medical, Pride mobility, Kaye Products, Electric Mobility, Briggs Healthcare, Patterson Medical, Nova, Eurovema AB and Graham-Field Health Products Incorporation. Manufacturers are striving hard to increase their market share through the strategies such as development of new products and the advancements of the existing ones, extensive price competitions and mergers and acquisitions owing to which the competition among existing players is high.