Industry Insights
The global plant growth regulators market size was valued at USD 4.67 billion in 2016. It is projected to exhibit a CAGR of 8.6% from 2014 to 2020. Decreasing agricultural areas coupled with increasing demand for organic food is likely to be one of the key trends in stoking market growth.
Plant growth regulators are valuable production tools that can enhance product quality and marketability while reducing labor for pinching, pruning, and maintenance. Over the last few decades, they have become an integral part of many horticulture and agricultural production systems.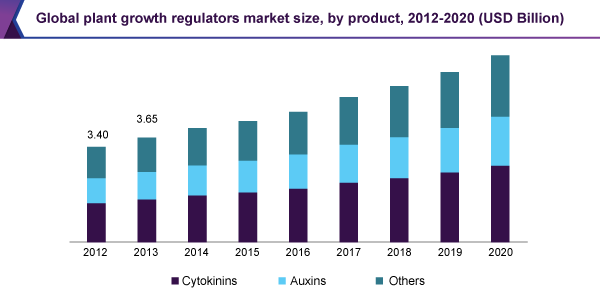 Surging demand for organically produced goods is poised to fuel the demand for plant growth regulators over the coming years. The global market for organic fruits & vegetables was valued at USD 33.27 billion in 2016 and it is estimated to reach USD 114.0 billion by 2020 with a CAGR of 14.7%. This in turn is likely to provide ample opportunities for industry growth.
Spraying of the product on the flower of tomato, eggplant, pepper, cucumber, melon, and pumpkin in various concentrations promotes fruit growth and increases production. Moreover, it is also used to increase sugarcane yield as it increases the cell length as well as the rate of cell division, thereby resulting in higher sugar yield.
The demand for plant growth regulators has been increasing due to its ability to reduce lodging in intensive cereal production, control the shoot heights, and stimulate latex flow in rubber plants. These factors trigger plant growth and make the production process faster compared to traditional fertilizers, which is anticipated to have a positive impact on market growth over the coming years.
The value chain structure of the market is highly influenced by economic & environmental factors, nature of products, upstream raw material supplies, and structure of downstream. The final products are distributed across the globe through online retailing and physical retailing.
Product Insights
Cytokinins are plant hormones that regulate various aspects of plant growth and development such as shoot & root growth, cell division & differentiation, delay of senescence, and fruit & seed development. It delays the natural aging process that leads to death in plants. Moreover, it is used to fix the wounded part of a plant.
Cytokinins accounted for a major revenue share of 40.2% in 2014 owning to high consumer awareness about its positive effects on branching, nutrient remobilization, delaying of senescence, and fast growth of flower & seeds.
Auxins are expected to register moderate growth over the coming years. It is used as rooting hormones to regulate the growth process in plant cells. Auxins are majorly used in tissue culture and plant propagation. In addition, it is most effective when combined with cytokinins to elite their effects.
Other products include gibberellins and mepiquate chloride. Gibberellin is used to increase sugarcane yield, malting of barley, fruit production, and seed production. The brewing industry has been witnessing significant growth worldwide on account of the high demand for beer. This trend is projected to keep the demand for gibberellin high, thereby contributing to the growth of the other segment.
Regional Insights
North America was the largest market for organic fruits & vegetables, valued at USD 17.44 billion in 2016. According to a report by the Organic Trade Association, organic food sales were valued at over USD 40 billion in the U.S. in 2016. It accounts for about 5.0% of total food sales in the country. Increasing demand for organic food is expected to propel the demand for the product in the region. North America accounted for a revenue share of 23.9% in 2014.
The Asia Pacific accounted for 13.7% of the global plant growth regulators market in the same year. Agricultural land in India has been decreasing at a rate of 30,000 hectares per year. The continuous decline in agricultural land has become a cause of concern due to the increasing population. The decline is mainly due to the use of cultivable land for non-agricultural purposes. The decreasing area under cultivation land is anticipated to increase the demand for the product over the forecast period.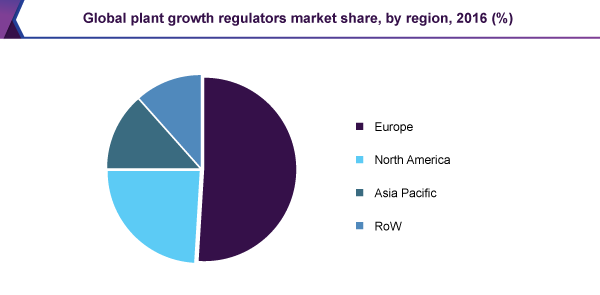 Europe witnesses high exports of fruits and vegetables within the region as well as to other regions. Internal trade flow in the region accounted for a value of USD 39.9 billion in 2015 while the external trade was about USD 5.6 billion. High demand for fruits and vegetables within the region and unfavorable climatic conditions in various economies is likely to increase the utilization of plant growth regulators in order to increase agricultural yield.
Over the past few years, the export of fresh fruits from Central & South America has grown considerably. Exports from Argentina, Brazil, Chile, Mexico, & Peru increased from 45.7 million tons in 2003 to 82.0 million tons in 2013.
Export to Asia, Australia, and Africa has witnessed the fastest growth over the past few years. Emerging economies in Asia and Africa provide tremendous opportunities to the Central & South American agricultural sector, which is poised to have a positive impact on the demand for the product over the coming years.
Plant Growth Regulators Market Share Insights
BASF SE, DuPont, Bayer CropScience Crop Care Australasia Pty. Ltd, Nufarm Ltd., Redox Industries Limited, Sichuan Guoguang Agrochemical Co. Ltd, and Xinyi(H.K.) Industrial Co. Ltd is some of the prominent companies operating in the market.
These players operate their businesses through a wide distribution network spread across the globe and manufacturing facilities majorly located in the Asia Pacific and Europe. BASF SE, DuPont, and Bayer Ag are ranked as the top players in the market based on revenue, global presence, and employee count.
Segments Covered in the Report
This report forecasts revenue growth at global, regional, & country levels and provides an analysis of the industry trends in each of the sub-segments from 2012 to 2020. For the purpose of this study, Grand View Research has segmented the global plant growth regulators market report on the basis of product and region:
Product Outlook (Revenue, USD Million, 2012 - 2020)

Regional Outlook (Revenue, USD Million, 2012 - 2020)

North America

Europe

Asia Pacific

Rest of The World